Ireland captain Bernard Brogan has stressed the importance of avoiding a slow start when he and his team-mates face Australia at Croke Park on Saturday.
A listless first-half display by Ireland in Perth last year gave the visitors a mountain to climb. The 35-7 advantage Australia enjoyed at the first interval played a huge in Paul Earley's side relinquishing the Cormac McAnallen Cup as the home side went on to record a 56-46 win.
"It's going to be a really exciting game," Brogan enthused. "We need to match the intensity of the Australians. They're an impressive side but if we stay with them for the first quarter we'll be in the game."
The Dublin star also revealed the enjoyment he and his team-mates will derive from facing, and hopefully conquering, full-time professional athletes.
"The lads are buzzing," he added. "To go out against a professional outfit like the Australians, they're bringing over a really strong team.
"We look at ourselves, we obviously are amateur footballers, but we are professional in everything we do.
"We're going out against Australia tomorrow and we're going out to win.
In terms of Ireland's game plan, Brogan revealed: "We need to play to our strengths.
"We've the likes of Jack McCaffrey, Lee Keegan, Colm Begley, Mickey Quinn, lads with pace to burn and that's what we're going to go after.
"We're going to go after pace, we're going to go after our advantage with the round ball, we're going to go after kick-passing"
"We're going to go after pace, we're going to go after our advantage with the round ball, we're going to go after kick-passing.
"Last year we were left behind in the first two quarters, so we need to stay with them to start.
"They're going to try and blow us away in the first quarter, but we need to match them with intensity and try and get scores on the board."
The 31-year-old also talked of the pride the much-maligned series gives players.
"We're representing our country tomorrow night. We look at the amazing stuff that the Ireland soccer team did during the week, and the rugby guys did us massively proud in the World Cup, and this is our bit.
"As GAA players we're representing our country and we hope that the crowd come and support us."
Opposition captain Luke Hodge is also looking forward to the game after his man-of-the-match performance last year.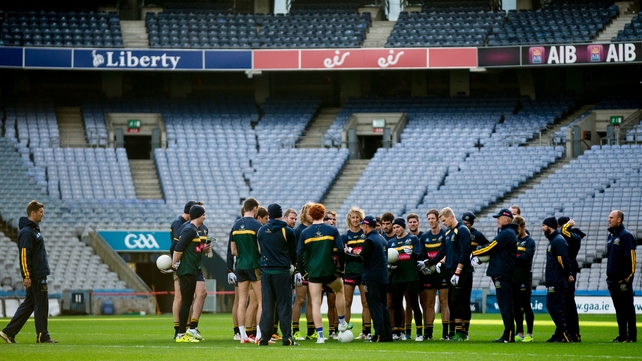 "We can't wait," he said. "It's been a big build-up. We've been here in camp for the last two weeks and the excitement of coming here to play at Croke Park – we've obviously heard a lot about it – I've never been over to Ireland.
"We got the chance to train here a couple of day ago. It was unbelievable - it had the same feeling as walking out on the MCG at home."
The shift to playing with a round ball is one Hodge believes his side are well prepared for.
"We've had a round ball in our hand for the last five or six weeks," he said.  "Last year I don't think we kicked the ball that well. We've done a lot of work on kicking the ball and using our foot skills."
Ireland v Australia is live on RTÉ2 and RTÉ Player from 7pm, with radio commentary on RTÉ Radio 1 and  a live blog on RTE.ie.