Australia manager Alastair Clarkson, whose side face Ireland on Saturday at Croke Park, has backed the idea of adding a US team to the International Rules series in future years.
"Maybe even somewhere further down the track having a US-based side that can participate in a tri-series"
Speaking in New York, where the Australians trained last week, the former Melbourne player said: "It'd be great to bring in another side into the competition so it'd become a tri-series, and then who knows where it expands from there.
"We'd love to do that, in actual fact we had plans to try and do it for this year, it didn't come off for this year. We want to invest in this part of the world.
"There's a huge Irish contingent here [in New York].
"We can sow a seed over the next couple of weeks about the concept of playing a game here – and maybe even somewhere further down the track having a US-based side that can participate in a tri-series rather than just have us and Ireland playing.
"We really want showcase our game to the world, and the best opportunity of doing that is to take it to Europe, which are doing by playing at Croke Park, but if we could take it to the eastern side of America then that would be really exciting for our game."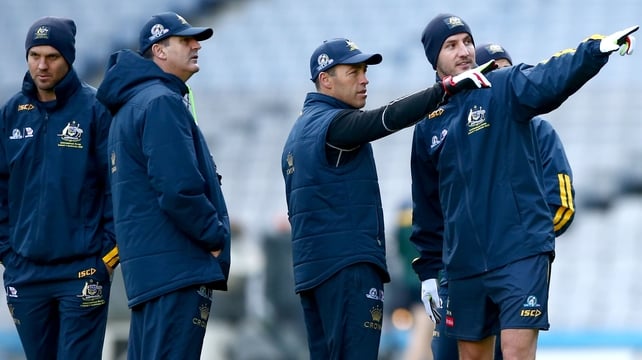 Australia have once again sent an elite squad to Ireland and Irish manager Joe Kernan says he thinks the team will have the same mentality as their leader, four-time Premiership-winning coach Clarkson.
The Hawthorn boss won the AFL title in 2008, 2013, 2014 and 2015 and has four All Australian awards to his name.
The 47-year-old oversaw the Aussies last year as they took back the Cormac McAnallen cup, beating Ireland 56-46 in Perth. Suffice to say, he's not here for the weather.
That's something that Kernan, taking over as manager of the Ireland side for the first time, recognises. "The nature of the man himself: he is competitive, he is a winner and he's picked winners with him," Kernan told RTÉ Sport.
"It is elite athletes, top players and five from his own club, Hawthorn, who are after winning their third [title] in a row."
Australia trained in Croke Park yesterday ahead of Saturday's Test, which is live on RTÉ2 and RTÉ Player from 7pm, with radio commentary on RTÉ Radio 1.