Manager Joe Kernan is expecting a skilful, high-tempo game when Ireland take on Australia in the International Rules Test at Croke Park on 21 November.
Ireland struggled to score overs in last year's Test in Australia, a point highlighted by this year's captain Bernard Brogan, and Kernan admits this is something the squad have focused on.
"We've concentrated on big time on kicking the ball and we've concentrated on trying to take the score," he told RTÉ 2fm's Game On.
Kernan, who guided Armagh to the 2002 All-Ireland SFC crown, also admitted Ireland will have a relatively simple game plan when approaching the Australians: "Move the ball long and fast, don't run into traffic and take the score. 
"If the three points is on, take the three points. Sometimes you'll be looking for goals and you lose the ball. Three points will do me."
The Armagh man said he expects a similar approach from his Antipodean opponents.
"Sometimes you'll be looking for goals and you lose the ball. Three points will do me"
"I suppose if you look at the way the Australians play, they've stopped going for the big man as well, they have a few big boys there but it is all about use of the ball," he added.
"The manager of the Australian team, Alastair Clarkson, who is after winning three in a row with Hawthorn, his game plan is catching, kicking, making the mark. They move the ball fast, they play it at a high tempo so you have to be mobile to do that."
The International Rules series has been mired in controversy in the past, with some notable bust-ups between players, but Kernan hopes those days are gone.
"It's physical, you have to fight for every ball. They play with high intensity, but that's what we want to do too. Fracas? No, we don't want to see that. We want to see the skills of the game."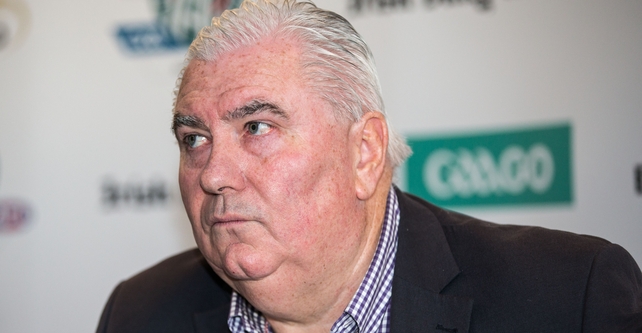 Over 70 players attended training sessions in the recent months before the final 23-man squad was announced on Wednesday.
Kernan has admitted the quality of player at his disposal meant picking the final squad was a challenge.
"It took us three weeks to eventually sort the squad out but we got it done last weekend."
He highlighted a number of players who were unavailable due to injury, including Michael Murphy (Donegal), Sean Cavanagh (Tyrone), Anthony Maher (Kerry) and the Dublin pair of Cian O'Sullivan and Brian Fenton.
"These are the type of players who would have been in with us but they have injuries and you can't plan for that. Other players rose to the fore and certainly we're happy with the squad we have."
Kernan feels the squad he has selected will be well suited to the compromise game.
"They've all adapted well. If you look at all Gaelic players now - years ago corner-backs wouldn't venture outside the 21 whereas now the likes of Philly McMahon will turn up and score a goal or a point for you. They're versatile and they're very mobile.
"It's just doing the simple things well, that's what we are trying to get."