Nine players from this year's All Star selection feature among the 23-man squad that Ireland manager Joe Kernan has picked for the upcoming International Rules Test against Australia at Croke Park on 21 November.
Footballer of the Year Jack McCaffrey is among the elite group of players in Kernan's selection along with Mattie Donnelly, Lee Keegan, Philly McMahon, Conor McManus, Rory O'Carroll, Aidan O'Shea, Donnchadh Walsh and Ireland team captain Bernard Brogan.
League and All-Ireland champions Dublin top the list with five representatives. In all, there are 12 counties from across all four provinces named in the match-day 23. The county breakdown is Dublin (5), Tyrone (3), Laois, Kildare, Cork, Monaghan, Mayo (2 each), Clare, Tipperary, Longford, Kerry and Donegal (1 each).
Kernan said: "We've been delighted with the response and the hard work put in by players from all over the country in the last eight weeks in a bid to represent Ireland.
"Unfortunately injuries and club commitments have ruled some players out, but I am happy that we have still managed to assemble a very strong squad and it was a difficult job to reduce numbers down to the squad and the standby list.
"Both the players and the management are really looking forward to this EirGrid International Rules test.
"The fact that the Australians are sending over such a strong team of players means that we will have to up our game if we are to take those boys on and that's exactly what we are planning to do."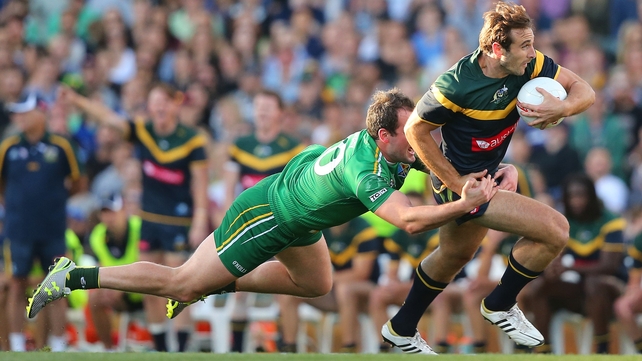 IRELAND SQUAD FOR EirGrid INTERNATIONAL RULES TEST WITH AUSTRALIA
1 Niall Morgan (Tyrone)
2 Colm Begley (Laois)
3 Gary Brennan (Clare)
4 Bernard Brogan (Dublin) Capt
5 Eoin Cadogan (Cork)
9 Mattie Donnelly (Tyrone)
10 Eoin Doyle (Kildare)
11 Peter Harte (Tyrone)
13 Darren Hughes (Monaghan)
15 Lee Keegan (Mayo) Vice Capt
17 Paul Kerrigan (Cork)
19 Jack McCaffrey (Dublin)
20 Ciarán McDonald (Tipperary)
22 Philly McMahon (Dublin)
23 Conor McManus (Monaghan)
25 Rory O'Carroll (Dublin)
26 John O'Loughlin (Laois)
28 Aidan O'Shea (Mayo)
29 Michael Quinn (Longford)
31 Donnchadh Walsh (Kerry)
33 Diarmuid Connolly (Dublin)
34 Paul Cribbin (Kildare)
35 Paddy Mc Brearty (Donegal)
STAND BY PLAYERS
16 Paddy O'Rourke (Meath)
6 Killian Clarke (Cavan)
7 Ray Connellan (Westmeath)
14 Kieran Hughes (Monaghan)
21 Gearoid McKiernan (Cavan)
24 Dessie Mone (Monaghan)
27 Colm O'Neill (Cork)
30 Enda Smith (Roscommon)