Jack McCaffrey paid tribute to "unbelievable" Dublin manager Jim Gavin after collecting the Footballer of the Year prize at the GAA GPA All Stars awards.
The defender took the honour after an outstanding summer which ended in the Dubs lifting Sam Maguire.
McCaffrey was a key figure in his county's 25th All-Ireland SFC triumph, but insisted he and his team-mates merely follow in the footsteps of Dublin's management team.
"Jim's unbelievable," McCaffrey told RTÉ.
"Dublin have been lucky to have had a few very good managers but Jim is the man I've done most of my playing under.
"He's so practical in what he does, it's so simplistic. We focus on every game as it comes – be it an O'Byrne Cup match or an All-Ireland final, we run through the exact same process, take to the pitch in the exact same way and try to perform as best we can.
"It all emanates down from Jim and the rest of the management are excellent as well. They lead and we follow in their footsteps."
McCaffrey emphasised that Dublin's primary goal every year was to win the All-Ireland and highlighted the team spirit and collective drive that has delivered the goods.
"This is an unbelievable honour, but it comes at the end of us winning the All-Ireland, which was our primary goal," he said.
"It could have been any Dublin lad – once we won Sam Maguire we were going to be very happy how this year went.
"The last couple of years have been a bit of a rollercoaster for me. We just go every year and focus on every game. One of Jim's key ethoses is to focus game by game. These things come as a result of that."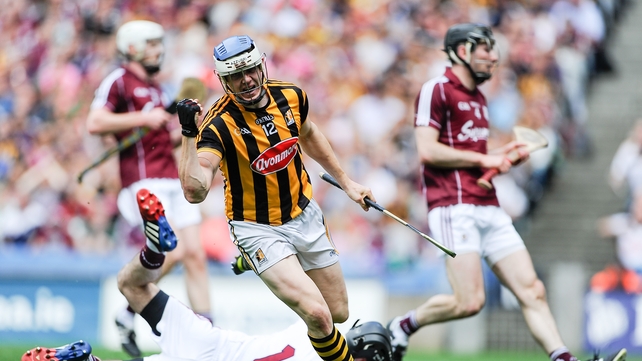 Mayo's Diarmuid O'Connor took the Young Player of the Year award and said he's already looking forward to next summer as the pain of another All-Ireland semi-final defeat still lingers .
His older brother Cillian O'Connor won the accolade twice and Balintubber man Diarmuid said: "It's a good achievement but obviously it doesn't fill the gap of an All-Ireland. But it's a great honour.
"We haven't been able to get past the semi-finals so I'm just looking forward to getting back at it and trying to improve for next year."
Kilkenny's TJ Reid heaped praise on Jackie Tyrrell after claiming the Hurler of the Year award.
With the Cats three points down at half-time in the All-Ireland final against Galway, Tyrrell delivered a now famous speech to his inspire his colleagues to second-half recovery..
"Jackie is a main part of our team, he owes nothing to Kilkenny, at half-time when he spoke we listened to him.
"I knew deep down once we got six to eight weeks of training there was a special team there. Lucky enough, things went to plan."
Waterford's Tadhg de Búrca was named as the Young Hurler of the Year after starring in the Deise's run to the All-Ireland semi-finals, where they were defeated by Kilkenny, 1-21 - 0-18.
"We always believed in ourselves," he said. "It was a bit of a surprise that got so far, and it was a surprise for me to get this.
"The least amount of pressure was on me, all the other players were working hard and giving me the ball."