Sunday's All-Ireland final will be the 28th championship meeting between Dublin and Kerry since the counties first met in 1892.
Kerry have won 17 times to Dublin's eight, while there were two draws from the previous encounters.
One of those stalemates was in the 2001 All-Ireland quarter-final at Semple Stadium. Maurice Fitzgerald's last-gasp point from out on the wing saved Kerry's bacon on that occasion.
The counties have met 13 times in All-Ireland finals with the score 8-5 in the Kingdom's favour. The first meeting was in the 1892 final. The match wasn't played until 26 March 1893 and the venue was Clonturk Park in Drumcondra. Dublin ran out 1-4 to 0-3 winners
2011 was the last time these age-old rivals did battle on the third Sunday in September. Stephen Cluxton nailed a free at the death to give Pat Gilroy's side a 1-12 to 1-11 victory. 
This year is the 40th anniversary of when Mick O'Dwyer's team of youngsters came to Croke Park and silenced The Hill, playing an exciting brand of football.
Many will remember Mickey 'Ned' O'Sullivan, the Kerry captain, getting caught in a 'Dublin sandwich'. He had to be stretchered off and the honour of lifting Sam Maguire feel to one Pat Spillane.
DUBLIN v KERRY - All-Ireland finals
2011: Dublin 1-12 Kerry 1-11
1985: Kerry 2-12 Dublin 2-8 
1984: Kerry 0-14 Dublin 1-6 
1979: Kerry 3-13 Dublin 1-8 
1978: Kerry 5-11 Dublin 0-9
1976: Dublin 3-8 Kerry 0-10
1975: Kerry 2-12 Dublin 0-11
1955: Kerry 0-12 Dublin 1-6 
1924: Kerry 0-4 Dublin 0-3 
1923: Dublin 1-5 Kerry 1-3 
1908: Dublin 0-10 Kerry 0-3
1904: Kerry 0-5 Dublin 0-2 
1892: Dublin 1-4 Kerry 0-3
DUBLIN - Path to the final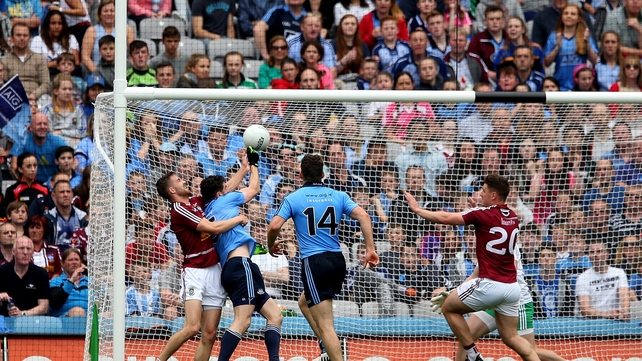 Dublin 4-25 Longford 0-10 (Leinster quarter-final)
Dublin 5-18 Kildare 0-14 (Leinster semi-final)
Dublin 2-13 Westmeath 0-6 (Leinster final)
Dublin 2-23 Fermanagh 2-15 (All-Ireland quarter-final)
Dublin 2-12 Mayo 1-15 (All-Ireland semi-final)
Dublin 3-15 Mayo 1-14 (All-Ireland semi-final replay)

KERRY - Path to the final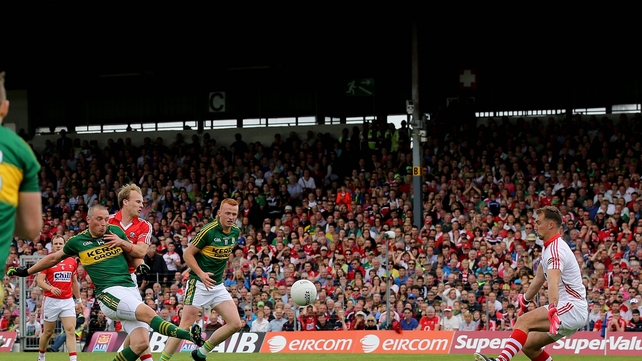 Kerry 2-14 Tipperary 2-8 (Munster semi-final)
Kerry 2-15 Cork 3-12 (Munster final)
Kerry 1-11 Cork 1-6 (Munster final replay)
Kerry 7-16 Kildare 0-10 (All-Ireland quarter-final)
Kerry 0-18 Tyrone 1-11 (All-Ireland semi-final)
DUBLIN - Leading scorers
Bernard Brogan 6-19
Dean Rock 2-21
Diarmuid Connolly 4-10 
Ciaran Kilkenny 0-18
Paul Flynn 2-04
Kevin McManamon 2-07
Alan Brogan 0-05
Jack McCaffrey 1-01
Philly McMahon 1-05
KERRY - Leading scorers
Bryan Sheehan 0-17
Colm Cooper 2-9 
Paul Geaney 2-8
Barry John Keane 2-8
James O'Donoghue 1-10 
Stephen O'Brien 1-7
Darran O'Sullivan 2-1
Donnchadh Walsh 1-3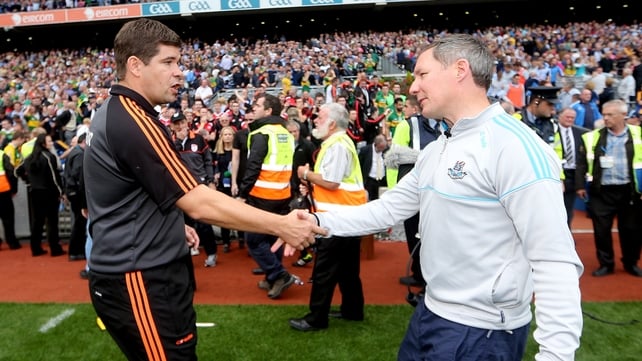 Éamonn Fitzmaurice is in his third season as Kerry manager, leading them to Munster titles in 2013-2014-2015 and to last year's All-Ireland title.
His management record reads: Played 16; Won 13, Drew 2, Lost 1. The defeat came against Dublin in the 2013 semi-final. 
Jim Gavin is also in his third season as Dublin manager, leading them to Leinster titles in 2013-2014-2015 and to the 2013 All-Ireland.
His management record reads: Played 17; Won 15, Drew 1, Lost 1. The only defeat was against Donegal in last year's All-Ireland semi-final.
The last competitive clash between Dublin and Kerry was in this year's Allianz Football League on 1 March last when Kerry won by 0-15 to 1-10 in Killarney.
It was a spicy enough affair with the referee brandishing seveen yellow cards, four black cards and a red card.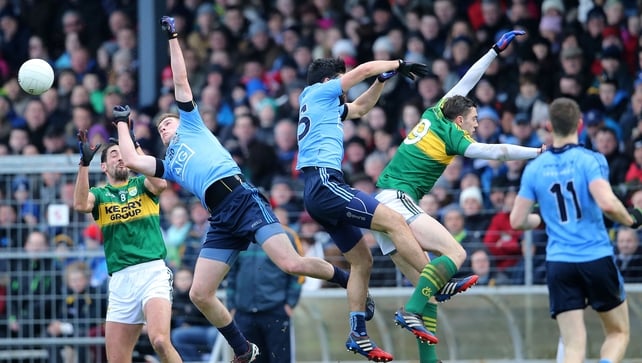 Kerry lead the the way in the All-Ireland honours list with 37 titles. Dublin have 24, with 15 of those wins for the boys in blue coming in the first half of the last century.
The Dubs were the second team to play in six successive finals - 1974-1979 - a feat that was later matched when Kerry contested the deciders from 2004 to 2009. Wexford were the first team to achieve the feat, appearing in finals from 1913 to 1918.
This is the fifth successive year that the All-Ireland final will be contested by provincial winners. The last final not involving provincial winners was Cork v Down in 2010. 
Follow Dublin v Kerry with RTÉ Sport Online's live blog by Eoin Ryan and James McMahon, watch live on RTÉ2 or RTÉ Player or listen live on Radio 1.