The great body of opinion that's out there is anticipating a cracking All-Ireland football final between Dublin and Kerry. More difficult is predicting the winner in this two-horse race where both sides have shown good form-lines in advance of the decider.
Fermanagh manager Pete McGrath is in no doubt that the cream has come to the top in this year's All-Ireland stakes.
"We certainly have the two best teams in the final. Both teams were pushed to the pins of their collar in their respective semi-finals but both also knew how to win the game when it was there to be won."
Many questions remain as to how exactly the teams will set up on Sunday and so further muddying the waters with regard to any predictions.
On the basis of what he's observed so far and having faced them in the All-Ireland quarter-final, McGrath is siding with the Dubs to win their 24th title. "I think overall Dublin have the better panel of players," he said.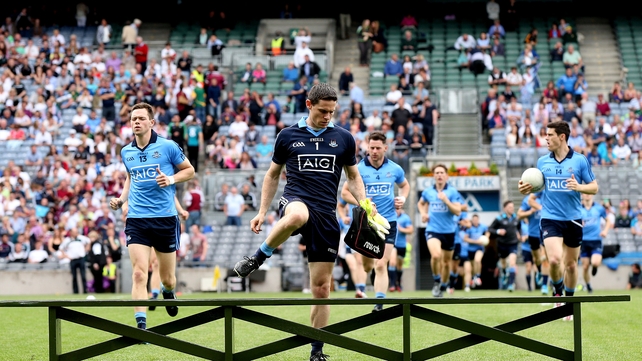 "Having said that, no team brings out a better game from Kerry than Dublin does. But balancing both squads, I think the Dubs' superior ability to run at Kerry could possibly tip the balance in their favour. As a unit, I would have more confidence in them to get critical scores at critical times. Also the hard lessons from last year might just get them over the line."
"I think Dublin have the tactical nous to deal with whatever Kerry throws at them" - Pete McGrath
The hard lessons that the Co Down native is referring to was last year's All-Ireland semi-final defeat against Donegal.
"Dublin were hotly tipped to win last year's All-Ireland but that defeat to Donegal really hurt them," he added.
"They spent the winter mulling over that loss. The extra game against Mayo this year will leave them in great stead going into the final. They'll well prepared for Sunday. I understand there is a vulnerability in their defence, as is the case with Kerry, As a result, I expect both teams will try and prevent the opposition from running at them from deep.
"That said, I think Dublin have the tactical nous to deal with whatever Kerry throws at them. I give them a reasonably confident vote to prevail."
Monaghan's star forward Conor McManus goes with the Kingdom to retain their crown.
"I thought Kerry would be the team to beat at the start of the year and I'm sticking with them," is his summary as to where Sam Maguire will be wintering in the months ahead.
McManus also feel that the nature of Kingdom's win over Tyrone in the semi-final leaves them well placed for the challenge of Jim Gavin's troops..
"Eamonn Fitzmaurice, being the tactical genius that he is, will get it right" - Conor McManus
"There was a lot made of the fact that Kerry had never beaten Tyrone at Croke Park so it was a big deal for them to achieve that the last day," he added.
"Tyrone pegged them back with five minutes to go but Kerry kicked on and scored the last four points. They are going onto the final in a very strong position and they will have four weeks to work on things they wouldn't be happy with.
"Eamonn Fitzmaurice, being the tactical genius that he is, will get it right. He will ensure that Kerry get their defensive set-up right, an area they'll have to improve on from the last day."
The 2013 All Star acknowledges that both Dublin and Kerry have talented forward divisions, but feels that the Munster champions are "slightly more potent" in that sector.
"To score seven goals in any championship game [against Kildare in the All-Ireland quarter-final] shows the threat they have and they have the likes of Darran O'Sullivan to come off the bench.
"It's Kerry for me by a point in a thriller."