KILKENNY
21 June: Nowlan Park
Leinster semi-final: Kilkenny 5-25 Wexford 0-16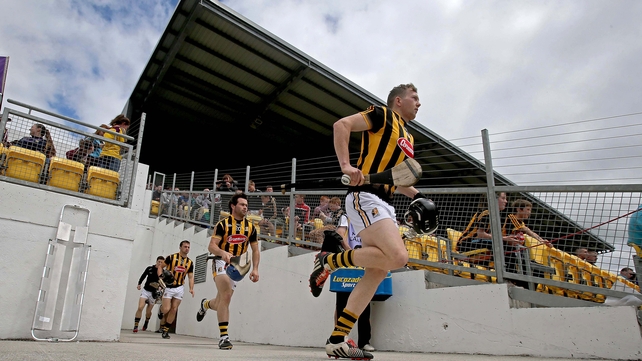 Ger Aylward signalled a new era for Kilkenny hurling with a stunning 3-05 to help secure the holders' place in the Leinster final as they crushed Wexford at Nowlan Park.
The Cats were beginning their campaign without Henry Shefflin and a host of other retired icons but were rarely troubled and appear to have unearthed a new marquee talent in Glenmore attacker Aylward.
His opening goal in the 13th minute put Kilkenny six clear and, in truth, they were at their ease from there on with the lively corner-forward adding his second and third after the break.
The impressive 24-point win was a serious statement of Kilkenny's Championship intentions with strong performances also from talisman Richie Hogan, TJ Reid and Kieran Joyce.
Neither set of supporters in the 19,134 crowd were quite sure what to expect beforehand.
Wexford stumbled over the winning line against Westmeath in the quarter-finals following an Allianz league campaign that once again failed to yield promotion from Division 1B.
As for Kilkenny, they hadn't played a game in all of 12 weeks and that was a relegation play-off tie with Clare.
5 July: Croke Park
Leinster final: Kilkenny 1-25 Galway 2-15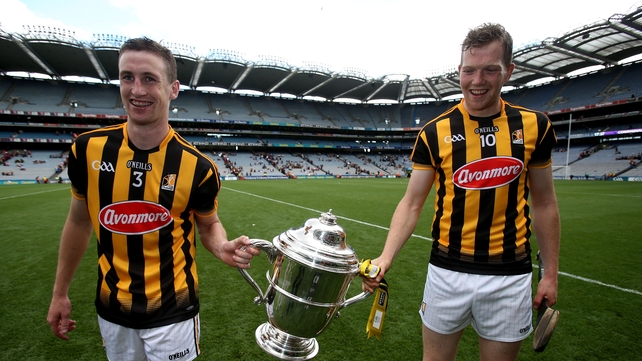 Joe Canning lit up Croke Park with a stunning first-half goal for Galway, but Kilkenny found the scores easier to come by and wrapped up their 70th Leinster hurling title with a seven-point victory over the Tribesmen.
TJ Reid hit 1-09 for the Cats including a 28th minute goal, and led 1-11 to 1-08 at half-time, but Galway levelled matters when substitute Jason Flynn goaled two minutes after the restart.
However, Galway never led after the sixth minute as Kilkenny eased their way into the All-Ireland semi-final and handed a third provincial final defeat to the Tribesmen.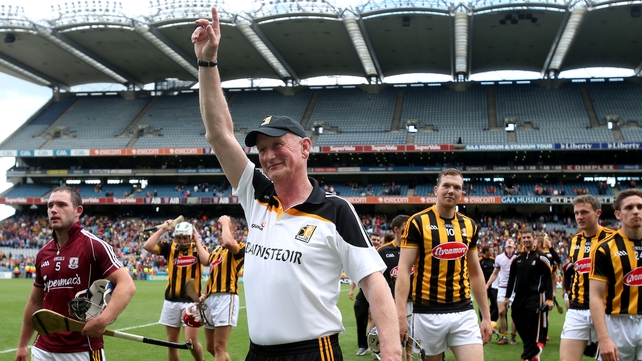 Speaking after the gamer to RTÉ Sport, Brian Cody said: ""I think we were massively tested. The response each time was terrific.
"We got a small bit of a lead coming up to half-time and they hit us with a goal and they hit us with a goal at the start of the second half.
"They are great times to get scores. The response at all times was very very good. We dug in and kept going and kept working and we got some very good scores.
"Essentially I suppose the attitude of the team right through the whole game was the most pleasing thing."
9 August: Croke Park
All-Ireland semi-final: Kilkenny 1-21 Waterford 0-18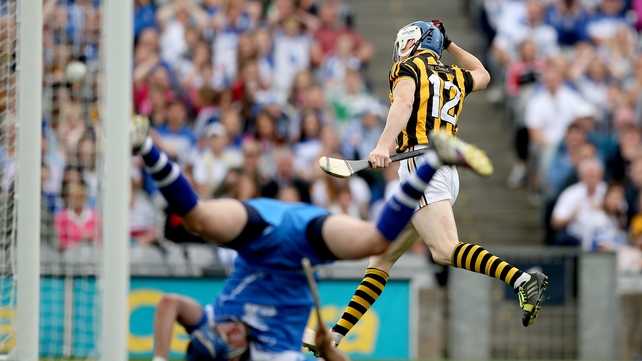 TJ Reid underlined his All Star credentials yet again with a match-winning tally of 1-09 as Kilkenny returned to a remarkable 14th All-Ireland hurling final under manager Brian Cody.
The Ballyhale man struck for the game's only goal after 17 minutes to give the holders a vital cushion and they would retain the lead from there until full-time.
They remain in line to secure back-to-back titles and continue to have inspirational leaders in Reid and Hurler of the Year Richie Hogan, who contributed 0-05 from play.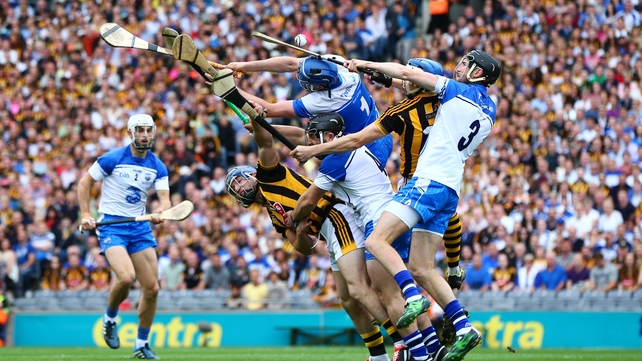 Maurice Shanahan led Waterford's challenge with a haul of 0-09 while Colin Dunford came into the game strongly in the second half, reducing the margin to just three points with a spree of scores.
But Kilkenny retained a strong kick for the finish line and two points from Hogan in the concluding stages as well as a couple from Ger Aylward kept them well in the clear.
GALWAY
31 May: Croke Park
Leinster quarter-final: Galway 1-17 Dublin 0-20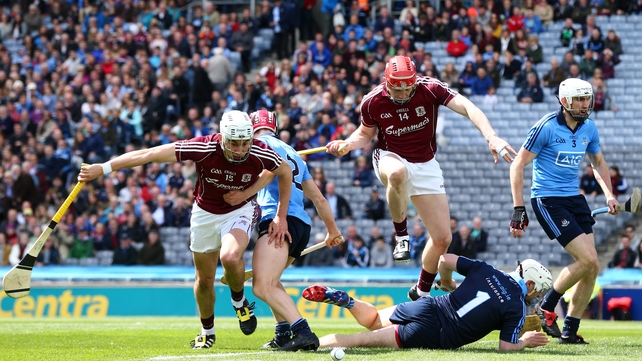 Aidan Harte nailed the 70th-minute leveller to ensure that Galway and Dublin will do it all over again after they played out a 0-20 to 1-17 draw at GAA HQ.
The Tribesmen were behind for most of the second-half but Dublin simply couldn't put them away, drilling seven wides in the second half - 12 in the entire game.
And with just a point in it approaching full-time, Galway midfielder Harte capitalised on the Dubs' errant shooting by racing clear through the centre to tie it up and force a quarter-final replay.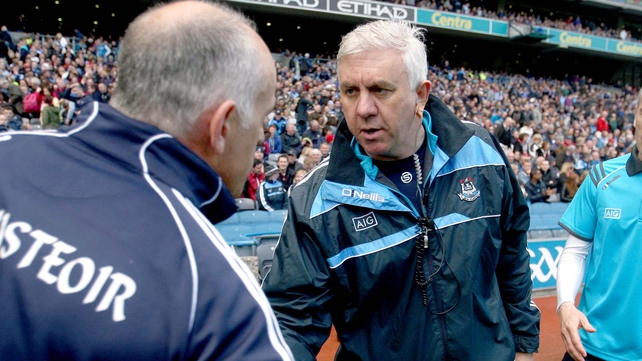 Galway will be happiest to escape with the draw as Dublin were three ahead with 16 minutes to go and still led with time almost up.
David Treacy was Dublin's primary scorer with 0-11, while Galway were surprised to see talisman Joe Canning pick up just one point from play and be taken off in injury-time.
6 June: O'Connor Park
Leinster quarter-final replay: Galway 5-19 Dublin 0-18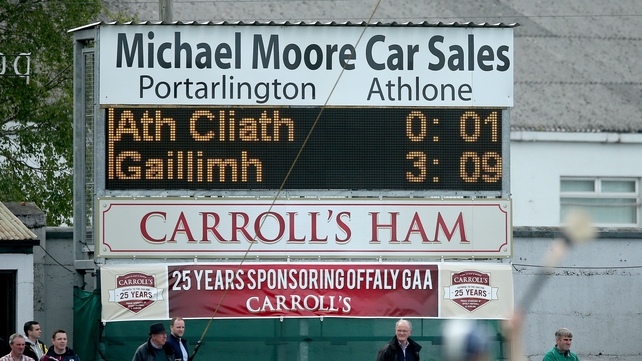 An 11-minute hat-trick from Cathal Mannion helped Galway to a convincing victory over Dublin after an enthralling replay at O'Connor Park, Tullamore.
Joe Canning also rattled two quick goals after the restart as Galway piled on the misery – the Tribesmen's full-forward line contributed 30 points between them – but a total of eight bookings will annoy manager Anthony Cunningham.
The first-half was action packed and a fiery affair, but with that extra passion and improved skill levels, Galway managed to destroy the Dublin full-back line thanks to Mannion's early exploits.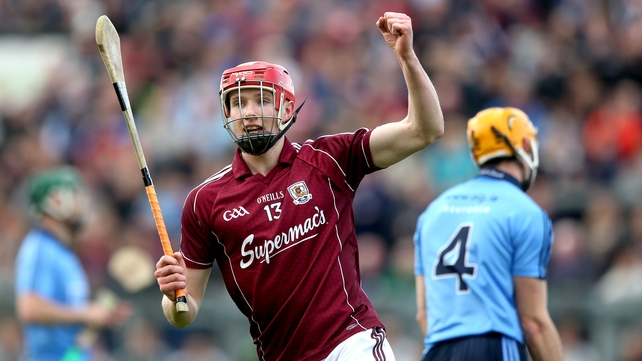 Dublin also missed two first-half penalties and only managed one point in the first 19 minutes. By that stage the result was all but secured; Galway had scored 3-10.
Mannion's first goal came after 45 seconds: a low, bullet-like shot to the bottom right corner of Alan Nolan's goal, and after a quick point from Andy Smith and a free from Jason Flynn – Joe Canning was relieved of dead ball duties for the day – he hit the same corner of net for the second time in the fifth minute.
A minute later David Treacy could have settled Dublin, but after Johnny Coen upended the Cuala man, his penalty sailed horribly wide.
20 June: O'Connor Park
Leinster semi-final: Galway 3-28 Laois 1-14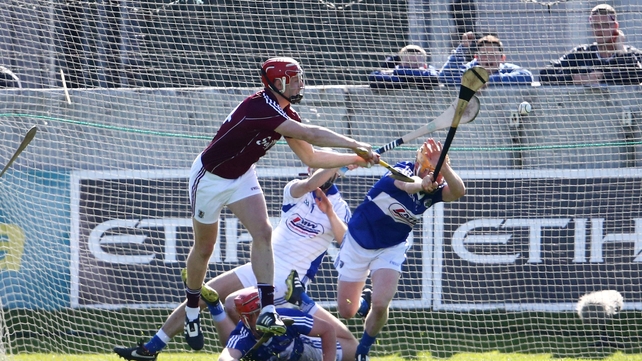 Galway easily booked their place in the Leinster SHC final with a comprehensive 20-point win over Laois.
Joe Canning scored 1-15 and while 11 of those points came from frees and 65s, the Portumna powerhouse produced another stunning performance to follow his tour de force against Dublin in the replayed quarter-final.
The same could be said of Galway and it is the first time perhaps since 2012 that they managed to put together back-to-back performances in the Championship.
Nobody would have predicted what was about to unfold in the game after 16 minutes though, when the teams were level on 0-02 each.
Galway had racked up five wides in that period, but Laois were making it difficult for them with their sweeper system, and also caused problems at the other end on the break.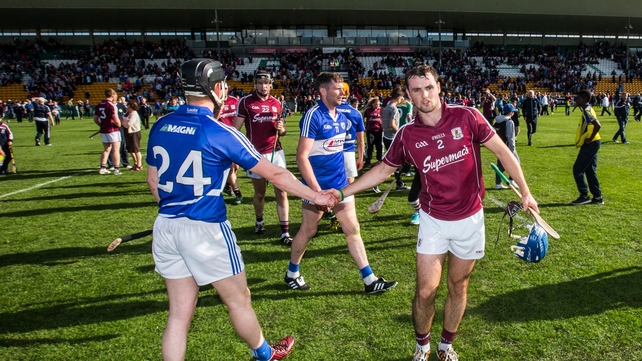 Paddy Purcell and Tommy Fitzgerald scored two fabulous points and Purcell's eighth-minute score might have been a goal but his shot flashed over the top.
Johnny Coen's 17th minute goal was the turning point, as the full-back's shot from deep inside his own half somehow deceived Eoin Reilly and landed in the net.
Laois were shell-shocked and, as the level of pressure on the Galway players dropped, they paid a heavy price.
In all, Galway fired over 16 points without reply after that goal and having been level, Anthony Cunningham's men led at the break by 19 points, 1-18 to 0-02.
Laois deserve credit for regaining their composure at half-time, and with the wind at their backs, were much more competitive after the resumption.
Galway were unlikely to be able to keep up their intensity and nor was there any need for them to do so.
5 JULY: Croke Park
Leinster final: Kilkenny 1-25 Galway 2-15
One of the standout moments from this summer was Joe Cannings first-half goal for the Tribesmen.
A long delivery from Andy Smith was sent towards Canning at the edge of the square. He caught the ball with his back to goal, turned immediately and fired a bullet past Eoin Murphy. How he found the target when shooting on the spin and off balance was a mystery, but Galway would have been happy to only trail by 1-11 to 1-08 at half-time.
Tow minutes after the restart the westerners goaled again.
Once more it was a long ball from Smith that produced the opening, but with the Kilkenny defence attracted to Canning, Flynn crept in behind the cover to hit the net and level the scores.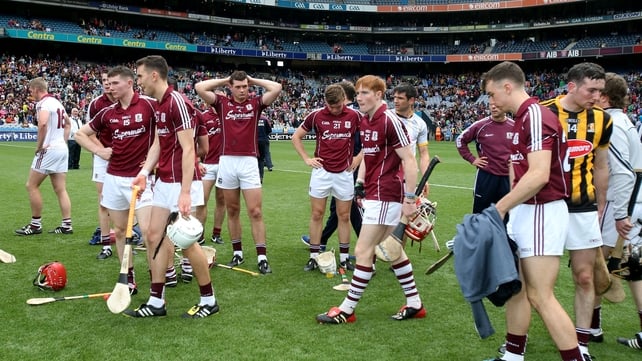 And while the sides swapped points for the following five minutes Galway could never take the lead. Instead Kilkenny took control with five points in a row with 20 minutes to go.
A mini Galway rally instigated by Cyril Donnellan brought Galway back to three points behind with eight minutes remaining, but the Cats his four points from play in the closing stages to wrap up the win.
26 July: Semple Stadium
All-Ireland quarter-final: Galway 2-28 Cork 0-22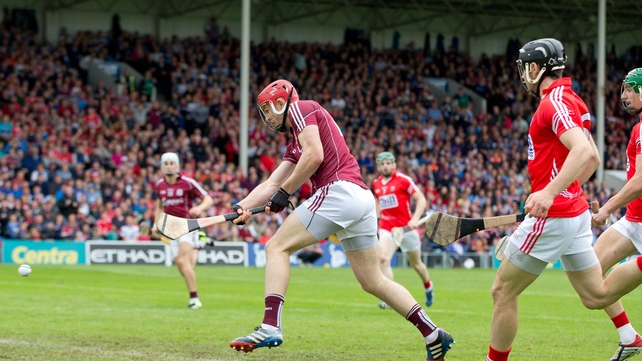 Anthony Cunningham's Galway stormed past Cork by 12 points at Semple Stadium to reach the last four.
The Connacht side could even afford the luxury of 23 wides on a day when Joe Canning had nine of his own.
Taking those misses into account, it could have been so much worse for Cork on a day when they were dominated by a ravenous Galway outfit intent on recovering from their Leinster final defeat to Kilkenny.
They did that in style with eleven different players on the scoresheet, including subs Niall Healy and Joseph Cooney, who impressed after coming on.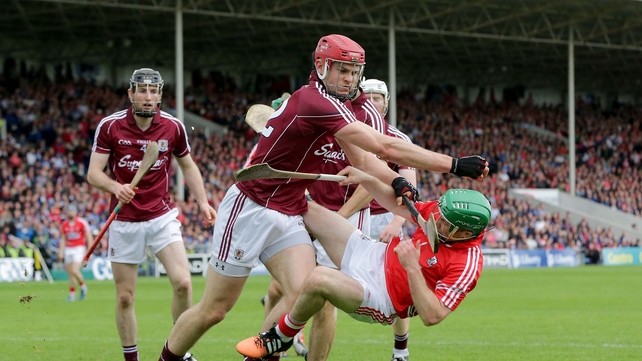 Cathal Mannion helped himself to seven points from play and 18-year-old debutant Conor Whelan hit 1-02, including a late goal as Galway rubbed salt into the Rebels' wounds.
A miserable day for Cork was compounded by a knee injury for Cormac Murphy in the second half and Damien Cahalane's red card.
Cahalane had already been booked in the first half and needlessly careered into Joseph Cooney with 19 minutes left.
16 August: Croke Park
All-Ireland semi-final: Galway 0-26 Tipperary 3-16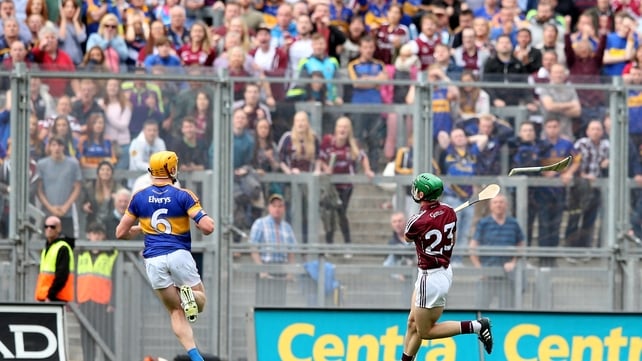 Shane Moloney crowned an incredible debut for Galway with an injury-time match winning point as the Tribesmen returned to the All-Ireland hurling final in quite incredible fashion.
The substitute was only on the field a matter of moments when he was wonderfully picked out by a long Joe Canning pass and split the posts for the game breaking score.
The strike brought to an end a remarkable game that saw Tipperary's Seamus Callanan finish with 3-09 on his own.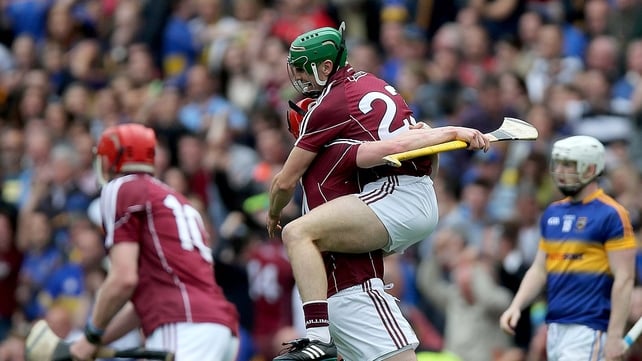 Tipp also brought on Noel McGrath for his first action since April following testicular cancer surgery and the talented attacker contributed an important point.
But Maloney was the man on everyone's lips in the 58,495 strong crowd as he punched the air in delight after setting up next Sunday's showdown with Kilkenny