There are three key questions in Sunday's All-Ireland SFC semi-final between Dublin and Mayo. The outcome of each will go a long way to deciding which side goes forward to meet Kerry in the final. 
1. How will Dublin counteract the O'Shea factor?
Dublin manager Jim Gavin has correctly described Aidan O'Shea as the form player in the country at the moment and his clash with Dublin full-back and 2013 all-star Rory O'Carroll will have a huge bearing on who will be facing Kerry in the final.
O'Shea, who is a past pupil of St Gerald's College in Castlebar and DIT, has been in superb form in the three championship matches that Mayo have played so far this summer. 
Galway struggled very badly against his power and direct running, while he hit a hat-trick of goals against Sligo, and his stunning goal just before half-time against Donegal was a crucial score in that victory.
This Sunday, however, will be a massive step up in pace and intensity on anything he has faced in that position so far, and it will be interesting to see how Dublin play him.
Any team that has left him in a one-on-one with their full-back has been well beaten and it is unlikely that Jim Gavin will not have come up with a specific tactic to restrict O'Shea's influence. 
O'Carroll is a top player. He is a very experienced and capable defender and has won two All-Ireland medals at full-back (2011 and 2013) and he will relish the challenge of stopping the current stand-out candidate for player-of-the-year. 
However, he does not have the height or power to handle the Breaffy man if O'Shea gets good supply, so he will need defensive support. 
In an ideal defensive situation for Dublin, they would have a man in front of O'Shea to cut off the incoming ball and have O'Carroll to try to knock down any ball that beats that first line of defence. Pressure will also have to be applied to the kicker as a perfect cross field pass is almost impossible to defend against.
Where that extra body at the back comes from, or how exactly Dublin supply an extra man to try to nullify O'Shea when Mayo are on the attack, will be interesting to observe.
Gavin has said that he is not likely to alter his defensive structure much to deal with opposition forwards, however, after conceding 3-14 to Donegal in last year's six point semi-final defeat, we can take that statement with a pinch of salt.
2. Can Mayo curtail Cluxton's influence from restarts?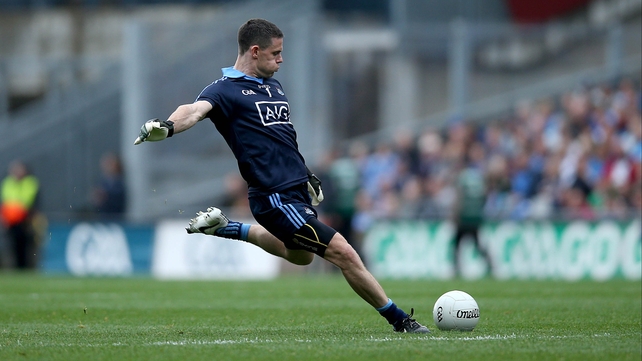 Over the past six or seven years, Stephen Cluxton has been Dublin's most influential player, which is a big statement to make about a goalkeeper. His ability to find his team-mates from kick-outs is superb and his accuracy and speed from the restart is without parallel in Gaelic football.
Pat Holmes and Noel Connelly will want to their players to pressure Cluxton on his kick-outs and to push up on them in so much as is possible.
They will want to try to get the five time All-Star goalie to make a few errors, similar to what Kerry did on Tyrone's Niall Morgan last weekend. 
If Cluxton is forced to kick it long, with no obvious target, the percentage of ball that Dublin retain will be reduced considerably.
Kerry did a magnificent job in that regard back in 2009 when they defeated Dublin by 1-24 to 1-07 in an All-Ireland quarter-final. Once they negated Cluxton's influence from kick-outs, Dublin's entire game-plan imploded.
The Dubs are a far more experienced, better and sophisticated team now. However, Kerry set a template then, and last year too, in the All-Ireland final against Donegal on how to break down the opposition kick-outs and it reaped its reward with Paul Durcan eventually running out of options and Kieran Donaghy capitalising on his error.
To allow Dublin easy and free possession from their restarts, considering how athletic and pacey they are in all areas of the pitch, but particularly with Jack McCaffrey, James McCarthy, Paul Flynn and Diarmuid Connolly on the wings, would be asking for trouble.
If Dublin are forced to kick long Mayo can have an advantage in the midfield sector where it is time for Seamus O'Shea and Tom Parsons to really leave their mark on a game at the highest level. 
Both men were in top form against Donegal and they will want to build on those displays. 
They are capable of dominating the middle over Bryan Fenton and either Michael Darragh Macauley or Denis Bastick, who was replaced by Macauley in their win over Fermanagh.
3. Which team will win enough of the mouth-watering match-ups?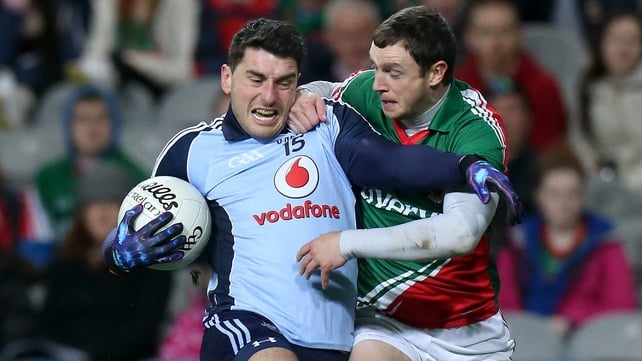 With some of the best players currently playing Gaelic football in action this weekend it is no wonder that the game has so many potentially explosive match-ups.
Will Mayo's team captain Keith Higgins pick up Bernard Brogan? 
Both are vital to their team's chances of getting to the final and a decisive win for either in that battle would have serious implications for the outcome of the game.
Lee Keegan, who was superb against Donegal, is likely to track current all-star Diarmuid Connolly and that is a match-up to relish.
Does Keegan curtail his attacking tendencies in order to focus totally on the St. Vincent's man, or does he bomb down the field when the opportunity presents itself and become the hunted, not the hunter?
Dublin centre-forward Ciarán Kilkenny is another player who Mayo must target as he is a superb link player and Holmes and Connelly must assign a player – perhaps Colm Boyle - to curtail his influence.
Cillian O'Connor has been relatively quiet for Mayo this season and they will need him to roar into the season on Sunday. He has a key role to play if Mayo are to win, and where he lines out and who is assigned by Jim Gavin to pick him up is an intriguing question.
All in all, the game has makings of a superb game of football and it has to be filed in the "must-see" category.