Dublin's Denis Bastick believes that there is a lot more to lifting Sam Maguire than winning six games in the Championship.
The Dubs will be crowned champions if they can chalk up six victories this summer, having headed straight through the front door courtesy of their Leinster final win.
But Bastick is convinced that the real work is done behind the scenes, often by players who do not even make the matchday squad.
"Competition," said the veteran midfielder. "That's maybe one of the reasons we've been successful over the last few years.
"Competition has been good, training has been good and at a high level. We need to keep it at that high level and it's tough because some players aren't making the team, others aren't making the bench so it's about having unity in the squad.
"Everybody has a job to do and everyone is helping the team towards the ultimate goal."
Speaking about the players who have to sit on the bench, or worse still don't even make the 26-man panel for the match, Bastick said: "It's a tough place to be as a footballer because all you want to do is play football.
"But you have to understand that you are making a difference. Every player is making a difference no matter how big or how small," said the 34-year-old. 
"It is a tough place, but maybe the bit of success eases that. In theory there's only six games in the Championship if you make it all the way, but there's a lot more goes on behind the scenes, a lot more football played there, which we're all involved in."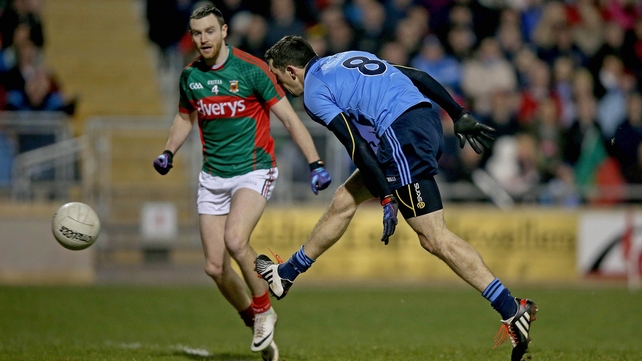 Dublin have waltzed through the Championship so far, winning every game comfortably.
Part of the reason for this is the fact that they have yet to face Division 1 opposition, though this will change on Sunday when they face five in-a-row Connacht champions Mayo in a Croke Park semi-final.
This marks a significant step-up in terms of the quality of opposition they have faced in the competition to-date, however, Bastick believes the Dubs are ready.
"It's quite similar to any Championship; the further you go the better the competition gets and the better the level of team you play," he said.
"This is no different - Division 1 Mayo, and that means we're going to have to draw on our experience from the league when we played nine games.
"We give every team the utmost respect, we train well in camp and for this the challenge is tougher because we are playing a better team than we have faced in the past so it's a case of being ready for that.
"We have no control over who we've played. We've prepared accordingly for each team we've come up against and we're doing the same against Mayo."
Dublin conceded 2-15 against Division 3 Fermanagh in their recent quarter-final - a worrying total, even if much of it came after the game was effectively over as a contest.
With Mayo and their in-form full-forward Aidan O'Shea to come, Bastick knows that the Dubs will have to do better at the back.
He said: "We weren't happy with the goals that we leaked and that's something we have to sort out the next day because that isn't going to be good enough in a semi-final. A wake-up call is no bad thing, but it's too many scores to give away.
"Aidan O'Shea is the form player at the moment, looking at Footballer of the Year. He destroyed Sligo, gave an exhibition in that game, and was very good against Donegal the last day.
"He's going to be a handful so we're going to have to come up with a game plan to minimise his impact on the game, whatever that is. He's a top class player and he's going to take minding."