Kildare overcame a six-day turnaround to beat Offaly in the qualifiers but manager Jason Ryan admitted they were lucky to come out of a "dogfight" in Tullamore as winners. 
Hammered by Dublin last Sunday, the Lilywhites picked themselves up to record a 1-15 to 1-13 victory over the Faithful County at O'Connor Park.
Offaly led for most of the first half but faded before the break and Kildare went in four points to the good.
Ryan told RTÉ Sport: "It was very, very close for the first 20 minutes and then for 15 minutes coming in at half-time we were in the ascendancy and the entire second half was a dogfight, it was really tough.
"I'd say we were in control for 15 minutes, the 15 minutes coming in at half-time, that was it. The rest of the time it was fairly much tit-for-tat. After we scored our goal we had a few minutes where we were in the ascendency as well."
Asked if it was difficult to rally his troops so soon after defeat in the Leinster semi-final, Ryan said: "Yeah, absolutely and I'd still question how ready we were today so we're just delighted to come away with a win and have a chance to drive on and keep going.
"When Offaly scored their goal there was nothing in it at that stage so we were lucky to come away from here with a win.
"By the end of it there so little in it, there was literally only a kick of the ball in the game."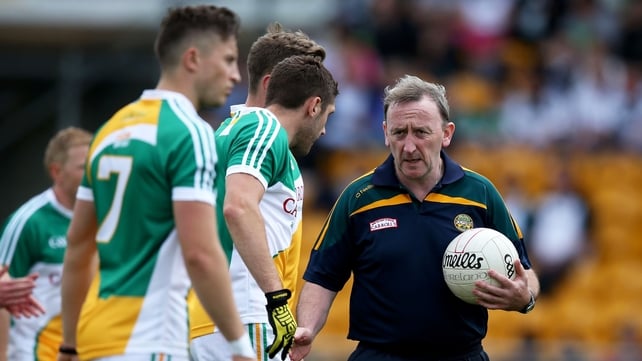 Offaly boss Pat Flanagan, who led the team into Division 3 of the league in his first season in charge, was left to rue another O'Connor Park defeat, having been beaten by Longford in the provincial championship at the same venue.
"Moral victories are useless to us to be totally honest"
He said: "I'm bitterly disappointed to be totally honest. The spell just before half-time cost us five points and that was the turning of the game. It left us a little bit too much to do.
"Kildare were able to sit back in the second half.
"The boys have a lot of learning to do and they'll learn a lot from this and hopefully they can take heart from it. Moral victories are useless to us to be totally honest.
"We have to build and I did say when I came in here that we needed to get out of Division 4 and continue to build.
"I do believe that if these boys keep working at it and keep focused on what we want to achieve in the next couple of years I think we'll make it."