Colin O'Riordan has described Tipperary's last championship clash with Kerry as an "embarrassment" but insisted there'll be no repeat this weekend in Thurles.
The newly crowned EirGrid U-21 Player of the Year has handed Tipp a significant boost by confirming he is almost certain to play against the All-Ireland champions on Sunday in the Munster SFC semi-final at Semple Stadium, throw-in 3.30pm.
He is confident of a strong performance from the Premier County too having already defeated Waterford by 22 points to reach the last four.
The Tipp U-21 captain and All-Ireland minor medallist is part of a confident bunch of young players that also includes current Opel GPA Player of the Month, Steven O'Brien, who have history in their sights.
They were not part of the Tipp side that lost by 17 points to Kerry in 2013 and O'Riordan said he personally was shocked by the resignation of the Tipp players that day.
"I suppose Peter Creedon summed it up at the time, 'embarrassment' was the right word," said O'Riordan. "We were looking on as young lads. We couldn't understand how these lads could just go out and just throw their heads down.
"We feel we are able to put it up to Kerry now" - Colin O'Riordan
"We knew they didn't expect that to happen either. Kerry just blitzed them on the day."
O'Riordan is adamant that the current panel have lofty ambitions and genuinely believe they can upset the provincial and All-Ireland champions.
"We feel we are able to put it up to Kerry now," he said. "It is no more a case of travelling with hope than expectation. We are going there for the win and there is no point saying otherwise because that is why you play, you play to win.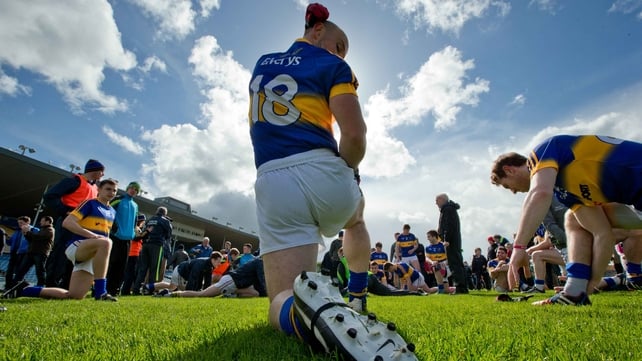 "You don't play to make up the numbers and that is the mentality that we are trying to get into the group, that every time we go out we go out to win rather than making up the numbers."
"They are hard to plan for, they have so many potential game-winners" - O'Riordan on Kerry
Still, the half-forward accepted that Kerry are a difficult team to stop when in full flow and he acknowledged their capability to win a game in several different ways.
"They are hard to plan for, they have so many potential game-winners," accepted O'Riordan. 
"They've All Stars on nearly every line of the field. They're more than a one-trick pony, they seem to have a lot of ways that they can win games.
"They showed that last year against Donegal. Everyone thought that Donegal would blitz them with their defensive system but Kerry just seemed to work through that and get the ball into Kieran Donaghy. That set up their platform for victory."
Regarding his fitness, O'Riordan added that he will be okay to feature against the Kingdom. 
"It's an old hip injury, I've had it before but it's fine, I'll be grand for Sunday," he said. 
"When I came off against Waterford it was sore enough and I didn't really know what it was at first, I thought it was an old injury flaring up again. But I think now it's fairly certain that I'll be okay."