Slaughtneils 1-14 Austin Stacks 2-10
Cormac O'Doherty was the hero with a 56th-minute match winning point to secure Slaughtneil a maiden AIB All-Ireland club final place.
The corner-forward struck decisively from around 30 metres out to decide a cracking contest that was level four times in the second-half.
The influence of All Star Kerry full-forward Kieran Donaghy was huge early on and he won two penalties, which Stacks converted.
But, in heavy conditions in Portlaoise, Ulster champions Slaughtneil pushed on for success with a strong second-half display and they'll face Corofin of Galway in the St Patrick's Day decider.
Stacks will kick themselves because apart from their strong start, they had a great chance to draw level late on.
But free-taker Shane Carroll dragged an injury-time free kick wide of the left upright when a point would have forced extra-time.
Much of the pre-match talk centre on the role of powerful Donaghy who started and finished the first-half in the half-forwards.
In between he had a thrilling battle with Slaughtneil's county defender Chrissy McKaigue.
McKaigue won the first two contests when high balls were put in between them.
But Donaghy won the third and was awarded a 15th-minute penalty for McKaigue's heavy challenge.
Pa McCarthy's nervous shot was straight at the 'keeper but the wing-back blasted the rebound to the net.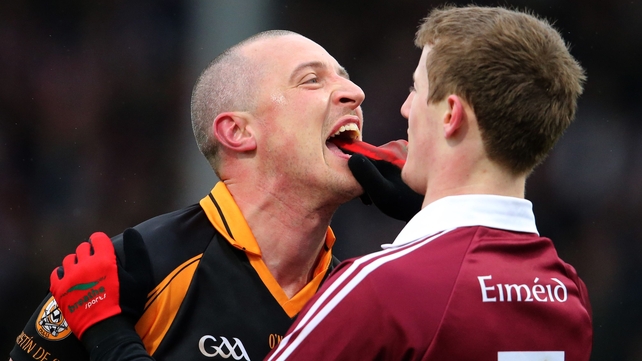 Stacks were awarded a second penalty just three minutes later in almost exactly the same circumstances.
McKaigue vigorously protested his innocence this time though referee David Gough was adamant he'd climbed over Donaghy and booked him.
McCarthy's penalty was better this time and hit the top right corner to put Stacks 2-03 to 0-04 ahead.
Slaughtneil were always dangerous when in possession at the other end though and gradually picked off the points to level up the game.
Donaghy returned outfield in search of possession and was booked himself for dragging on McKaigue, to the delight of the Slaughtneil fans.
They roared even louder when wing-back Barry McGuigan drilled a brilliant injury-time goal.
He soloed away down the right and though his initial left-footed shot hit the post he slid in and kicked to the net.
The sides were level 1-08 to 2-05 at half-time, perfectly reflecting a tight, tense game.
Donaghy contested the restart at midfield but immediately moved back into full-forward. He kicked a trademark point from a long diagonal ball in to put Stacks one up.
But in rain sodden conditions, there was never much in it and they were level at 1-13 to 2-10 with 10 minutes left.
They were still tied with four minutes to go before O'Doherty's fine, historic match winner.

Slaughtneil: A McMullan, B Rogers, C McKaigue (0-01), K McKaigue, C Cassidy, B McGuigan (1-01), F McEldowney, Patsy Bradley (0-01), P McGuigan, P Kelly (0-01), C Bradley (0-03), R Bradley, G Bradley (0-02), Paul Bradley (0-04, 0-04f), C O'Doherty (0-01).
Subs: S McGuigan for G Bradley, P Cassidy for C Bradley.
Austin Stacks: D O'Brien, R Shanahan, B Shanahan, C Jordan, D McElligott, F McNamara, P McCarthy (2-01, 2-00 pen), W Guthrie, G Horan (0-01), M Collins, S Carroll (0-04, 0-03f), D Bohane, D Mannix (0-02, 0-01f), K Donaghy (0-01), S O'Callaghan (0-01).
Subs: Darragh O'Brien for Collins, W Kirby for Bohane.
Referee: D Gough (Meath).