Ireland overwhelmed Australia by 116 to 37 at Croke Park to score a huge 101-point aggregate win in the International Rules series.
Goals from Conor McManus and Jack McCaffrey gave Ireland a 27-8 first quarter advantage, and a Ciaran Kilkenny six-pointer had them ahead by 53-16 at half-time.
McManus netted his second to send Ireland into the final quarter with a 78-25 lead, and they won with plenty to spare despite late consolation goals from Eddie Betts and Jake Neade.
Murphy grabbed a second closing stages to complete the highest ever points total in the history of the series.
Only once before had a team hit the ton, when Australia defeated Ireland 100-62 at Croke Park back in 1984, and while the 2013 team can revel in the role of record-makers, the future of the series could be in serious doubt following this one-sided rout.
Australia will certainly come under pressure to select their strongest possible team, having sent a completely indigenous squad for this year's clash with the Irish.
Australia will certainly come under pressure to select their strongest possible team, having sent a completely indigenous squad for this year's clash with the Irish.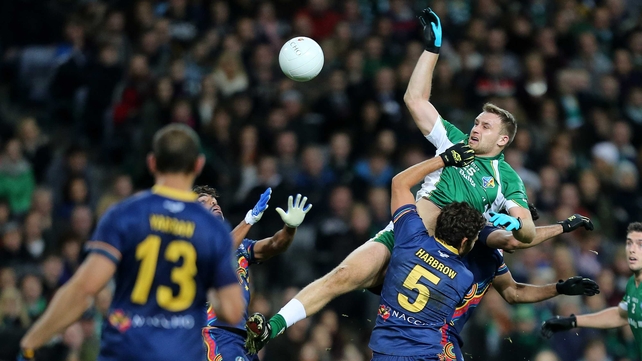 The Australians displayed aggression in the opening moments, with a handful of skirmishes disrupting the game, but that did not prevent the Irish from getting quickly to the pace, easing ahead by nine points to three in the opening five minutes, with Lee Keegan, Chrissy McKaigue and Ciaran Sheehan all finding the target.
Sharrod Wellingham and Eddie Betts registered at the other end, but the Australian defence was opened up twice in the space of four minutes as Ireland crafted goals.
Skipper Michael Murphy provided the lay-off for Ciaran McManus to smash home the opener in the 12th minute, and it was the same pair who combined to carve the opening for Jack McCaffrey to rifle home a second to open up an 18-point lead.
Colm Boyle was stretchered off after being felled by a crude Lindsay Thomas tackle, but the Irish continued to maintain their discipline as they reached the end of the opening quarter with a 27-8 advantage.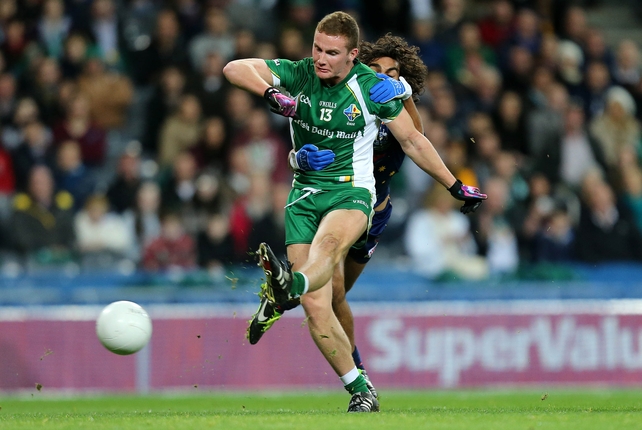 Ireland's ball-winning, ball-handling and clever support play overwhelmed the men from Down Under in a one-sided second quarter.
Australia did have overs from Lewis Jetta and Jake Neade, but Ireland reeled off 14 points without reply to put the series virtually out of sight.
Sean Cavanagh pulled the ball back from the end line to set up Ciaran Kilkenny for his side's third six-pointer, and classy scores from McManus, Munnelly and Keegan left the tourists with a mountain to climb.
By the halfway stage, the home side led by 53-16, and with a massive 59 points aggregate advantage, they were well on their way.
Australia's traditional resurgence in the third quarter failed to emerge, with Ireland increasing their dominance.
The accuracy of their passing and the clever use of the mark, in particular by Murphy and McManus, helped the home side put their opponents out of sight.
Australia scored just three times, through Lewis Jetta, Eddie Betts and Lindsay Thomas, while the Irish ran amok, adding overs through Murphy, Sheehan and McManus.
And they exposed the Australian defence once again for a fourth goal. Murphy and Boyle combined for the latter to cross for McManus to punch home his second.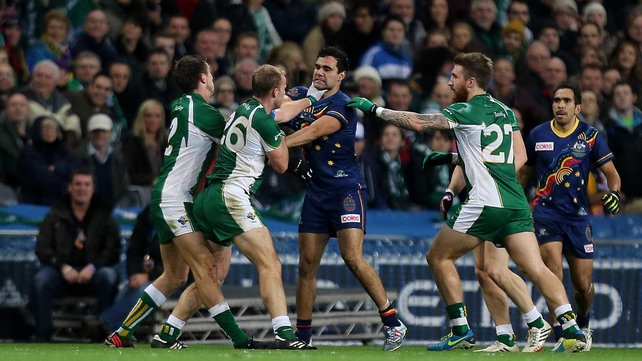 Ireland took a 78-25 lead into the final segment, and continued to pummel their unfortunate opponents, Paddy McBrearty smashing home the goal of the game to stretch the gap out to 65 points.
Australia did get in for a couple of consolation goals through Eddie Betts and Jake Neade, but the Ireland quickly recovered from this minor setback to lay on a display of champagne football in the closing stages.
Cavanagh pushed them through the 100 points barrier, and Murphy got the slightest of touches to Paul Conroy's pass for goal number six, before receiving the Cormac McAnallen Trophy from GAA president Liam O'Neill.
Ireland: P O'Rourke, N McGee, M Shields (0-1-2), C McKaigue (0-1-0), L Keegan (0-2-3), Z Tuohy, J McCaffrey (1-0-0), A Walsh (0-0-1), S Cavanagh (0-1-2), P Flynn (0-1-1), C Byrne, C Sheehan (0-1-1), R Munnelly (0-3-2), M Murphy (1-4-0), C McManus (2-4-0).
Interchange players: C Kilkenny (1-1-0), P McBrearty (1-1-2), C Begley (0-0-2), C McKeever, J Doyle (0-1-1), P Conroy.
Australia: A McGrath, J Harbrow (0-0-1), C Yarran, T Armstrong, S Wellingham (0-1-0), S Edwards, N Lovett-Murray, D Wells, C Ellis-Yolmen, M Stokes (0-0-1), S Moltop, Alwyn Davey, J Neade (1-1-0), Lewis Jetta (0-2-0), E Betts (1-1-1).
Interchange players: Leroy Jetta, L Thomas (0-1-0), Aaron Davey (0-0-1), J Hill (0-1-0), D Barry.
Referees: Maurice Deegan (Ire) & Matt Stevic (Aus)