By Micil Glennon
Ireland v Australia, Breffni Park, Cavan, 7pm
After a gap year in 2012 the International Rules series has rolled around again, and once more it's accompanied by the usual debate about its future.
Indeed, it's hard to recall a recent series that has not been laden down with the threat of scrapping.
Up until 2008 the hybrid game always seemed to be just one punch away from oblivion.
However, a rule brought in where a red card or foul play might carry over into domestic games seemed to work, and we have not witnessed anything like the scenes that marred the 2006 series, and, of course, the bloodshed of the 1980s.
But the last two renewals of the Cormac McAnallen Cup have been equalling unappealing, lacking the balance to make them compelling on any sporting level.
In 2010 the contests were more reminiscent of a netball game where the sides decided not to risk tackling at all, making it a very dull spectacle for the crowds in Limerick and Dublin.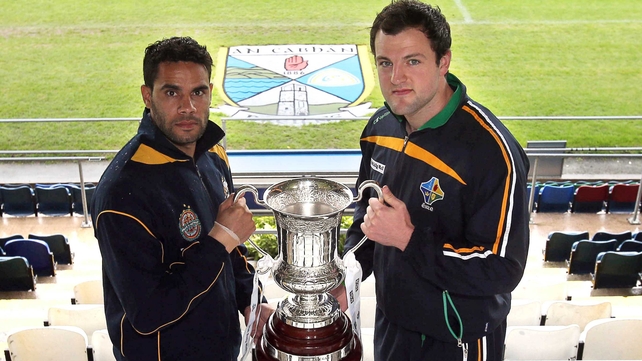 The aggregate score from that series, 102-92, hid the fact that the Aussies bossed the two games.
A last-quarter flurry from Ireland in Croke Park got spectators out of their seats for a few minutes but the atmosphere was subdued for the most part.
Add to that the sight of a group of Lions and Swans showing the likes of Bernard Brogan how to kick the ball over the bar and many fans were left bewildered as the Aussies comfortably saw off the home challenge.
And two years ago in Australia the games were even less competitive.
Against a less than committed Australian side, Anthony Tohill's men won the first Test by 44 points .
The margin of victory only served to make the second Test, which Ireland won 50-29 for a 130-65 aggregate win, even more of a dead rubber.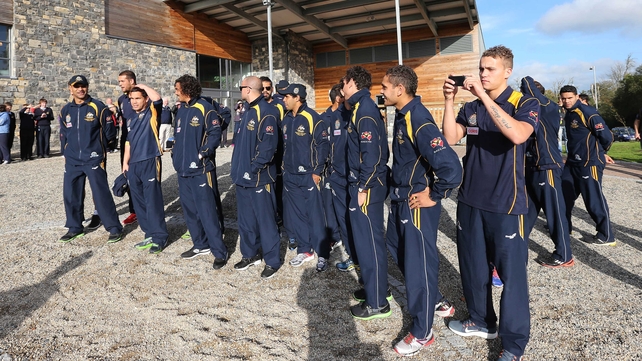 Indigenous team
It was reported that many of the top brass in the GAA were disappointed when Australia announced that they would be sending a panel made up of indigenous players only for these Tests.
It seemed to suggest that they were continuing the wind-down of the series by restricting the eligibility criteria.
It's a fair point but, just like Ireland, the Aussies have rarely sent the best of the best due to club commitments, injuries and assorted prior engagements (holidays usually).
And it would be hard for the powers that be here to protest when Ireland's captain, Michael Murphy from Donegal, has a county final less than 24 hours after the first Test in Cavan.
And how exactly to you explain to the average Aussie fan the fact that there's no player from Kerry on the panel?
The claim that only one side is taking the game seriously does not exactly ring true.
So that might just even itself out come throw-in this evening.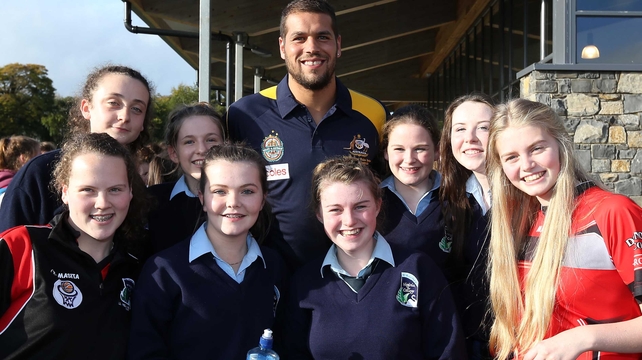 Hey Buddy
On the other side of that Australia can boast an AUS$10m player in Lance 'Buddy' Franklin, newly signed with the Sydney Swans.
The 26-year-old is among an elite group of AFL players to have scored over 100 goals in a season.
Incidentally, he won't be around for the second Test due to a prior commitment, this time a friend's wedding.
Coach Michael O'Loughlin has named Daniel Wells as captain and he is one of only three of the squad who have played the sport before.
All-Ireland winner with Kerry, Tadhg Kennelly, is part of the Australian coaching team and should be able to provide some insight for the Aussies on the challenges they face.
Paul Earley's Ireland squad certainly have the upper hand in terms of experience with Seán Cavanagh set to win his 11th cap in Cavan.
Finian Hanley and Ciarán McGeever have both played in three series apiece as well.
Carlton and Laois forward Zac Tuohy is the only AFL-based player in the Irish squad but Dublin's Ciarán Kilkenny spent four months at Hawthorn before returning home and his style is perfectly suited to this code.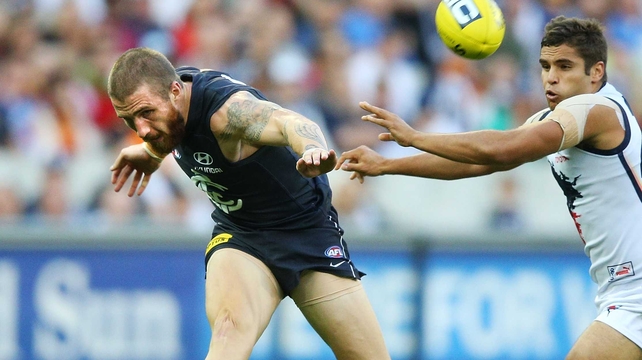 As for the game, it's all about which team adapts quicker to the skills involved.
The Irish may have the upper hand in this regard but with so many factors at play - fatigue, club games, playing the tackle, the touring team's spirit, etc - it's impossible to say with any degree of certainty who has the advantage.
That said, the Aboriginal players come with a reputation for athleticism and speed so their game plan will be to keep the tempo as high as possible and pressure the Irish in their own half.
If they get an early run on the Irish and manage the game smartly, it may be difficult for the home side to turn it around.
The statistics show that the travelling team, focussed by an overseas tour that fosters a more unified sense of purpose, tend to up their collective game for these contests.
The hope is that this will lead to a competitive fare that captures the public's imagination and sets up a grand finale in Croke Park next week.
Ireland: Michael Murphy (Donegal) (c), Aidan Walsh (Cork, v), Paddy O' Rourke (Meath), Colm Begley (Laois), Colm Boyle (Mayo), Ciaran Byrne (Louth), Sean Cavanagh (Tyrone), Paul Conroy (Galway), Paul Flynn (Dublin), Finian Hanley (Galway), Lee Keegan (Mayo), Ciaran Kilkenny (Dublin), Paddy McBrearty (Donegal), Jack McCaffrey (Dublin), Neil McGee (Donegal), Chrissy McKaigue (Derry), Kevin McLoughlin (Mayo), Conor McManus (Monaghan), Ross Munnelly (Laois) Aidan O'Shea (Mayo), Ciarán Sheehan (Cork), Michael Shields (Cork), Zach Tuohy (Carlton & Laois).
Australia: Tony Armstrong (Sydney Swans), Dominic Barry (Melbourne), Eddie Betts (Adelaide), Alwyn Davey (Essendon), Aaron Davey (Melbourne), Shaun Edwards (GWS), Cameron Ellis-Yolmen (Adelaide), Lance Franklin (Sydney Swans), Jarrod Harbrow (Gold Coast), Joshua Hill (West Coast), Leroy Jetta (Essendon), Lewis Jetta (Sydney Swans), Nathan Lovett-Murray (Essendon), Ashley McGrath (Brisbane Lions), Steven Motlop (Geelong), Jake Neade (Port Adelaide), Mathew Stokes (Geelong), Lindsay Thomas (North Melbourne), Sharrod Wellingham (West Coast), Daniel Wells (North Melbourne) (c), Christopher Yarran (Carlton).
Live radio commentary (worldwide) of Ireland v Australia on RTÉ Radio 1's Saturday Sport.