The opening weekend of the Connacht championship gave us two major results, although I don't think you could call either of them shocks.
Watching Sunday's game from the studio in MacHale Park, I remarked at an early stage that the whole thing felt like a replica of 2019. When Roscommon grabbed those two early goals, you had a nagging sense that Mayo would get close eventually but wouldn't have enough to get over the line.
Anytime Mayo got to within a point, they would get turned over or Roscommon would find a way to manufacture a score. In truth, Roscommon looked pretty comfortable down the home stretch, which might be the biggest disappointment of all for Kevin McStay and his backroom team.
What was a shock was Mayo's flatness. Some of that is attributable to Roscommon's aggression but Mayo themselves looked fairly heavy-legged. They didn't bring the same energy they'd shown throughout the league.
They started the game at a hundred miles an hour, which was probably the wrong approach for the day that was in it. By the end, you felt that they had run out of gears and run out of ideas. Once they couldn't break through the Rossie defence at a quick pace, they got bogged down and bottled up.
Roscommon came with an intensity and an insane work ethic that Mayo couldn't match. We have long associated Mayo with a high-octane game, but it was Roscommon who brought that on Sunday.
Added to that intensity was the quality of Diarmuid Murtagh and Enda Smith in attack, even if Smith was asked to perform a more defensively-minded and workmanlike role than usual. He did a huge amount of tracking and tackling around the middle but was still able to pop up with a crucial score late on. And the two points Murtagh kicked in the closing stages, with Mayo chasing, were just phenomenally taken.
I think the Rossies' mentality was best captured by that photo of Big Aido on the ground with three defenders and a goalkeeper looming over him.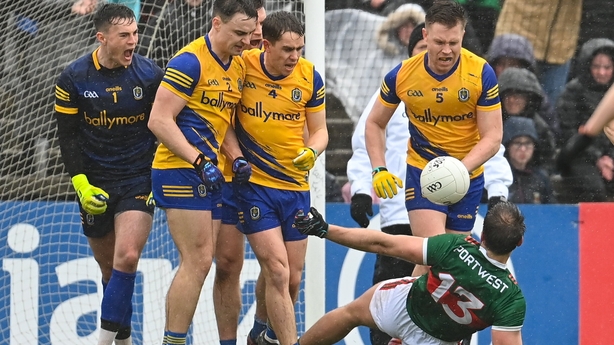 They've copper-fastened their status as a top tier team. Not only did they show that throughout the Division 1 campaign, they've now backed that up in championship.
I found it funny Davy Burke saying his team was disrespected. I would have thought the opposite. I know most pundits were tipping Mayo in advance of the game but I don't think that amounts to disrespect.
Pundits have to give an opinion. Disrespectful strikes me as the wrong word, I don't think any member of their squad or management were dissed.
If anything, they received a great deal of praise for their excellent league performance and for dispatching the 'yo-yo team' label which had been hung around them for the past decade.
Maybe there was a touch of Tyrone-style siege mentality being embraced. I always wonder whether that's really needed. Especially for a derby game like that. There's always a massive rivalry between Mayo and Roscommon and I'd imagine their players were pretty hyped up in any event, regardless of what might have been said in the media.
The 'media have written us off' mindset was never really something we deployed in my time in Mayo. My perspective on it was that your mind would be elsewhere if you're fixating on press comment or outside noise. I wonder do managers just say it for the sake of saying it sometimes?
The good news for Davy is he can harness it again in two weeks time when they come to play Galway. Because the majority of the media - and probably including myself - are thinking Galway are favourites for that game. The same conditions will likely apply. But I think within the group themselves, they'll know what they need to work on, regardless of media coverage.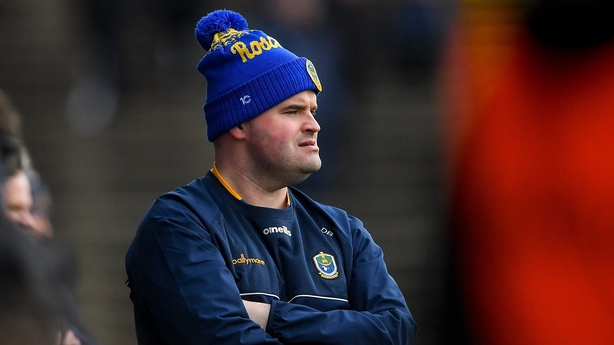 For Mayo, the result could yet prove a blessing in disguise. Don't get me wrong, I do think the team would have wanted to win a provincial title and take the top seed slot. Mayo, after all, have only won two Nestor Cups since 2015. It's not like we're winning them year in, year out. We're anything but dominant at provincial level.
Yeah, we won two in a row in 2020 and 2021 but that was coming on the back of a five-year gap. I won seven provincial titles and I loved every one of them. They're proud medals to win. In his first year, Kevin had won an FBD and a National League and I reckon he wanted to keep that run going.
I know the MacHale Park factor was floated again. Of Mayo's six defeats in Connacht since 2016, five have come in Castlebar. Personally, I thought that narrative had been banished during the league, with the side looking very comfortable and very slick there against both Kerry and Tyrone.
I think more central than any issue with the venue is Mayo's failure to perform to the same level when there's a safety net provided, which has been a common theme since the middle of the last decade. It's worth noting that the only two Connacht titles that we have won in the past eight years came in the two straight knockout seasons.
Nonetheless, the result offers a chance to re-charge. Could Mayo have sustained that intensity and high performance over 10 weeks of games? I don't think so. The break will do them no harm given how the league panned out.
With six weeks to plan, they can down tools now. Give the guys a bit of freedom and come back for the group stages with a bit more energy. I think they're going to be ready if they get the work done now.
In the grand scheme of things, all Sunday means is that your rivals got one up on you. But Mayo will still be in the group stage in late May, with the All-Ireland series to come.
Sunday's game trailed in the wake of a landmark result in the Bronx. Last week, I wrote about the Ruislip experience, namely our fairly harrowing afternoon out there in 2011.
Well, the New York trip is even trickier in many ways. Teams were inclined to regard it as a holiday back in the day, and it was certainly a fun week.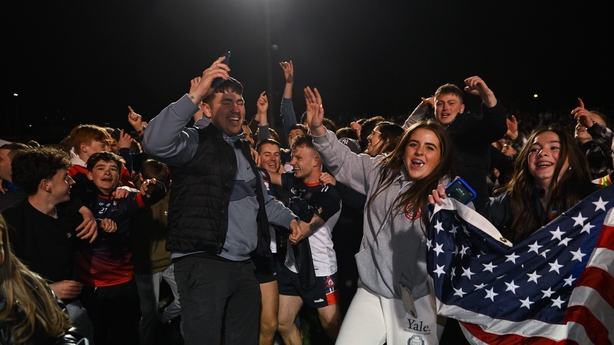 At Gaelic Park itself, the place is always hopping with people having the craic. It can be easy to slip into a comfort zone. We were lucky in that we always beat them quite well.
You recall the Roscommon game in 2016, where they scraped home by a point, the Sligo game last year when it was in the balance entering the final five minutes. A couple of the Leitrim games had gone to extra-time in the past. Even Galway made heavy weather of winning there back in 2010.
I don't see it as a major surprise. It was going to happen eventually - I'm just sad it happened to Andy Moran.
I don't believe Leitrim took the game for granted - they've had close shaves before - but they lacked the zip they had during the league. The astro pitch can be an awkward adjustment admittedly, the ball bounces off the turf with added pace and it can be hard to judge where you should be shooting from.
I know Andy said afterwards they had enough chances to win two games. They didn't do enough during the game to warrant a victory. Carthy's score deep in injury-time, the composure to both work and execute that score in the dying seconds was exceptional.
If you look at New York's squad, they have Eoghan Kerin, who was nominated for an All-Star with Galway in 2018, Johnny Glynn who won a hurling All-Ireland with Galway, and who's also a very good footballer. Gavin O'Brien, Adrian Varley, Carthy - they're all top quality players who played with top teams back home.
I wasn't shocked by the result but I think we're shocked that it finally happened. I know John Prenty (Connacht secretary) has said they're eventually going to try and cut games in New York. It'd be a real shame, though I appreciate the costs involved are significant.
At least this year, we know they have a minimum of two further games in the championship.
Watch Tyrone v Monaghan in the Ulster Football Championship on Sunday from 3.30pm on RTÉ2 and RTÉ Player, follow a live blog on the RTÉ News app or RTÉ.ie/Sport or listen to live commentary on Sunday Sport on RTÉ Radio 1
---
Watch the Camogie League finals, Kerry v Meath (12pm) and Cork v Galway (1.50pm) on Sunday on RTÉ2 and RTÉ Player