All-Ireland champions only 16 months ago, Tyrone abruptly dropped off the radar last summer after making a dismal fist of their title defence.
Supporters of the county will be hoping that their 2023 form will consign last season to the status of a bad dream - as opposed to bolstering any notion that their victorious 2021 campaign was an outlier.
The county's greatest attacker Peter Canavan says the players and management will be anxious to "draw a line through" the 2022 season as they seek to return to the top table.
After an underwhelming league campaign, in which they narrowly escaped relegation at the expense of Dublin and Kildare, they surrendered their Ulster title in horrendous fashion against a resurgent Derry in Omagh. While their qualifier performance away to Armagh was more respectable, they still fell short against Kieran McGeeney's men, exiting the championship early.
The 2022 season wound up copper-fastening the narrative that Tyrone have a problem - admittedly a high-status problem - of backing up All-Ireland victories.
By common consensus, last year's title defence was the worst from any All-Ireland champion since Tyrone themselves were dumped out by Laois in a Round 2 qualifier in 2006.
"Well, it's a nice problem to have in that you win it every now and again!" two-time All-Ireland winner Canavan told RTÉ Sport.
"But absolutely. Last year, the management were devastated, the players found it hard to deal with. One season, you're All-Ireland champions. And the next, you're really struggling for form and to be competitive.
"Last year, they will draw a line through very quickly. They blooded a number of younger players in the Dr McKenna Cup.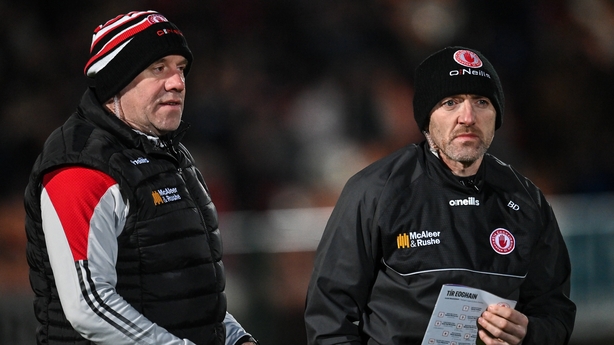 "The final didn't go the way they wanted. Brian and Feargal are possibly still scratching their heads coming into the first round of the National League. And it's a National League where they have to hit the ground running. They've Roscommon and Donegal in the first two games. If they don't get results in those two games, they're going to be in a very difficult position.
"It's imperative that Tyrone get off to a good start in the league. Otherwise, they could be looking at the possibility of struggling to stay in Division 1."
For Canavan, who was unveiled as part of RTÉ's football coverage for the 2023 season on Sunday, the immediate challenge for Tyrone is more fundamental.
"Before they talk about winning anything, I think they've got to get back to the mindset where they're going to be a hard team to beat," he insists.
While Tyrone supporters will be hoping 2022 was a blip, in other respects it was a seismic year in the modern history of Ulster football, perhaps marking the transition from one epoch to another.
Donegal and Monaghan won a combined tally of seven Ulster titles in the 2010s - the former doing more of the heavy (silverware) lifting - but both ended the year apparently struggling to find new management, while Michael Murphy called it a day at inter-county level in November.
Derry, nonentities in the football landscape for half a decade, dramatically burst into the reckoning, while Armagh's demolition of Donegal in the last-12 had the feel of an era ended.
Canavan says Derry and Armagh are the favourites for Ulster title - but he draws our attention to another possible dark horse, a one-time giant under new management.
"The Ulster landscape has changed immensely in these past two years," says Canavan. "Donegal and Monaghan perhaps not at the level they have been at for the past decade.
"You've Derry and Armagh, who aren't up and coming any more, they're very much established and they are among the favourites for Ulster.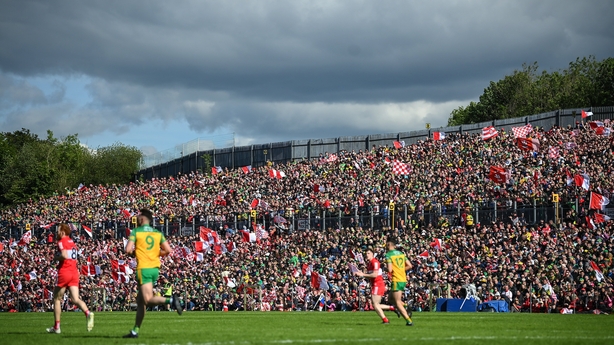 "And you have Down, who have now come into the bracket of an up and coming team. They are going to be very much a dark horse in Ulster.
"Already, you can see a difference in their approach and style. There's going to be a bit of momentum with them.
"But Derry and Armagh appear to be assuming control when it comes to who is going to be the kingpin in Ulster."
At All-Ireland level, Kerry ended their second longest famine for a century by finally clambering over the line for a first title since 2014.
David Clifford ends the year festooned with medals and assailed by autograph hunters. The All-Ireland junior football championship resembled Hard Day's Night.
Most are reticent about proclaiming a Kerry dynasty akin to the 70s/80s or the Dublin side of the 2010s, with Canavan citing All-Ireland runners-up Galway - "they may just shade it against Mayo" - as a side with the individual talent to match up with the best.
However, the one team most likely to stop are them are their traditional foes.
"The one team that can prevent a Kerry dynasty is probably Dublin. And that's based on the fact that Dublin without their best player last year, Con O'Callaghan, very nearly beat Kerry. Would Kerry beat Dublin without David Clifford? I don't think so.
"I've no doubt if Con had been there, it may have been a different outcome. A Dublin team with [Paul] Mannion and [Jack] McCaffrey back, the new format means teams need a strong panel, Dublin have that. They have the experience of winning it. They now have the hunger from not having won it this past couple of years.
"If there's a team well primed to stop Kerry winning it in the next couple of years, it's Dublin."