It's just over a week since Shane Walsh delivered one of the most eye-catching turns we've seen in an All-Ireland football final.
He kicked nine of Galway's 16 points in the county's loss to Kerry.
Walsh, in the view of many pundits, should have been awarded the player of the match, but that recognition went to David Clifford. You can argue about these things but it's best not to dwell on it for too long.
What's occupying Walsh's mind now is his intention to join Dublin club Kilmacud Crokes. In a statement issued on Monday, the 29-year-old, who is currently studying physical education at the Portobello Institute in the capital, said that making the switch from his home club of Kilkerrin/Clonberne to the Stillorgan-based outfit is "the right move for me at this point in my career".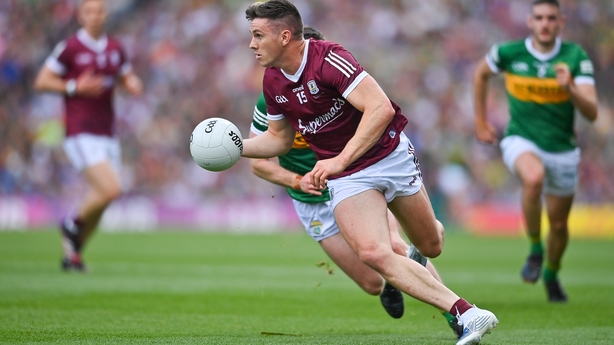 Walsh did add that if his intended switch goes through, he would return to Kilkerrin/Clonberne before the end of his playing days. Needless to say, the latter intend to object should any official transfer request be made.
There is, of course, a chance that Walsh won't get his move on account of being a student in Dublin - green-lighting such a request based on student accommodation could open up the floodgates and potentially drain rural clubs of their talent.
The transfer 'market' in the GAA operates mainly between clubs, though notable inter-county switches have garnered much headlines over the years.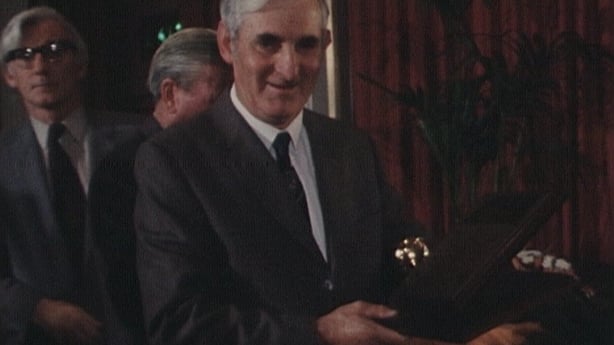 In goals on the Hurling Team of the Millennium is Tony Reddin, who was between the posts for Tipperary's All-Ireland three-in-a-row from 1949 to 1951. Reddin however, was born in Galway, and started out playing for his club Mullagh.
For much of the 1940s, Seánie Duggan was the first choice goalkeeper for the Tribesmen, with Reddin finding it hard to get a look in. The local view at the time was Mullagh's status as a 'small, rural club' went against him.
Then at the age of 28, the offer of a job on a farm in Lorrha, saw Reddin make the switch to the Premier County. His career blossomed after that, with the winning of four league titles to go alongside his three Celtic Crosses.
Speaking to the Irish Independent following Reddin's death in 2015, Donie Nealon, part of the successful Tipperary side of the 1960s, said: "He was top of the pile. The thing about the modern goalies is that they have protection. Reddin didn't have any protection, the forward could come in on top of you. He had no nerves at all. He enjoyed it so much. He was so much in control of his area."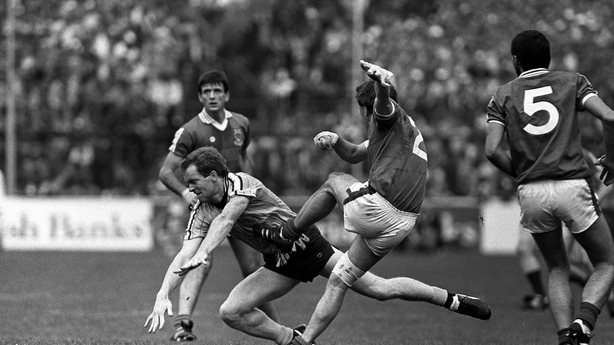 Into the 1970s, Martin Carney, who for many years was an analyst on The Sunday Game, made the switch from Donegal to Mayo. A key member of St Joseph's, drawn from clubs in Bundoran and Ballyshannon, Carney featured on the Donegal team that won a maiden Ulster title in 1972. He added a second provincial medal in 1974.
A teaching job took Carney to Mayo in 1975 but he continued to play for the county of his birth until 1980. After then he wore the green and red with distinction, winning four Connacht titles along the way. His club career in his adopted county saw him line out for Islandeady, Castlebar Mitchels and Breaffy.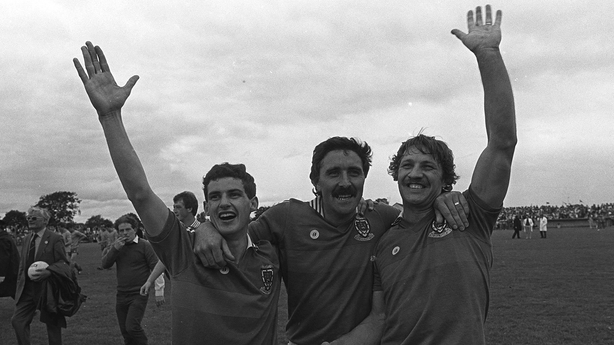 When Offaly's footballing fortunes started to wane after denying Kerry their five-in-a-row in 1982, Seán Lowry contemplated an end to his inter-county career. Three All-Irelands were in the bag, the first of those won as a 19-year-old in 1971.
The offer a job with the ESB in Mayo saw Lowry relocate from his native Ferbane to the Connacht county in 1984. Soon he was attending training sessions with the local club Crossmolina. The switch was made and before long then Mayo boss Liam O'Neill made contact. Lowry answered O'Neill's urgings to join the county set-up.
In July of '85, the Offalyman added a Connacht medal to his collection. He then featured on the side which brought Dublin to a replay in the All-Ireland semi-final.
Lilywhite bloom in Cork's revival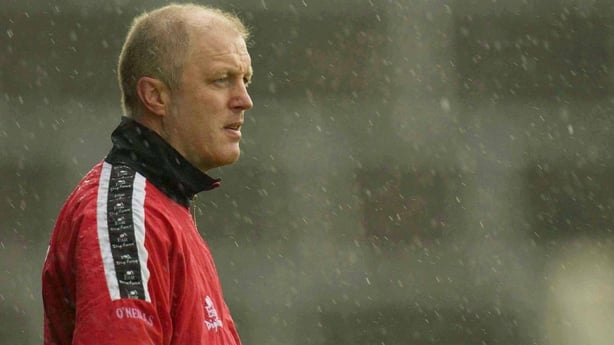 The autumn of 1986 saw Billy Morgan appointed as Cork football boss for the second time. Kerry were just after completing an All-Ireland hat-trick; an eighth success under Mick O'Dwyer's management, but the team were ageing.
There were signs that the Rebel County could at last supplant their neighbours. Getting Kildare duo Larry Tompkins and Shay Fahy to link up was key in Morgan finally delivering silverware at provincial and All-Ireland level.
Tompkins' early career saw him line out for Kildare club Eadestown. At the callow age of 16, he made his debut for the county seniors in 1979. A carpenter by profession, Tompkins would spend much of the 1980s in New York, but the Kildare county board would pay his fare home for championship matches. That practice ended in 1986, a decision that annoyed Tompkins, prompting him to sever his links with Kildare.
A chance meeting with a member of the Castlehaven club brought about the switch in allegiance, with Tompkins eventually throwing his lot in with the Rebels. The now 24-year-old made his Cork debut under Morgan in 1987, the year Kerry's hegemony in the province was finally broken. Two All-Ireland titles came Tompkins way in 1989 and '90, the latter as captain.
After retiring as a player, Tompkins succeeded Morgan as Cork manager and guided the county to an All-Ireland appearance in 1999. With Castlehaven, three Munster clubs titles were won.
Shay Fahy's move south came about because of work reasons. A member of the Army, he was based in Cork and cited the travelling pressures as his main reason for leaving Kildare. The switch saw him link him with Nemo Rangers after the initial period with his home club Sarsfields.
Seanie's hurling prowess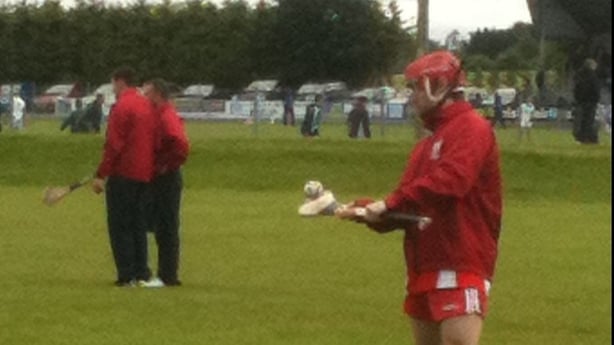 The early summer of 2012 saw the protracted saga of Seanie Johnston's move from Cavan to Kildare finally come to an end.
Johnston was deemed surplus to requirements by then Breffni manager Val Andrews. So what next for the Cavan Gaels clubman? Well, what about a move to Kildare, to join up with Kieran McGeeney and co?
A fleeting appearance in a hurling match for Kildare club side Coill Dubh was the clincher for Johnston to seal his move, a cameo that was viewed farcical at the time. The new recruit spent two season in the Lilywhites colours, before returning to his native county in 2016.
Another player who left who then came back was Stefan White from Louth. White's long career with the Wee County throughout the 1980s and 1990s was punctuated by a two-year spell in Monaghan, where he won an Ulster title in 1988. That move also saw him make the switch from his club of O'Connells to Castleblayney Faughs.
Following daddy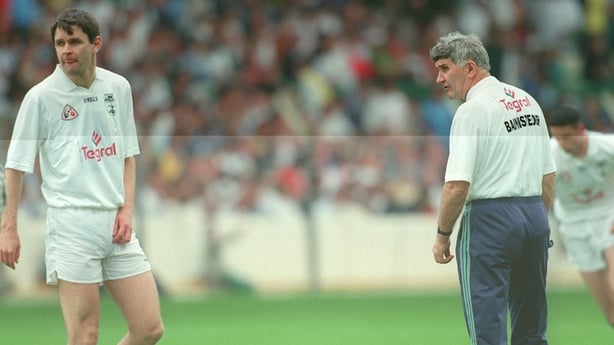 Karl O'Dwyer, son of the legendary Mick, wasn't quite making the cut with the Kerry seniors during the 1990s. And so he made the decision to follow his father to Kildare, who had just embarked on a second stint in charge of the Leinster.
Switching his allegiance from the Waterville club to Rathangan, young O'Dwyer was ready to join the Kildare cause. Two Leinster titles and an All Star came his way under his father's guidance, along with an appearance in the 1998 All-Ireland final, where the Lilies lost to Galway.
Other Kerry players who sought to further their career elsewhere include Billy Sheehan and Conor Cox with moves to Laois and Roscommon respectively.
Sheehan's switch from Austin Stacks to Emo in 2004 saw him feature for the midlanders under Mick O'Dwyer. Listowel native Cox lined out for the Kingdom minors and U-21s before joining the Rossies in 2019. He was an instant hit; his scoring prowess helping helping Anthony Cunningham's side to provincial glory.
A Kerry star who did continue to play for his county but did switch clubs, was Jack O'Shea. The towering midfielder lined out for St Mary's in Leixlip while he was winning Sam with the green and gold.
Other notable inter-county switches of recent times include the hurling moves of Jack Fagan (Meath to Waterford) and Davy Glennon (Galway to Westmeath). In the wake of Shane Walsh's proposed switch, there is talk that such a move tears at the heart of the GAA's central ethos - it's all about the local. The practicalities of life can muddy the waters, however.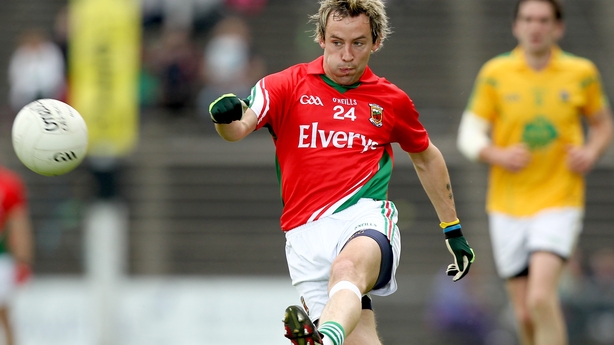 Speaking recently on RTÉ's Sunday Sport, former Mayo player, Conor Mortimer, who made the switch to Dublin's Parnells from Shrule/Glencorrib in 2015, highlighted the work-life balance when saying: "If Shane Walsh wants to move, inevitably he will get his move regardless of how the club do it. Technically, they can block it.
"You're probably not going to have the player playing for you. Is that the end goal for the chairman, to not have Shane Walsh playing club football? That would be a travesty to Shane, and people around the country who want to see his calibre on the football pretty regularly.
"We're all amateur players, and we're not contracted to play with any particular team. Kilkerrin is his local club, the same as Shrule was mine.
"This wouldn't have been an easy decision for him to make. He's based in Dublin. The way the seasons are now, do you want to commute for the second half of the year, up and down the same as you did for your county? I think that was probably one of the deciding factors in his decision to want a transfer.
"The way people are nowadays, the work-life balance is hugely important. More players are looking for that balance. That's probably what he's aiming to do."