In the aftermath of a "bitter" All-Ireland final defeat, Galway manager Padraic Joyce expressed his pride in his team's performance but couldn't hide his annoyance over that free awarded against John Daly in the closing stages.
With less than five minutes remaining in normal time and the scores tied at 0-16 apiece, after an inspirational point from Cillian McDaid, Galway centre-back John Daly was penalised when in possession for holding the arm of Kerry's Killian Spillane as the latter approached to tackle.
David Clifford swung over the free, with Kerry subsequently kicking for home, rustling up the next three scores to win on a 0-20 to 0-16 scoreline.
Speaking to the press afterwards, Joyce was very quick to reference the call against his team, saying he "couldn't get over it."
"I thought we played very, very well," Joyce told reporters.
"We played football to try and win the game, we went in at half-time ahead. Credit has to go to our defence, Liam Silke was outstanding at centre-back and kept Sean O'Shea very, very quiet. Jack Glynn was immense on Paudie Clifford.
"We had a foothold in the game. I know we lost a few kick-outs but we fought our way into the game. Shane (Walsh) was outstanding up front, kicked some great scores.
"But to me, the most important and crucial part of the game is how they got a free when the game was 16 points apiece. I couldn't get over it."
For Joyce, there is no doubt the free represented a huge swing in momentum.
"Those frees are like tap-overs for the likes of Clifford. It was a two-point swing for us, we had the momentum at that stage."
Asked for his assessment of the incident, the Galway boss was blunt, first asserting that Damien Comer should have been given a free following his turnover in the lead-up.
"My view of it was that Kerry were attacking, Damien Comer won the ball back, went down to gather the ball and he was pushed on the ground - in the back. To me, that was a free out. So, that was the first one missed.
"It came back to John Daly. He tried to go around his man, Killian Spillane tried to tackle him, his hand went up. The reason John put his hand up was to stop the Kerry fella's hand going around his neck, which is what happened. That was my view from the sideline.
"But you are up on the seventh floor, what did you think of it?"
Cue some hesitant murmuring from the reporters about it being a "soft free".
"A soft free, was it even a free?" replied Joyce swiftly, somewhat dissatisfied with the reply.
"We tried to get the game to where it went down the stretch, where it was level, but again that decision that was made at 16 points apiece was baffling. Key turning point in the game."
"The learning is we are good enough to be here" - Padraic Joyce
Galway's broadly impressive final performance was decorated by two memorable displays from Shane Walsh, whose nine point haul included some sensational points, and Cillian McDaid who lofted over four big scores from midfield.
"He (Shane) was good, he was exceptional, in fairness to him. He kicked nine points, left foot and right foot, he was really, really good. We probably should have got a little bit more ball to him towards the end of the game.
"I know he was questioned about not scoring from play the last couple of games, but he played to a system and a gameplan that we had.
"Today he did the same thing, but we played him higher up top today and he did untold damage up there.
"(Cillian) was exceptional on the attacking side, he kicked three or four scores, kicked one or two wide as well. But he was exceptional, fought for everything.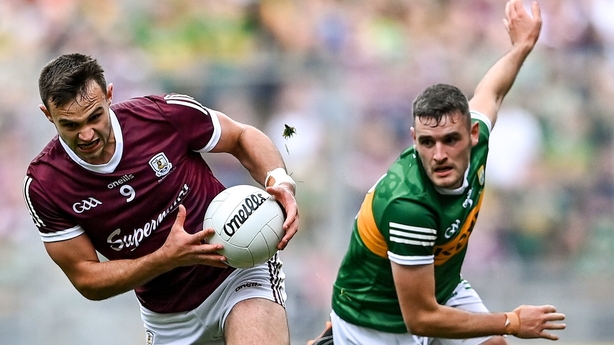 "Put his body on the line and had an exceptional year, has been injury free all year."
The Galway manager insisted he couldn't fault any of his players for their performance, in particular crediting his defence for the disruption of Kerry's much vaunted forward line in the first half.
"I know people will say Kerry hit four or five bad wides in the first-half, but they were shooting under pressure, kicked under pressure from our backs and our defenders were really, really good.
"We were a point up at half-time and couldn't ask for anything more.
"Lookit, lads to be honest, I can't fault our players out there. To a man, they were exceptional.
"It was a bitter lesson for us. We are very disappointed. There is nobody in that dressing-room happy we lost by a few points. We came up to win the Sam Maguire and we didn't. We are just gutted."
The Galway manager, who has now served three years in the job, expressed the hope that the team could use their 2022 performance as a springboard.
"The learning is we are good enough to be here. We will go away and see what areas we need to improve on. Kerry have been knocking on the door the last couple of years. We were up and down from Division 1 and Division 2.
"We are back up in Division one next year, we need to build on that and be more consistent. The performance today from Galway was really, really good and we just need to build on that next year."