In an entertaining, tit-for-tat final, Kerry withstood the mounting pressure on them to edge out Padraic Joyce's exuberant Galway side and deliver a first All-Ireland crown for eight years.
One point adrift after a nervy first half display, Kerry increasingly stamped their authority on the final as things wore on - their middle third dominance at last being complemented by greater shooting efficiency.
We appeared set for a grandstand finish with the score tied at 16-apiece with five minutes remaining but late points from David Clifford - after a hotly disputed free - Killian Spillane, Gavin White and Seanie O'Shea saw them home by four points.
'Olé, Olé, Olé' sang the Kerry crowd in the dying minutes of injury-time, as Jack O'Connor, for the fourth time in his managerial career, and in his third stint in charge, had gotten the Kingdom over the line.
It was in the wake of last year's sickening jolt against Tyrone that O'Connor, managerial royalty from the 2000s, had been hurriedly recalled from Kildare with the brief of delivering an All-Ireland title as promptly as possible. Today, he delivered on that promise.
Afterwards, the Kerry manager hailed the win as one of the "sweetest" for its manner, having ground it out against a very good Galway team.
"There are many ways to win a game," O'Connor noted.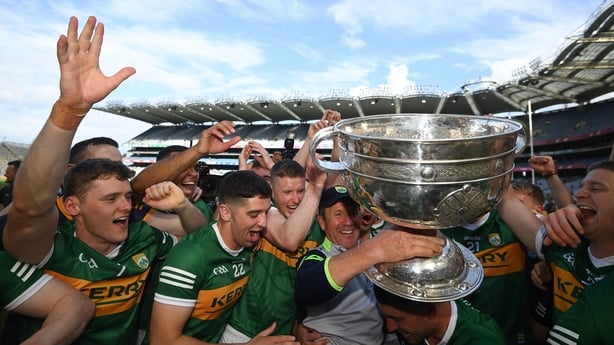 Above all, it was a game adorned by majestic displays from both teams' most gifted forwards, Shane Walsh and David Clifford, each treating the final as their showpiece.
Walsh and Clifford scored 0-09 and 0-08 respectively, a healthy proportion of them stunning scores.
The outcome represents deliverance for Clifford, long hailed as the anointed one in Kerry and beyond, who now has a first All-Ireland medal under his belt, without having to endure the anxious wait that was Maurice Fitzgerald's lot for nine years.
"It's very obvious it's something I've dreamt of all my life," a relieved Clifford said afterwards.
The atmosphere in Dublin 3 was jovial beforehand. Notwithstanding their underdogs tag, Galway coursed with belief over the past week, fortified no doubt by the welter of 'Year Til Sunday' clips floating around, and their supporters descended on the capital in enormous numbers.
The streets around Drumcondra had a heavy maroon tinge, the westerners, back in a first final for 21 years, outnumbering the contingent from the south-west. Kerry, after briefly forgetting themselves in dippy happiness after the Dublin win, had apparently recovered their sense of aristocratic reserve.
While the notion that two footballing blue-bloods would serve up a purists' exhibition was rubbished in advance, the game confounded those who feared a cagey 'chess match'.
Galway were infamously jittery under the high-ball against Armagh and Kerry, to no great surprise, sought to test that out immediately.
David Moran, the sole remaining survivor from O'Connor's last All-Ireland victory with Kerry, boomed a long range punt towards the square immediately after the throw-in, seeking out Paul Geaney. Galway keeper Connor Gleeson, no doubt braced for that treatment, emerged to snuff out the danger.
Tyrone ref Sean Hurson pulled the play back for a Kerry free. Kick-starting a trend which prevailed throughout the first half, Seanie O'Shea pulled the shot badly wide.
From the very next attack, they bombed in another sky-ball, Gleeson coolly palming it out left for Galway defenders to collect.
It was Galway who were first off the mark, Liam Silke scurrying forward, being found with a deft ball inside, his shot was blocked away for a 45. Shane Walsh, taking his sweet time, curled over the opener.
They doubled their lead moments later but could have had more. John Daly, so influential against Derry, found Johnny Heaney with a clever ball. The goal looked on but the shot was half-blocked by the industrious Stephen O'Brien, looping over the crossbar for a point.
Kerry largely ruled the skies in the middle third early on but struggled to capitalise on the scoreboard.
Geaney's radar, in particular, was askew and he blazed two bad wides early on, Jason Foley sallying forward to register another. The Dingle inside-forward, a veteran of the 2014 success, would be hooked at half-time for Killian Spillane.
By contrast, Galway's shooting efficiency, so reliable all year, was stunning. It would be a full half hour before they registered a wide, their only one of the first half.
They went 0-03 to 0-01 clear when Walsh steamed out in front to collect a direct kick-pass, expertly swinging over his first point from play on the turn.
Clifford, after an early mark to settle Kerry, popped over a free after Diarmuid O'Connor was deemed to have been fouled to reduce the margin to two.
Walsh was by now hitting full-throttle, terrorising Tom O'Sullivan and delivering a performance which inevitably evoked memories of Michael Donnellan in '98.
His fourth point, Galway's fifth on the 16th minute, sent the sizable Galway crowd into raptures, Walsh collecting the ball on halfway near the Hogan, gliding forward in his trademark elegant style, darting between two defenders and curling over from distance without breaking stride.
It was assuredly a candidate for score of the year though he would muster more contenders for that crown later on.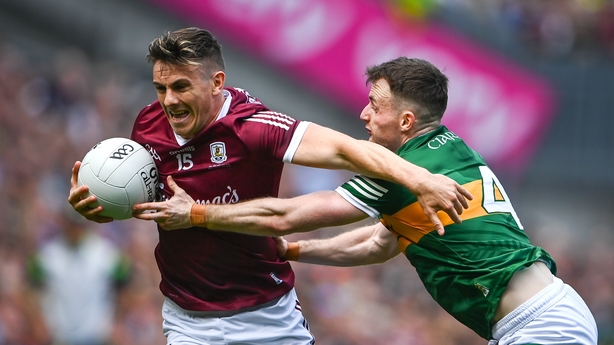 The mark remained a potent weapon of choice, accounting for three of their seven first half scores. At 0-05 to 0-02 down, Geaney claimed to pop over a settler, triggering a brief Kerry burst, Clifford swinging over a rousing score from distance before O'Brien, an effective worker for Kerry in the first half, levelled the contest.
Shooting into the Hill goal, Galway continued to be far more economical in attack. At six apiece, corner-back Jack Glynn side-stepped a tackle, darted into traffic, somehow extricated himself before clipping over a point.
They ensured they'd take a one-point lead into the break when Cillian McDaid, who'd light up the second half, seized on a break in midfield, played a deft one-two with Rob Finnerty, before curling over a point.
By half-time, the wide tally read 7-1 to Kerry and the consensus was they were labouring under the pressure of local expectancy. O'Shea, the hero against Dublin, had been largely anonymous, while Paudie Clifford, at times, looked as if he was playing on an ice-rink. His superstar brother had already notched 0-04, though had also collected a yellow card for a lazy tackle on Sean Kelly after the ball had ricocheted off the Galway captain's chest.
The third quarter would see the finest passages of play in the game, Kerry, having introduced the two Spillanes, playing with greater composure and authority, while Galway stubbornly maintained their level and shooting stats.
Walsh and Clifford traded scores early, the latter from play, before Diarmuid O'Connor got in the scoring act to level things. The Kilkerrin-Clonberne star continued to dazzle everyone, shrugging off a jersey pull from O'Sullivan to swing over another beauty from a tight angle.
With Kerry's usual free-scoring corner-back Tom O'Sullivan snowed under with work, trying to stop Walsh running riot, his namesake in the opposite corner Graham O'Sullivan stepped up to the mantle.
He created a scare for Galway after drilling a beautiful pass into Paudie Clifford, who spun his man, slipped (or was subtly fouled), got up and lashed a shot goalwards. He sighed as the ball cleared the crossbar. Kerry would subsequently nudge in front for the first time all game, who else brother David, elegantly stroking over the point, fisting the air afterwards to lift the Kerry crowd.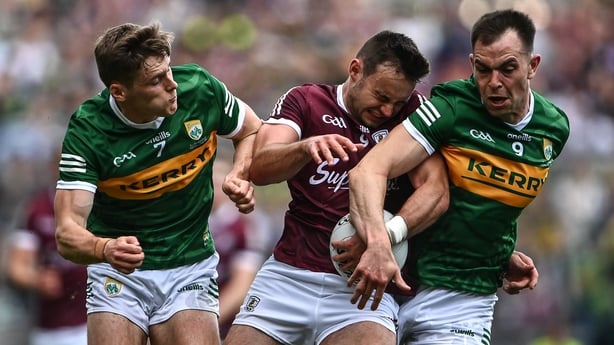 Galway responded brilliantly. Walsh's display was now hitting stratospheric levels. Tight to the Cusack sideline this time, he side-stepped O'Sullivan and hoisted over a glorious point, triggering a standing ovation from the maroon-clad support.
The scoring rate ratcheted upwards. Cillian McDaid, the hero of extra-time against Armagh, now emerged as a pivotal figure, rocketing himself into All-Star contention, with three big points in the second half.
After Killian Spillane levelled things, a well-worked point finished by Kieran Molloy, swiftly followed by a powerful score from McDaid saw them establish a two-point advantage as we hit 47 minutes.
This would be Galway's apex. There followed 17 minutes without a score as Kerry slowly regained the initiative.
Gleeson was lucky to avoid a black card on 48 minutes. Graham O'Sullivan's shot was half-blocked, the Dunmore keeper rushed out, Killian Spillane nipped onto the ball first whereupon Gleeson promptly hauled him down. To the Kerry crowd's displeasure, Hurson didn't reach for the black card but O'Shea slipped over the free.
After a very quiet first half, Paudie Clifford hits his second score. Galway look to be tiring. Are Kerry on the way?

Conclusion coming up

📺 Watch live https://t.co/NcrNtKeU0O

📻 Listen live https://t.co/TaTvujKLTj

📱 Live updates https://t.co/zzaMYbFSSl#SundayGame #RTEGAA pic.twitter.com/zkOiFbJTN3

— The Sunday Game (@TheSundayGame) July 24, 2022
Ending a rare ponderous lull in the contest, the increasingly influential Graham O'Sullivan clipped over a point, Clifford soon after nudging Kerry in front from a free.
Paudie Clifford, so jumpy early on, appeared replenished after a brief break as a blood sub, slotted a big point to push them into a two-point advantage for the first time. Gradually and almost imperceptibly, Kerry were exerting a stranglehold.
In a moment of crisis on 62 minutes, the redoubtable McDaid galloped forward, being felled in a two-man sandwich tackle, taking an apparent blow to the head. Walsh ended Galway's barren spell to narrow the gap to one again.
McDaid, who appeared shaken by the dunt, rose from the canvas, to curl over an inspirational leveller, his fourth of glorious performance. At 16 apiece, the Galway crowd believed again.
On 67 minutes, a hinge moment, and one which Padraic Joyce fumed about afterwards.
With pressure ratcheting up on Kerry, Damien Comer, largely blunted as an attacking force, won a turnover near the Cusack Stand, was shunted to the deck and denied a free. He managed to feed the ball out to John Daly who then went to round the tackle of Spillane.
As the players grappled, Hurson immediately whistled for a Kerry free, signalling that Daly had grabbed Spillane's arm in contact.
The Galway players raged at the call, Daly appealing in vain to the linesman for moral support. Amid a sustained volley of boos - aimed at the ref rather than the kicker - David Clifford curled over the lead score from a very tight angle.
From there, Kerry weren't to be denied. Crucially, they worked the next score, the incisive Spillane spinning his marker, darting down the left end-line to fist a score.
Next up, Gavin White, written off as an injured party beforehand, extended the lead to three as injury-time arrived. After an often uncomfortable afternoon, there was now a triumphalist note to the Kerry roars.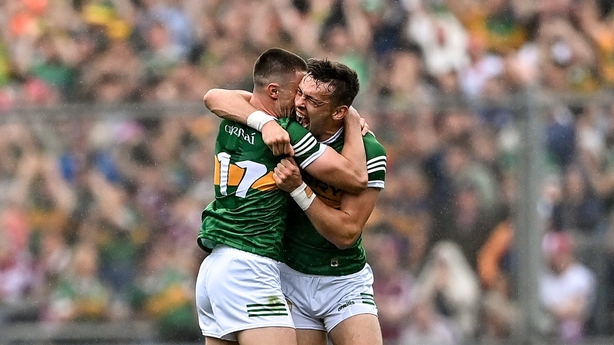 Galway's shooting, so accurate for so long, finally began to fray and they resorted to punting in sky-ball in desperation. No change. One last Seanie free would seal it for certain, after Gleeson had again scurried out to commit a drag-down.
And so, Jack O'Connor, re-hired as a sure-fire winner, had lived up to his billing. It was a grind of an afternoon against a Galway side who performed to expectations.
But a Kerry team labouring under suffocating pressure had shed the baggage of recent big-game defeats and added title no. 38, their first since 2014.
Kerry: Shane Ryan; Graham O'Sullivan (0-01), Jason Foley, Tom O'Sullivan; Brian Ó Beaglaíoch, Tadhg Morley, Gavin White (0-01); David Moran, Diarmuid O'Connor (0-01); Jack Barry, Seán O'Shea (0-03, 3f), Stephen O'Brien (0-01), Paudie Clifford (0-02), David Clifford (0-08, 3f, 2m) , Paul Geaney (0-01, 1m).
Subs: Killian Spillane (0-02) for Geaney (35), Adrian Spillane for Moran (35), Jack Savage for Clifford (43, temp), Micheál Burns for O'Brien (56), Paul Murphy for Ó Beaglaíoch (63), Joe O'Connor for Cliffford (72)
Galway: Connor Gleeson; Liam Silke, Seán Kelly, Jack Glynn (0-01); Dylan McHugh, John Daly, Kieran Molloy (0-01); Paul Conroy, Cillian McDaid (0-04); Patrick Kelly, Matthew Tierney, Johnny Heaney (0-01); Robert Finnerty, Damien Comer, Shane Walsh (0-09, 4f, 1 '45).
Subs: Finnian O'Laoi for Finnerty (45), Cathal Sweeney for Conroy (58), Eoin Finnerty for Heaney (62), Niall Daly for Tierney (74)
Referee: Sean Hurson