Many have attempted to solve the conundrum of how to stop David Clifford but few have cracked it.
This Sunday is another opportunity to see if the Fossa man can be halted. However, this time he could be up against someone who has done so before.
Sean Kelly, Galway captain, marked Clifford in this year's Sigerson Final, played in monsoon conditions earlier this year. The Kerryman was kept scoreless from play, his 1-2 coming from placed balls.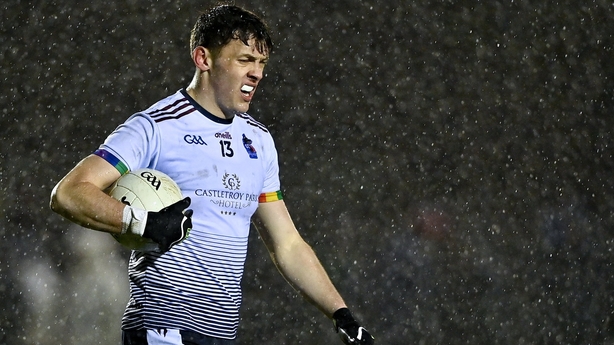 Speaking on the RTE GAA podcast, Kevin McStay expects that we will see the two players go up against each other directly on Sunday.
"Sean Kelly, I can absolutely guarantee that he will try to put almighty pressure on his citog," said McStay. "Never mind trying to drive him out, they'll try to drive him right if they can.
"I know he has a right foot, but he is magical and is predominantly left-footed and surely on the man-marker, certainly in the act of shooting, they're trying to get into his eye-line, trying to get across on that left foot."
The forward's former manager Eamonn Fitzmaurice believes that patience will be key to any Clifford success.
"He'll have to be patient on Sunday, it's going to be a different type of game for him."
"There's going to be a lot of traffic, there's going to be a lot of trying to push him out towards the sideline and get him on ball out there. When he gets the ball, there'll be players doubling up on him. He might just have to be patient."
Clifford scored six points the last day out against Dublin, but it's not just his accuracy that Galway will fear. It's also his physicality and athleticism.
Midway through the first half against the Dubs, Clifford demonstrated all the physical attributes of a marquee full-forward. A long, raking high ball was delivered by Graham O'Sullivan that seemed to take an eternity to drop down from the sky.
Clifford used his frame to back into his marker Michael Fitzsimons and caught the ball in his chest dead straight in front of the posts inside the D. The mark was kicked between the posts.
Whoever picks up Clifford, they will need help from their fellow defenders.
"Kelly is a fine player," said McStay. "He has superb athleticism and he's the captain of the team. He takes his responsibilities and tasks very seriously."
The skipper will need to be on song to take Sam Maguire west for the first time since 2001.
Padraic Joyce will need to make sure that his side don't get too overly concerned with Clifford, as Kerry have a couple more weapons in their arsenal than just him.
"In 2014, James O'Donoghue played a decoy role for us, he played deeper than he played all year because we knew the attention that he was going to get from the Donegal lads and we also knew the capabilities of Paul Geaney if he got a bit of freedom inside," said Fitzmaurice. "cwhich he did, and he got an early goal that day.
"Again the next day it might be Paul that might get a little more freedom because of the level of attention that will be going towards David and Seanie O'Shea."
We need your consent to load this YouTube contentWe use YouTube to manage extra content that can set cookies on your device and collect data about your activity. Please review their details and accept them to load the content.Manage Preferences
Follow the All-Ireland Football Championship final on Sunday, Galway v Kerry, from 2pm via our live blogs on rte.ie/sport or on the RTÉ News app. Watch live coverage on RTÉ2 and RTÉ Player with live radio commentary on RTÉ Radio 1.
Watch Up for the Match this Saturday from 9.45pm on RTÉ One and RTÉ Player.