Today's game between Armagh and Donegal is the third time they have played each other this year. While Donegal won the two games, they were close contests.
This afternoon's game has a few additional variables that could swing the result Armagh's way.
For the majority of the game last week, Armagh bossed Tyrone. That was their second win against them this season. There is no doubt that home advantage contributed. All the home teams won their games in the All-Ireland Championship last week, Armagh, Clare, Cork and Mayo.
Armagh's games against Donegal this year have been in Donegal. The league game in Letterkenny was 1-14 to 1-13. Paddy McBrearty scored the winner in the 75th minute. The Ulster game finished 1-16 to 0-12. McBrearty again had a big impact with his second half goal opening a gap that Armagh couldn't cut in Ballybofey.
Today's game is in Clones. The neutral venue takes away the distinct advantage Donegal had in their previous games.
The Donegal management will have been very busy with their players since their Ulster final loss to Derry. Physically they would have recovered a few days after that match. The priority then would have been he psychological position and mindset of the players.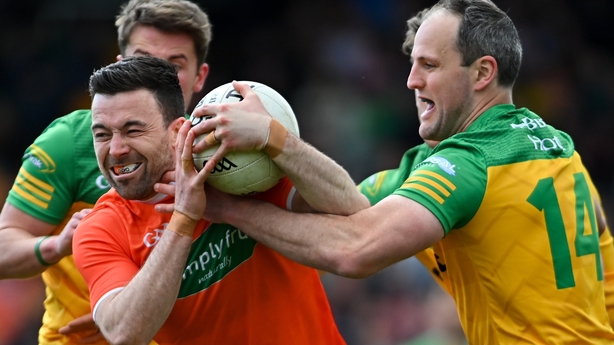 Inter-county players are high-performing athletes. They are competitive beasts that want to win everything. They want to be able to outrun and outlift their team-mates, win small-sided games or scoring competitions. More importantly, when they have a chance to win a trophy they are totally focused on performing to a level that gives them a chance.
There is so much mental focus coming into a final, if you lose it is easy to get caught in a trough. Family, friends, media will all have their say. The conversation is dominated by what could, should and might have been done. Not constructive and it definitely doesn't help players to move on and prepare for the next match.
Donegal have had two weeks to prepare since their Ulster final loss to Derry. Plenty of time in normal circumstances but difficult after a provincial final defeat.
The Armagh players, on the other hand, are on the crest of a wave. Controlling that momentum will be their challenge. Hype can be dangerous but positivity and a happy camp is the place you want to be.
Armagh have a very experienced backroom team that will not allow the players to lose the run of themselves. There will have been plenty back-clapping from the public and media going on. But there is no better man than Kieran McGeeney to make sure that they keep their feet on the floor.
The Armagh County Board have been wise to keep Kieran as manager. Consistency on the pitch is often fuelled by consistency off the pitch with management and coaches. Management has so much to do with trust and relationships, these take time to build.
Behind the scenes Hugh Campbell will be supporting Armagh's management and players. He is brilliant at observing behaviours and making timely interventions. I had the pleasure to watch him in action for a year with Kildare. He is a real wise sage, an outstanding mentor, counsellor and facilitator.
On the pitch the Armagh players are showing a huge hunger. They are able to get back in numbers and attack in numbers at a serious pace. Their defensive structure is excellent. While Armagh have had a number of football coaches over the last number of years, a performance coach Julie Davis has been an ever present. She deserves credit for their excellent conditioning.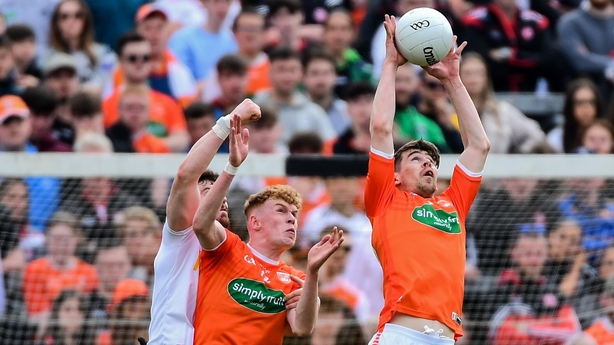 Kieran McGeeney is a real student of game. Ethan Rafferty's selection as a keeper doesn't come as a surprise to me. Kieran would have said to me many years ago that having a keeper that can save, take kick-outs and contribute outfield would be the perfect combination.
He has got that combination in Rafferty. His contributions against Tyrone will also distract Donegal from the outstanding contributions from his team-mates.
Blaine Hughes has contributed handsomely to Armagh football, Rafferty offers so much more. His ball carrying, kick-passing and ability to score shone last week. Not forgetting his height, which allowed him to catch a ball that was going over the bar. Apart from one missed placed kick in the first half and one ball over the sideline in the second, he showed an array of kicking skills.
Donegal destroyed Armagh's kick-out strategy seven weeks ago. It will be interesting how Rafferty deals with that pressure.
Armagh's have a number of really hard-working, interchangeable forwards that can score and can win their own ball. Jason Duffy, Aidan Nugent and in particular Rian O'Neill are a real handful. Then you have the talented but injury-plagued Andrew Murnin. He was outstanding last week.
These forwards give Armagh the luxury of being able to kick the ball early. Not only is this good for spectators but it has been a very effective tactic.
Defenders like forwards playing in a set position, following a set plan. Forwards moving around and swapping positions adds an unpredictability that can lead to indecision. Indecision can be the ruin of defenders. 'Do I follow or stay? Do I swap men? How far out do I mark him?'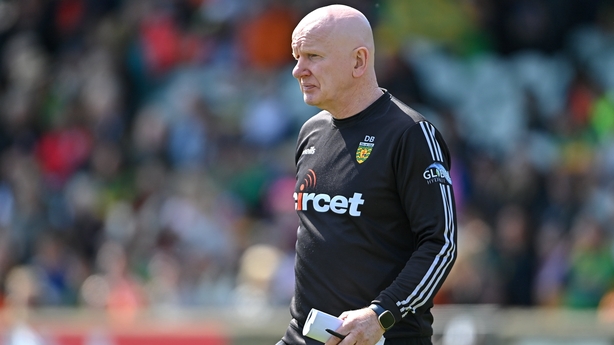 Donegal are happy to retreat and defend deep in games. They set traps and invite the opposition to come at them.
Armagh have to be extra selective of when to kick direct and when to recycle the ball. Tyrone scored 1-07 from Armagh turnovers. Armagh could have been out of sight by half time last Sunday if they had been more efficient with the ball. Instead they were only a point up.
Once they take scoring chances, reduce the turnovers and play with belief we should be in for another big Armagh performance.
Watch Cork v Limerick (1.30pm) and Armagh v Donegal (4pm) live on RTÉ2, listen live on RTÉ Radio 1's Sunday Sport and follow live updates on RTÉ Sport Online or the RTÉ News app. Highlights of all the weekend's action on The Sunday Game, RTÉ2, from 9.30pm.