Derry are Ulster champions for the first time since 1998 following a dramatic and emotion-charged extra-time win over Donegal at Clones.
They were deadlocked at 1-12 each at the end of normal time, but late scores in extra-time from man of the match Brendan Rogers and Conor Glass swung it for the Oak Leafers as they brought almost a quarter of a century of provincial pain to a glorious end.
It was a decider bereft of open, expansive football, dominated by the defensive strategies deployed by both sides, and in the end, Rory Gallagher's side just about deserved to come out of it with a precious success.
This was a triumph for the courage and self-belief fostered by Gallagher, fortified by the tactical ingenuity the Fermanagh man has brought to the role.
Chrissy McKaigue hoists the Anglo Celt Cup as Derry are crowned Ulster champions after beating Donegal in Clones in a game that was decided after extra time. #RTEGAA pic.twitter.com/m3Da7oFjjM

— The Sunday Game (@TheSundayGame) May 29, 2022
And as a former Donegal manager, he was able to tap into the thinking and approach of the opposition on a huge day for Derry football.
With victories over Ulster's big three – All-Ireland champions Tyrone, Monaghan and Donegal – under their belts, the newly crowned champions will face into the All-Ireland series with a fearless intent.
FT: Derry 1-16 Donegal 1-14 (AET)
Derry celebrate as they beat Donegal to land the Ulster Championship and the Anglo Celt Cup in Clones.

💻 https://t.co/SaOmyVQ0xS…
📺 https://t.co/EvToNUEsDS
📻 https://t.co/wkh41D4bF8 #RTEGAA pic.twitter.com/obTXD1FLQV

— The Sunday Game (@TheSundayGame) May 29, 2022
A turgid opening ten minutes saw both sides cancel each other out by retreating deep into their own half to establish impenetrable barricades.
But the game took a dramatic turn in the 11th minute when Ethan Doherty made ground down the left, and Niall Toner's injection of pace took past two defenders before he slipped the ball to Niall Loughlin for a finish to the net from close range.
HT: Derry 1-06 Donegal 0-06
Donegal miss a chance to go in level at the break as Niall Loughlin's goal is the difference between the two sides at half-time in the Ulster final.

💻 https://t.co/SaOmyVQ0xS…
📺 https://t.co/EvToNUEsDS
📻 https://t.co/wkh41D4bF8 #RTEGAA pic.twitter.com/WTnkl280uf

— The Sunday Game (@TheSundayGame) May 29, 2022
Michael Murphy's lay-off created Shane O'Donnell's 13th-minute opener for Donegal, but Murphy spent most of the first 35 minutes inside his own half, with marker Rogers tracking him all the way and wasting no opportunity in contributing to his side's attacking momentum.
Derry were able to use their superior pace to open up pockets of space in a packed defence, with Shea Downey and Paul Cassidy both firing over points while Shane McGuigan won a free that he converted himself for a 1-03 to 0-01 lead by the end of the opening quarter.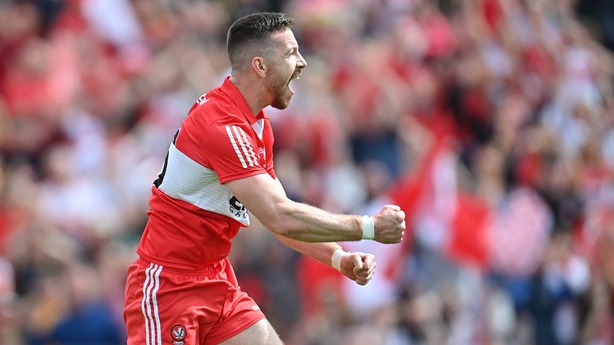 But Donegal began to press strongly on the Derry kick-out and a couple of Peadar Mogan points got them going, with Murphy landing a tidy effort as well.
With Paddy McBrearty tied up by marker Chrissy McKaigue, the Donegal attack was struggling to function, and a rash of wides added to the frustration.
And when Derry moved forward again, they struck another couple of blows as Loughlin steered over a free, and Rogers swung over a point, and they led by five.
Mogan, with his third, and McBrearty from a free, narrowed the gap, but Derry were in healthy shape at the break, ahead by 1-06 to 0-06.
50mins: DER 1-08 DON 1-09
Odhran McFadden's early second-half goal has given Donegal the edge in the Ulster final.
💻 https://t.co/SaOmyVQ0xS…
📺 https://t.co/EvToNUEsDS
📻 https://t.co/wkh41D4bF8 #RTEGAA pic.twitter.com/CI17JqMBfE

— The Sunday Game (@TheSundayGame) May 29, 2022
Donegal were level within 45 seconds of the restart, with Odhran McFadden Ferry finishing to the net from close range after goalkeeper Odhran Lynch could only parry a Michael Langan shot.
They went ahead for the first time through Ryan McHugh, but a tense second half saw the sides level on five occasions.
A match which never blossomed was nonetheless fascinating as both sides continued to retreat into defensive rigidity, looking to break for that elusive opening.
Shane McGuigan steered over a couple of frees, and a tidy effort from play that brought his side level, but Murphy sent a magnificent long-range kick sailing between the posts at the other end, before Jason McGee opened up a two-point lead for the Donegal men.
It was the placed-ball expertise of full-forward McGuigan that kept Derry in it as he brought his side level again, and a tense finish saw both sides chase and turn over possession with tireless energy.
Conor Glass did have a chance to win it for Derry late on but his shot drifted just wide as normal time elapsed at 1-12 each.
They remained deadlocked midway through extra-time after substitutes Aaron Doherty and Emmet Bradley traded points, but it was the Derry boys who found inspiration in the second period, with Rogers and Glass applying the match-winning finishes.
Derry: O Lynch; C McKaigue, B Rogers (0-03), C McCluskey; C Doherty (0-01), S Downey (0-01), P McGrogan; C Glass (0-01), G McKinless; P Cassidy (0-01), N Toner, E Doherty; B Heron, S McGuigan (0-06, 5f), N Loughlin (1-02, 0-1f).
Subs: E Bradley (0-01) for Loughlin (47), L Murray for Heron (63), B McCarron for Toner (67), P McNeill for Downey (71), Heron for Murray (81), Toner for McCarron (81), O McWilliams for Doherty (87).
Donegal: S Patton; C Ward, B McCole, S McMenamin; R McHugh (0-01), E Ban Gallagher, O McFadden Ferry (1-00); C McGonagle, J McGee (0-02); P Mogan (0-03), S O'Donnell (0-02), M Langan; P McBrearty (0-02, 2f), M Murphy (0-02), J Brennan.
Subs: C O'Donnell for Brennan (57), A Doherty (0-01, mark) for McFadden Ferry (63), N O'Donnell for S O'Donnell (71), H McFadden for McGee (71), C Thompson (0-01) for McGonagle (80), P Brennan on for Gallagher (81)
Referee: S Hurson (Tyrone).