CEO of the Gaelic Players Association (GPA) Tom Parsons has said that inter-county players are willing to take further action in the stand-off with the GAA over expenses.
On Friday the GPA said it was "extremely disappointed" that the GAA was seeking to continue cost-savings on player expenses and allowances introduced during the pandemic in 2022 and over the course of the weekend, inter-county footballers boycotted media duties to highlight the stand-off, joined by a number of managers in a show of solidarity.
Speaking on RTÉ's Allianz League Sunday, Parsons said it boils down to respect and for players not to be out of pocket representing their county.
"We feel the GAA get a very favourable deal and generate hundreds of millions of euros of the inter-county game," he told viewers.
I'm hoping it is resolved this week
"In response players just don't want to to pay to play. They want to receive their eligible expenses for all sessions. If they are asked to train two, or seven times in a week, they just want to be treated fairly."
Asked whether the GPA would be willing to take further action if no resolution can be found, he said: "Absolutely. Players want to take action just to get reimbursed.
"We're meeting with representatives and captains this week. We'll be talking about that (possible further action). There will be action this week, but we're hoping the GAA comes back and just boxes this off.
"I'm hoping it is resolved this week."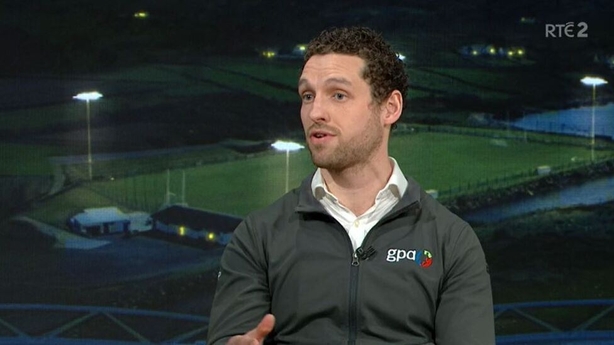 Having accepted a reduction in the player charter provision for the 2020 and 2021 seasons while attendances and gate receipts were affected by Covid-19, the GPA has argued there should now be a full reinstatement of provisions of the charter that were put in place pre-Covid.
In a statement given to RTÉ Sport, the GAA said the majority of the cost of mileage for inter-county teams is borne by individual county boards with a subvention provided by the association centrally, and there remains only one difference from the agreement in place prior to the pandemic.
"The sole difference between the 2022 Charter, and the Charter that was in place pre-Covid, is that the 65c per mile expense rate provided for in the new charter covers up to four collective training sessions/games per week only," the statement read.
"The mileage rate for any additional sessions now requires to be negotiated locally between each county and their players."
Expenses is a symbol of respect for players
Parsons insists the number of training sessions is not relevant and that the onus should never be on the player to have to negotiate with county boards for incurred expenses.
"It's not the responsibility of the player. If a county wants to schedule five, or six, or two (training sessions), that's a county's responsibility, but they shouldn't use the players as a cost-control mechanism. That's what's happening.
"Expenses is a symbol of respect for players. Even if a player doesn't receive his expenses for one session, it is significant. 30% of our membership are students and are in financial hardship."
The GPA wanting "unlimited expenses" for whatever number of sessions is a move towards semi-professionalism, says Colm O'Rourke, while adding that the GAA offer on expenses is "generous" #rtegaa #allianzleaguesunday pic.twitter.com/Ak2Vm8d0Gj

— RTÉ GAA (@RTEgaa) March 13, 2022
Speaking on the programme, Colm O'Rourke feels inter-county players receive a "remarkably generous" deal as things stand between mileage, nutrition and gear expenses and feels the GPA stance is one of over-reaction.
He also added that should the players' body get their way, it would be a move closer towards semi-professionalism.
It does appear as if the GPA, because they are not getting their own way, are throwing the dummies out of the pram
"What the GPA want is unlimited expenses for whatever number of sessions," he said.
"If you need more than four sessions per week, it seems to me there is a mechanism there to negotiate with the county board. The players won't be out of pocket if they negotiated with the county board.
"It does appear as if the GPA, because they are not getting their own way, are throwing the dummies out of the pram.
Five-time All-Ireland winner Colm Cooper is hoping the fallout doesn't result in the cancellation of fixtures.
"It's a stage scenario that the GAA and GPA are in at the moment. It' quite interesting to hear that Tom and the GPA are willing to go further with this because I don't think anyone wants a situation where players are pulling out of games."