There are two games that Craig Dias admits still give him nightmares.
The most recent of these was the 2018 Leinster final. That was a day for the underdog, and a fantastic achievement for the half-parish club of Mullinalaghta to defeat the goliath that is Kilmacud Crokes, but one to remember for all the wrong reasons for the Stillorgan men.
That wrong has arguably already been righted, in as much as it can be, with provincial success earlier this month against Naas.
The other match that leaves Dias struggling for shut eye is an All-Ireland semi-final played 11 years ago. Crokes had beaten Crossmaglen in the 2009 All-Ireland final, but the Armagh champions got their revenge in the semi two years later.
Saturday's semi-final meeting with Roscommon champions Pádraig Pearses will give the 31-year-old, and some of his colleagues, the chance to put that other piece of unfinished business to bed.
"Both of those games I felt we left out on the pitch," he says.
"Mullinalaghta was probably our fault. The Crossmaglen game, there were two sendings off, one dubious. We were really in that game. We came flying out of the blocks and to lose the way we did, it still keeps me up.
"The chance to go over old ground again on Saturday; there's something in it for myself, Mark Vaughan and Rory O'Carroll."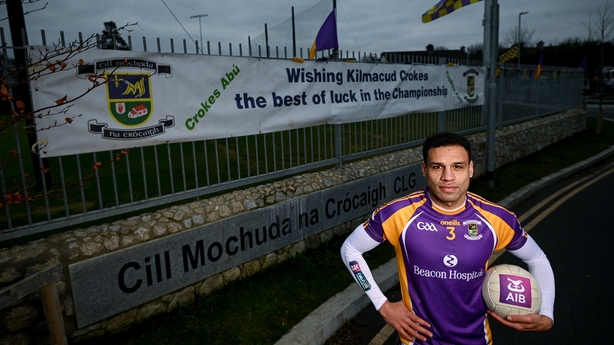 If Crokes are to get over the line and claim a third Andy Merrigan Cup next month, they're likely to have to do it without one of the best forwards in the game.
Paul Mannion faced surgery for a leg injury in the week of the Leinster final victory over Naas earlier this month, and Dias is unsure of when his fellow former St Benildus College team-mate will be back on the field.
"He's a 10x player," he says. "His output is incredible.
"He's putting up ridiculous scores and the scores that he is taking are from ridiculous angles as well. We know that if he's not playing we need to have that output as well. We just concentrate on that.
"Even when he is playing, we still do not want to rely on Mannion. It might look like we do. He has dug us out a couple of times and that's on us. We try to win the game without Mannion and Mannion dictates the winning score line or the margin that we win by.
"That's the mentality that we've had; we can still go out and perform with the three other best teams in the AIB championship at this stage."
While Mannion's absence from the inter-county game is a self-imposed one, Dias is candid when asked about his own relationship with Dublin.
He was part of the extended panel during the Pat Gilroy era but was deemed surplus to requirements once Jim Gavin got involved.
The arrival of Dessie Farrell as Gavin's replacement saw a brief return for Dias as he played for the Boys in Blue against Donegal in an Allianz League game just under two years ago.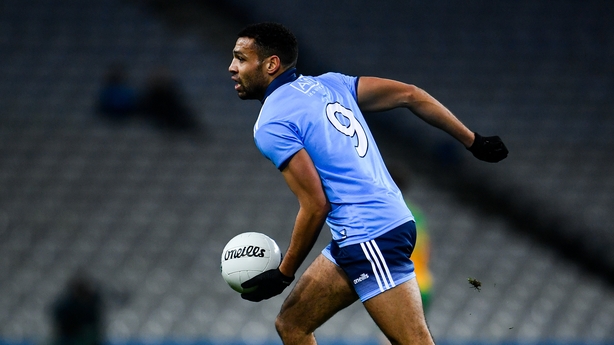 Since then though he's been out of the panel again, and it's a reality that he accepts.
"It was a whirlwind week when I got in with Dublin. I thought that ship had sailed. I'd been playing good football with Crokes and Dessie acknowledged that
"We played a friendly against Dublin the week before the Donegal game. I played well, there was energy there. He pulled me in on the Tuesday, I trained and then got selected for the starting team on Thursday.
"A lot of that fell on me. I said I was ready [but] I probably needed some some fitness work and more actual match time because it was at the start of the club campaign.
"I was 29. It's potentially the last hurrah, really. I think now you're better off focusing on procuring young talented players and developing them rather than bringing in someone 31 to plug a gap."
While Dias might not be lining out in the sky blue again, the purple and gold of Kilmacud will do nicely for now.
His club manager Robbie Brennan has been at pains to point to squad turnover when the 2018 Leinster final defeat has been mentioned by journalists after matches.
Some big names have gone - the likes of David Nestor, Cian O'Sullivan, Pat Burke - and it means that the midfielder is now one of the elder statesmen in the team.
"There has been like a shift," he acknowledges.
"It's notable now after 2018, Covid hit. You'd have the elder statesman at the time who left who would have been quite vocal in the changing room. People had to step up and fill that void, and there have been leadership qualities shown, and people have been training that skill a lot.
"It has helped us on on the pitch to have the people who will be key players for the club going forward. They're quite young - 25, 26, even 22-year-olds stepping up. It's going to pay dividends.
"There is a strong core to that squad, and I say 'that squad' and put myself on the outside because my years are numbered playing at this level. So there will be good things to come from Kilmacud Crokes, especially after the campaign we've had."
That bright future for Crokes could begin tomorrow.