Ulster GAA provincial secretary and CEO Brian McAvoy has said that there are "significant weaknesses" in the idea of a league-based All-Ireland Football Championship.
A GAA Special Congress will be held at Croke Park on 23 October and Proposal B, which links the National Football League with the championship, is gaining support from the GPA, amongst others.
If it was to reach the 60% pass mark from delegates, provincial championships would be played as standalone competitions, something former Donegal manager Jim McGuinness has spoken strongly against.
He has an ally in Down native McAvoy who is firmly against the prospect.
"I think there are a number of significant weaknesses in it that haven't been identified. I know some people are coming out and saying this will be great, but I don't think they've really looked at the stats and I don't think they've really looked beyond the top line of it.
"What we are proposing here is that your provincial championships become your pre-season. That will be the only opportunity for a manager to have a look at potential players because there will be no McKenna Cup, no O'Byrne Cup - that becomes your pre-season.
"Then your league-championship rolls into one. Every league game is a championship game. You lose your first three or four games and you're in danger of relegation but you're also out of the championship and you have already lost your main focus.
"Moving then down a level to what happens with the Tailteann Cup which, unfortunately, hasn't started yet but we'll see it. You can have a scenario where a team can finish bottom of Division Three in the seven rounds of league games, end up winning the Tailteann Cup – and when you see the likes of Tipperary and Cavan then it's a very plausible possibility – and suddenly they're not relegated, they're promoted to Division Two.
"Who would vote for a system that allows a team that is relegated to get promoted? It makes no sense. The team that should have been promoted doesn't get promoted so there is an inherent weakness there."
RTÉ Sport understands that there has already been very strong support from the GPA membership for Proposal B, the league-based championship, which would see the provincial championships retained, as well as a Tailteann Cup.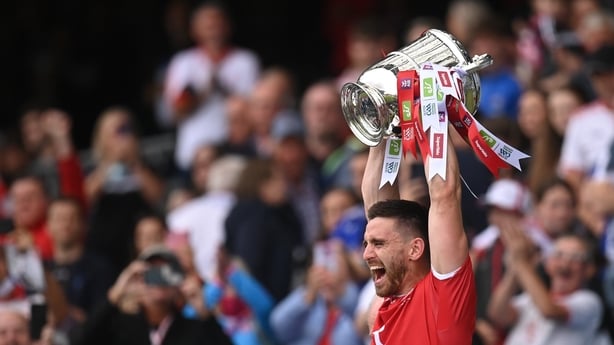 McAvoy, however, believes that some players are still unaware of what the changes would bring.
"I am quite certain a number of them haven't (read the proposals).
"I was speaking to an inter-county player the other night who played in this year's Ulster Championship and not only had he not read it, he had not been contacted about it. He had no communication with the GPA about it."
While not convinced on Proposal A either – a system that would see four eight-team provincial competitions – McAvoy said that it would be a much healthier outcome compared to Proposal B.
If neither proposal reaches the 60% mark, there is likely to be leeway to present a tweaked format to bring to Congress 2022.
"It's (Proposal A) the better of the two but my own view is that we can do better and have some sort of round-robin like in the Munster and Leinster Hurling Championships, although unfortunately we've only seen two years of that three-year trial," McAvoy said.
"Round-robins within the provinces are probably the answer. Some people will say Kerry this and that, they beat Cork by 22 points in a Munster final, but you'll still be getting a number of competitive games within the provinces which will help the standards."