It's the 'business end' of the club championships across the country and this weekend defending champions Pádraig Pearses will take on the old reliables St Brigid's in the Roscommon senior football final.
Last year, Pat Flanagan led Pádraig Pearses to their first ever county championship title when they overcame Roscommon Gaels by 2-10 to 1-10 in a heated final.
Their newfound success didn't stop there as the south Roscommon team went on to reach the Connacht decider, losing out to the eventual three-in-a-row All Ireland Champions, Corofin.
With no club league being played in the county this year, teams entered the championship campaign with a balanced level of expectation. The holders didn't set pulses racing in the group stages, doing just enough to advance.
However, their one point semi-final win over the 2018 county champions Clann na nGael last weekend showed the true colours of this strong, physical and well-drilled team.
"Last week against Clann na nGael was a very tough game. There was no quarter asked for and no quarter given, the way football should be played," said Flanagan.
"Our boys were extremely sore right up until Wednesday night. To a man, each one of them said that's the way they'd prefer it rather than this falling and diving looking for frees.
"This game will be completely different. It's a different team. It'll be a lot faster, not as physical I imagine. It'll test us."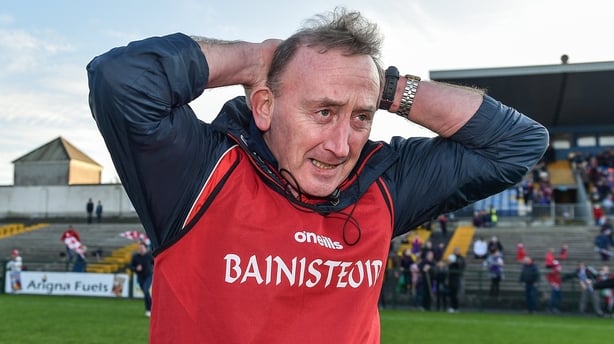 On the other side of the ticket is the Kiltoom-based club, one of the most highly decorated in the county.
It has been seven years since St Brigid's were crowned club kingpins in Ireland. Since then, they have contested four county finals, winning three, their last coming in 2017.
There's been somewhat of a changing of the guard in the St Brigid's camp since then, with household names such as Senan Kilbride, Shane Curran, Frankie Dolan and Karol Mannion hanging up the boots after distinguished careers.
When the guys are out there playing, there's no age numbers on their backs
Instead, manager Benny O'Brien has unlocked a slew of young talent in the likes of Ciaran Sugrue, Ben O'Carroll and Ruairdhi Fallon lighting up the forward set up. But is it a year too soon to expect the youngsters to reach such heights?
"We'll know next week," says O'Brien.
"The only thing I feel on it is that when the guys are out there playing, there's no age numbers on their backs. They're there on merit, they're there to compete for the club, to wear that jersey and to try and win the match.
"When they're staring down the barrel of a gun you ask will they kick that point or make that catch or that block, and invariably they've done it. They've been tremendous."
There's no such thing as rebuilding a team when you're after getting to four finals in five years
However, a transition period is not a theory that Padraig Pearses are buying into.
"I'm not a bit surprised that it's St Brigid's in the final. Why would I be?" said Flanagan.
"There's all this talk of rebuilding a team. There's no such thing as rebuilding a team when you're after getting to four finals in five years.
"It's great media and it's great to talk about but they've been there and they know what to do. We're trying to win games when they're winning championships every second year."
Both managers have experience being on the sidelines with big teams on the big days.
O'Brien was part of the backroom team of Kevin McStay and Liam McHale that brought St Brigid's to All-Ireland glory in 2013 as well as guiding Rosemount to a senior quarter-final in Westmeath in 2018.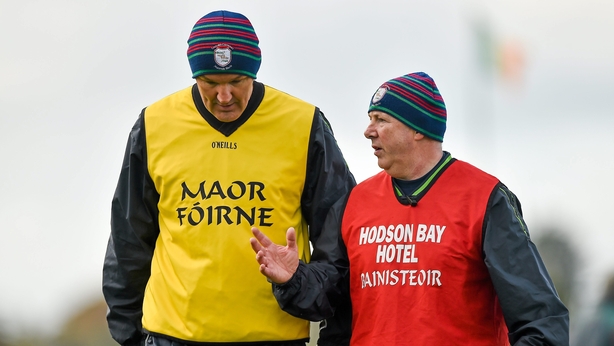 "I suppose when I came back in with Kevin and Liam, we were there to finish off the work that was done by previous people. This task is slightly different in that it's about incorporating these young lads into the set up. It's a different challenge.
"I spent ten years coaching underage in Tullamore, I would understand young fellas, and I have my own kids of course, so I can relate to them, insofar as someone of my generation can.
"I understand them, and I understand the issues that's going on in their lives, that football isn't always the only thing that's there. I suppose the challenge this time was to incorporate them into the club and to bring them on, and bring them through as senior footballers."
Pat Flanagan and his flip-chart came to Woodmount after successful stints in Offaly, Westmeath and Sligo. He managed to capitalise on the talent of the likes of the Daly brothers, David Murray and Niall Carty and secure the long-awaited Fahy Cup triumph, but not without criticism of their physicality and 'sail close to the wind' style of play.
"You can't win a championship unless you've good footballers," he said.
"This is the Roscommon senior football championship. I've been involved in club football in Offaly and Westmeath and the football here is much tougher than both of those counties. But when you cross the line onto that pitch it should be 'ask for no ground and give no ground'.
"I see a serious amount of quality in this team. I saw a serious lack of belief in the beginning. I'd like to believe we've worked on that a fair bit
"When you win your first one it's completely different. You're anxious to know if you've enough in the tank, mentally. When you achieve that then it brings on it's own problems then for the following year. You have to hope that you can hold on to what you have achieved.
"I absolutely can see two in a row. Absolutely."