How does a club that has won 16 Munster and seven All-Ireland football titles (both records) keep their hunger?
For Paul Kerrigan, it's quite simple. Nemo Rangers' success, he says, has a lot to do with a culture of giving back to the club that made them.
"We've a rich history of really, really, really, really good players putting it back into the club," the Cork forward tells RTÉ Sport ahead of Sunday's provincial final against Clonmel Commercials.
"I could name an awful lot. (Former Cork boss) Billy Morgan is a selector with us. I played with two lads who are selectors, Willie Morgan and Gary Murphy. They won All-Ireland clubs themselves. Even our previous management team who got to the All-Ireland club, there's a few of them back involved with the underage as well.
"I think that culture of no one gets ahead of themselves, no one has the attitude of 'what does the club owe me?' It's 'what more can I do?'.
"When I was growing up, you'd be talking about James Masters, Derek Kavanagh. James Masters and Derek Kavanagh are talking about Joe Kavanagh, Colin Corkery. Colin Corkery is talking about Dinny Allen, is talking about Billy Morgan, who's talking about Brian Murphy. So it's there. It goes the whole way through. You just want that to continue. If there's an ego in the club, you'd probably stick out like a sore thumb."
We need your consent to load this SoundCloud contentWe use SoundCloud to manage extra content that can set cookies on your device and collect data about your activity. Please review their details and accept them to load the content.Manage Preferences
Kerrigan is also a big believer in the old adage that success breeds success.
"We've 16 Munster clubs, 21 counties. So nearly three quarters of the time, we've won the Munster club," he adds.
"So you feel like if you win a county (title), you're in with a really good shout of winning that. This new team, they're looking at the success and they're wanting to get as many county medals as they can, winning Munsters and get an All-Ireland if they can, and live up to the previous teams. We're very lucky and very conscious of not fading off, and fading away.
"Last year we had a year off, which was terrible. But we answered that and won a county in fairly convincing fashion."
One story underlines the commitment of the Rangers' inter-county contingent to their club.
"We finished up with Cork on the August Bank Holiday on the Sunday (with defeat to Roscommon)," he recalls. "We had a challenge game on the Monday up the country, and we all travelled up and played. Less than 24 hours and we were playing with the club. Two weeks after that, we were playing championship.
"There's probably an unwritten rule if you're a county player, you have to come back to watch training, be at the league games, be at the challenge games. When that happens, you'll fit seamlessly into the style of play come championship.
"You're not a bonus player coming back who's expected to carry a burden. If you're a county player, that's great. All the pressure isn't on you.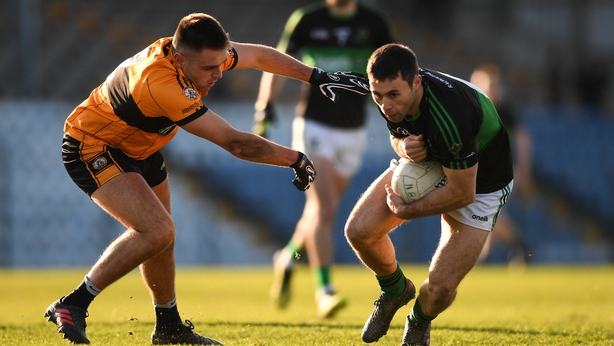 "We train hard, and we haven't let off. Our guys would be good. They'd look after themselves. We've been lucky touch wood, we haven't picked up too many injuries along the way.
"We've a good crop of Under-21s coming through that make up the bulk of our subs and panel. There's a good attitude amongst our senior players to look after themselves, to be available for championship and not pick up injuries. So it has been a long season, but I want to be here at this stage as well, so you do your best to stay fit."
Read next: Kennedy hoping Commercials can draw on rare Nemo record
They didn't know the significance at the time but the team they gave a healthy beating to in that challenge match back in August was this this weekend's opponents, Clonmel Commercials.
Nemo are favourites but not as heavily as they would have been back in 2015 before the Tipperary side suckered-punched them in the final with a late goal from Michael Quinlivan.
"I was captain on the day. It was devastating," recalls Kerrigan.
"You're half-thinking, 'I'm going to be lifting the cup here'. Literally last kick of the game, you didn't even have a chance to draw. It was blown up. High ball in, good swivel, shot into the bottom corner, far post.
"It probably took me two years to get over that. But then you're thinking, if they beat us by a point or ten points, it still goes down in the record books that they won. So you just have to park it.
"Beating Crokes two years ago helped this group get over that, and now we can try and move on and hopefully win another Munster."
Follow Sunday's club action with our live blog on RTÉ Sport Online and the News Now App