James Horan says the demands placed on his Mayo team this year by the GAA were crazy.
On Saturday the Green Above the red played their seventh championship match in eight weeks, producing a huge first half performance before eventually losing by ten points to Dublin in their All-Ireland semi-final.
Having crashed out of Connacht at the semi-final stage to Roscommon, Mayo had to take the long qualifier route, which included three games in three weeks featuring a late throw-in in Newry against Down, a home win over Armagh and a trip to Limerick to beat Galway.
Then there was the Super 8s which brought a loss to Kerry in Killarney, a win over Meath at Croke Park, week off, then and victory over Donegal at home in Castlebar, all followed by an All-Ireland semi-final seven days later.
"If you think about the journey we've been on this year and apply any common sense to it, the turnaround that they're asking amateur players to do is crazy," said Horan, speaking to RTÉ Sport.
"I didn't really mention it all year, I'm not at all in any way using it as an excuse, but, you know, coming back from games at 2am in the morning and guys being in work on a Monday and just the whole what we're asking players to do is very, very tough."
When asked what the solution was he answered: "Maybe give them two weeks for a semi-final, that would be a start. Something simple. I just think the turnaround was tough. But look, Dublin were fantastic in the second-half."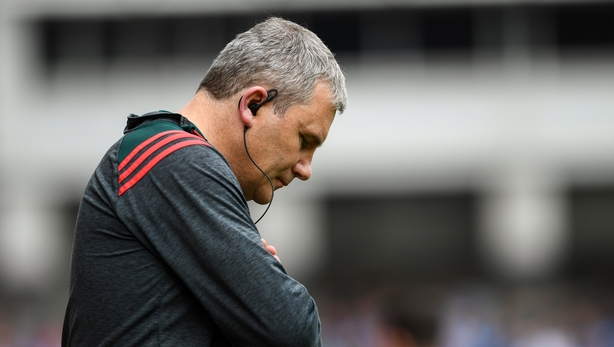 Having seen his team thumped by a Dublin side that they ran to a single point the last time they met in the 2017 All-Ireland final, Horan admitted that there would be changes to his side in 2020.
This season he started the process of introducing members of the 2016 All-Ireland Under-21 winning team plus players who featured in last year's All-Ireland Under-20 final defeat to Kildare.
He said: "There's no question there'll be changes in that Mayo group for next year. I think that's clear but that will take its own course.
"We've a huge amount of players, young players, that are involved this year, and new players. If we use that (result) right, that's a real learning to see where the top standard is. We have to use it that way, otherwise it's a hopeless cause.
"But we'll learn from this; a lot of new guys on the 26, and a lot of guys outside the 26 that are pushing hard that didn't make it. This would be a significant learning for those guys."
As has happened most recent seasons at this stage, questions over the futures of veterans like Andy Moran, Séamus O'Shea, Chris Barrett and Colm Boyle will be asked and they'll all have decisions to make over the winter.