Kerry have been boosted by the news that Colm Cooper and Kieran Donaghy will be back in action for the county's footballers this year.
Question marks had surrounded the future of the veteran forwards (both 33), with 'The Gooch' preparing for an All-Ireland club SFC with Dr Crokes against Corofin next month and Donaghy recently back treading the basketball boards with Garvey's Tralee Warriors.
However, speaking at the launch of the 2017 Allianz Football League, team-mate Donnchadh Walsh revealed that the pair, who have won nine All-Ireland titles between, have both committed to another season.
"They're definitely back as far as I can see," he told RTÉ Sport. "You don't like that uncertainty so it is a good boost, yeah."
The announcement yesterday that Aidan O'Mahony was following Marc Ó Sé into retirement has robbed the Munster champions of considerable experience but Walsh believes that the bond manager Eamonn Fitzmaurice has forged with the squad has kept departures to a minimum.
"Every player inside there is very happy that Eamonn has stayed on for another few years," he said.
"He has massive respect. He has built a very good management team around him. He has all the best physios and (strength and conditioning experts) in there as well. I think there would have been (more retirements), yes.
"I suppose the whole ethos in the dressing room and the culture that Eamonn has grown over the number of years, it's up to the players to be the leaders.
"So, as good as Aidan or Marc was we have plenty of leaders in the dressing room. I don't think we'll be found wanting in that regard."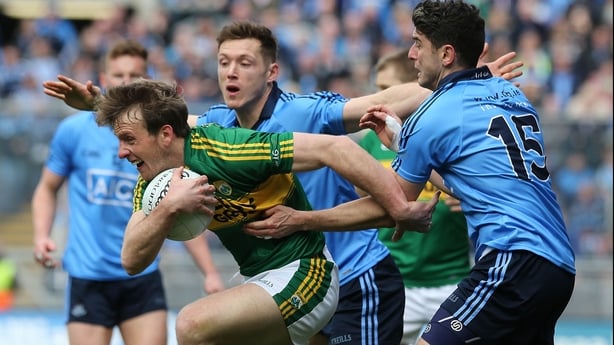 Fellow forward Walsh admits that matching three-in-a-row-chasing Dublin is the ultimate ambition for Kerry, who he believes pose an even greater challenge than the Tyrone side they battled for dominance with in the last decade.
Kerry have lost their four Championship encounters with Dublin this decade - the finals of 2011 and 2015 and the semi-finals of 2013 and 2016 - and couldn't prevent the Dubs claiming a fourth league crown on the trot last April.
"It is tougher maybe, Dublin have reached this level of consistency where maybe Tyrone hadn't," he mused.
"Tyrone would come strong for a year and they wouldn't do so well the following year whereas Dublin are consistently winning leagues, winning All-Irelands now as well so I think you would be right to say that it's a bigger challenge for Kerry now."
"I think other teams are coming up and they are the target"
Nonetheless, Walsh thinks that the gap is narrowing between Jim Gavin's all-conquering side and the chasing pack, and he suggests that Mayo, who forced the Sky Blues to a replay in the All-Ireland final, may have hit upon a winning formula.
"Mayo were phenomenal in those two games. I felt that Dublin played almost a 9/10 to beat us and then Mayo had managed to pull them back.
"Dublin didn't play as well in those two All-Ireland finals and that was probably Mayo not allowing them to play as well as we allowed them to play.
"I think there's something in how Mayo were maybe able to match them for that physicality on both days and if we had had that, that physicality, we might have brought their performance down a peg or two.
"I think teams are coming up to their level. I don't think Dublin's level is dropping. I think other teams are coming up and they are the target, they are the limit at the moment, they are the milestone that other teams have to get to so I think other teams are improving.
"It is very easy to become obsessed with them. Every night you go out for training you could just totally focus on them.
"But we've the first round of the Allianz against Donegal up in Letterkenny and if you're not 100 per cent focused on that game you'll be getting a hiding up there.
"They're always going to be at the back of our minds, Dublin, 100 per cent, and they have been since we lost the semi-final to them last year.
"That's grand, they can stay there at the back of our minds and until they need to be at the front of our minds, that's where they'll stay."