John Coghlan is helping to mastermind Ballyboden St Enda's drive for the All-Ireland club football final from his new base in Qingdao, China.
The Dubliner built up a reputation as a top sprinting coach in Ireland, working with the likes of national 100 and 200 metre record-holder Paul Hession.
He had a sideline in the GAA, operating in the backroom teams of various club outfits and Dublin county hurling sides at all grades.
On St Patrick's Day he will be hoping 'Boden can beat Castlebar to land the club All-Ireland, but he'll be a long way from Croke Park.
"If you had told me 14 months ago that I'd be living in China I'd have told you you were mad!" laughed the 37-year-old from Blanchardstown.
Straight out of college in UL, Coghlan got work in the US and gained incredible experience getting to see Bahamas sprinters Pauline Davis-Thompson training just months before she headed off for a successful Olympic Games in Sydney.
"I work with the sprinters, the 100 and 200 guys and I also do a bit with the hurdlers. I am the head of the sprint team." - John Coghlan
He also made valuable contacts, meeting legendary coach Loren Seagrave and powerful agent Paul Doyle.
Seagrave franchises speed and training centres worldwide and was involved in talks, which came to nothing, about opening one in Ireland. It was at this time that Coghlan met 'Boden manager Andy McEntee (below).
"Andy was Meath minor manager at the time and asked me would I get involved," explained Coghlan.
"I was working with the Dublin minor hurlers that year and both teams got to the All-Ireland final. There were a few dual players on the Dublin team, so I was working with them one day, and working with their opponents the next.
"I got involved with Ballyboden around March last year. Andy asked me was I interested and I wasn't sure, but I came in and had a look. I was impressed by what I saw so we said we'd take it month-by-month.
"I was in Ireland and the US then on and off over the years. At home I worked with teams because I was interested in trying to bring the principles of speed, fitness and physical development from sprinting into a team sport.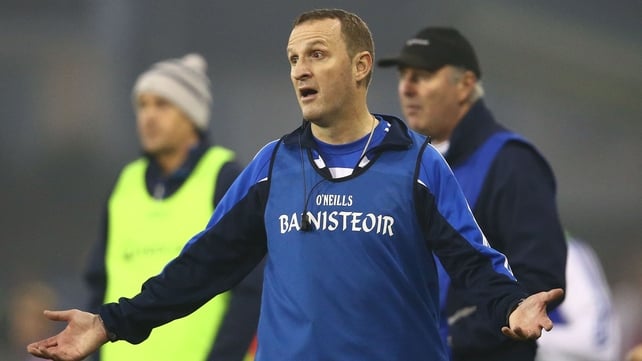 "Athletics is the most explosive of sports so a lot of other sports can learn from that," he said.
"I've been in China for the past three and-a-half months so I've only had an advisory role with Ballyboden in that time. It's pretty basic, really," he said.
"The programme these guys are on is important, but it can be overstated too. I try to integrate everything with them in terms of football, fitness, strength, recovery and so on.
"There are lots of other individuals involved too and we're all working very closely with Andy. These are amateur players so you have to make the best use of the time you have, maybe 90 minutes three times a week."
According to 'Boden's leading scorer in the current campaign Andrew Kerin: "He really raised the bar. There wasn't much running around the field, it was much more intense and I think our fitness really came on from that."
It was through Coghlan's links with Seagrave that the China connection came about too. He worked at Seagrave's IMG Academy in Florida, coaching the Asian nation's sprinters.
"I am working for Shandong province, there are 32 provinces in China, a bit like counties in Ireland. I work for them in theory, but in practice it is all centralised," he said.
"I work with the sprinters, the 100 and 200 guys and I also do a bit with the hurdlers. I am the head of the sprint team.
"I live in Qingdao, which is the biggest city in the province. It's what they call a mid-size city in China - about 9 million people!"
"In China I have seen absolutely no evidence of drug taking and I would have been fairly sceptical coming over here." - John Coghlan
Coghlan also occasionally travels to Beijing to work with Su Bingtian (pictured below alongside Usain Bolt at last year's World Championships), the first Asian man to run a sub-ten second 100 metres.
There is a lot of suspicion about athletics these days, with a constant feed of doping controversies.
A totalitarian regime like China's usually comes even more under the microscope than most given communist nations' murky history of performance enhancing drug use.
Their doping programme from the nineties, which robbed Sonia O'Sullivan of a gold medal at the 1993 World Championships, is just another black mark in the history of athletics.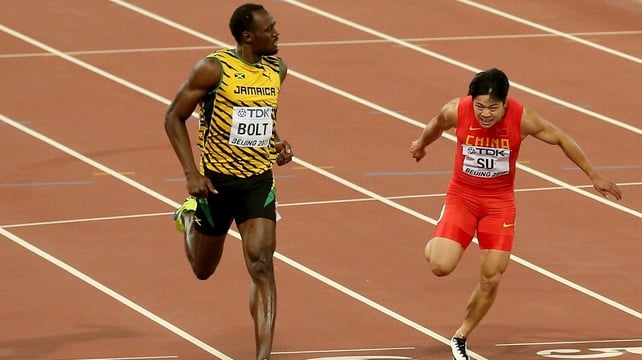 Coghlan insists though, that he has seen no evidence of drug use amongst Chinese athletes.
"I'm extremely anti-drugs," he said. "The punishment for being caught taking drugs in sport should be far harsher than they are, I have no time for it. I have had friends and family and people I respect done out of achievements because of cheats. I hate it.
"In China I have seen absolutely no evidence of drug taking and I would have been fairly sceptical coming over here.
"Sonia O'Sullivan happened 23 years ago and it seems that it was pretty much one coach working with one group of athletes. There was nothing before or since. To say it's a policy across the board, I would question because to me it was one renegade coach.
"China has a population of 1.4 billion and only one man has run under ten seconds for the 100 metres. Paul Hession has run quicker than pretty much every other Chinese 100 metre athlete. If it was state-sponsored across the board China would be dominating events."
According to Coghlan though, China may come to be a force in world athletics in years to come because they are working hard on getting the basics right. Once they have the foundations laid, the sheer weight of population numbers will come in to play.
But before that happens, Coghlan will be searching for an internet feed where he'll be able to watch Ballyboden take on Castlebar in Thursday's All-Ireland final.