All-Ireland football final days generate such a buzz of excitement that it is difficult not to find yourself chattering and speculating about the potential outcome for the four or five days preceding the game itself.
With Kerry's team announced on Thursday and big names like Marc Ó Sé and Kieran Donaghy not on the starting XV on Sunday, and Dublin at least naming Cian O'Sullivan in the starting 15, it brings many fans around to the question of who will mark whom?
Any game of sport, and that includes All-Ireland finals like Sunday, are won by the team which has more players that win their individual battles. If nine or ten players win their individual skirmishes, with one or two having top class games, the trophy goes home to that county.
Sunday has the potential to throw up many tremendous clashes and we look at three that may have serious implications on whether David Moran and Kieran Donaghy or Stephen Cluxton get to hoist the cannister by 5.05pm on Sunday evening.
Ciarán Kilkenny v Peter Crowley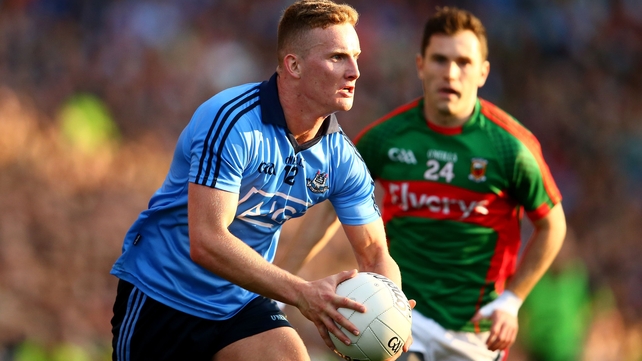 Kilkenny has been in superb form for Dublin all season. His ability to link play, pick up breaks and score off either foot has been a joy to observe. Some of his scores against Mayo were exceptional and he is one of the best centre-forwards in the game at the moment.
He is a far better and more mature player than the youngster that collected his first senior All-Ireland medal back in 2013 and, unfortunately, had to miss last year with a cruciate ligament injury.
Ciarán has the uncanny ability of appearing to have loads of time when he is in possession and he invariably picks the right option, as regards going for a score or laying off to a better placed colleague.
Kilkenny will be tracked by Laune Rangers star Peter Crowley, who has nailed down the centre-back position over the past two years for the Kingdom.
Crowley is a very tough customer and a hard tackler who deservedly collected his first All-Star last season after a very fine campaign. Crowley was wing-back in 2013 when Dublin won the All-Ireland semi-final on a score-line of 3-18 to 3-11 and he was subbed out in that defeat.
Crowley and his defensive colleagues know that a repeat of anything like that score-line for Dublin will see them on the beaten side again, and expect plenty of bodies back and hard-hitting as was seen in Kerry's 2-9 to 0-12 victory over Donegal last year.
They took the lessons from  the 2013 defeat to Dublin, learnt from them and adapted their game as appropriate.
Kerry manager Eamonn Fitzmaurice will have a definite plan to try and stop the influence of the immensely talented Dublin half-forward trio of Paul Flynn, Kilkenny and Diarmuid Connolly.
If Crowley can hold the middle, while also nullifying Kilkenny's influence, he will have done a stunning job and one that would push him into contention for a second All-Star gong.
But if Kilkenny wins this particular battle, he would be an automatic all-star, and Dublin will be a long way to winning the game itself.
David Moran v Bryan Fenton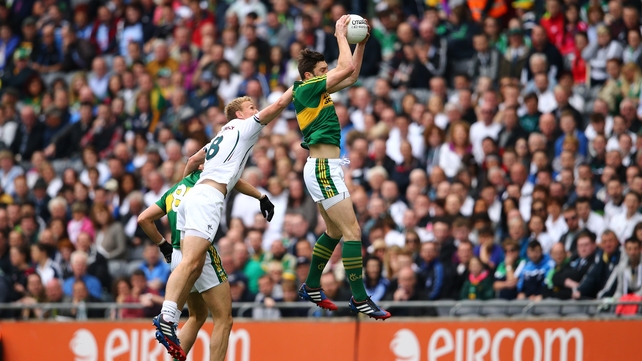 In Kieran Donaghy's absence, Moran is to captain the Kerry side for the parade and take the toss before the game.
What they do as regards collecting the cup on the steps of the Hogan Stand if they win is anybody's guess - however Moran will have a huge role to play in making that happen.
The Kerins O'Rahillys man has been Kerry's stand-out midfielder over the past 24 months which is a big compliment considering that Anthony Maher is no slouch in that area either. Moran has been a revelation since he came back from a serious knee injury and his kick passing and aerial strength is a key tool in Kerry's arsenal.
He will have been very annoyed to have been taken off against Tyrone in the semi-final and will feel he has a point to prove on Sunday.
A man who has his phenomenal Gaelic football pedigree - he is the son of Denis 'Ogie' Moran - is not used to, nor appreciates, getting the 'curly finger', and will expect a big display in Croke Park on Sunday that could see him pushing on for a second All-Star, to add to the one he collected last season.
Bryan Fenton has been terrific for Dublin in his debut season. He did not play minor with the county, however he did win an All-Ireland U-21 medal in 2014.
The Raheny player has been progressing incrementally and has been a major success for Jim Gavin this year. Fenton does not over-complicate things and his work-rate has improved significantly as he has gained confidence.
The fact that he has been selected regularly at midfield ahead of 2013 Footballer of the Year Michael Darragh Macauley says all we need to know about the 22-year-old, whose assurance in possession will be high after a strong championship run in the side.
Sunday will be a big test for Fenton and how he handles the whole experience of his first senior All-Ireland final and coming up against one of the top midfielders in the game will be very revealing.
Rory O' Carroll v Paul Geaney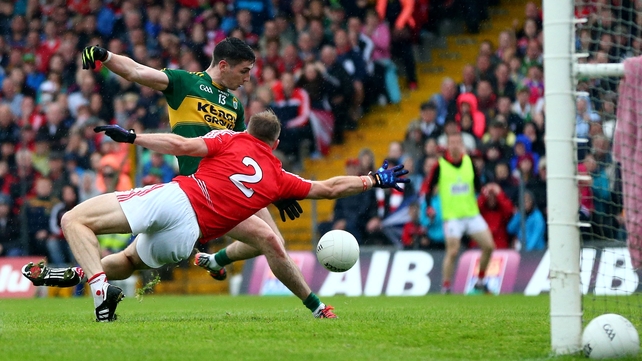 The Kerry management team are backing Geaney to do the business for them as he did in last year's All-Ireland final when he hit 1-2. His very early goal in that game was crucial in getting Kerry past Donegal.
The Dingle man also made a really serious impression when he came on against Tyrone in this year's semi-final and it was that 35 minutes of top-class forward play that sees him selected over Kerry captain Kieran Donaghy for this Sunday.
Geaney comes up against one of Dublin's best defenders and best footballers in full-back Rory O' Carroll, who has been solid all through this year's campaign and who was a tremendous success in their All-Ireland victories of 2011 and 2013 in that position. Apart from Stephen Cluxton, O' Carroll is probably Jim Gavin's next name on the team sheet.
O' Carroll is a very understated player. A Mr. Reliable type, who rarely makes a mistake and the kind of player you want minding the house. It will be interesting to see how he copes if Cian O' Sullivan is ruled out with his hamstring injury as O' Sullivan is a superb centre-back, who provides serious protection for his number three.
While he might see off Geaney, it will be interesting to see how O'Carroll handles Donaghy if the Kerry captain is given a run for the last quarter and the right type of diagonal ball he thrives on is played into him.
Regardless of  which Kerry player comes into his zone over the 70 minutes, it is difficult to see the Kilmacud man getting too flustered. It is not in his DNA.
Follow Dublin v Kerry with RTÉ Sport Online's live blog by Eoin Ryan and James McMahon, watch live on RTÉ2 or RTÉ Player or listen live on Radio 1.