Monaghan 1-20 Fermanagh 0-13
Monaghan qualified for their third successive Ulster SFC final with a 1-20 to 0-13 win over Fermanagh at Breffni Park.
Two points each from Kieran Hughes and Conor McManus helped Monaghan to a 0-7 to 0-5 interval lead, with Sean Quigley and Ryan Jones both hitting two Erne scores.
McManus netted the only goal of the game just after Fermanagh's Ryan McCluskey was sent off, and despite Stephen Gollogly's missed penalty, the cruised into the decider, with substitute Owen Duffy hitting three points.
Kieran Duffy got the Farney men off the mark in the seventh minute, but Fermanagh went in front with a superb Tomas Corrigan effort two minutes later.
The Erne men got numbers behind the ball and forced a series of turnovers, frustrating danger man Conor McManus, who was double-teamed by Marty O'Brien and Ryan McCluskey.
McManus did steer over a 40 metre free, but that was cancel out by Ryan Jones as the underdogs maintained their slender advantage through the opening quarter.
Kieran Hughes collected a searching delivery from brother Darren to hold off the challenge of two defenders and squeeze the ball over the bar.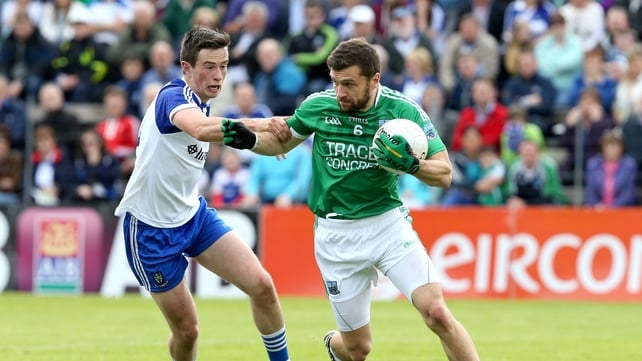 And Malachy O'Rourke's men were back in front by the 23rd minute when Neil McAdam took the direct route to drive over a fine score.
But Fermanagh, defending in numbers and tackling with fierce intensity, kept it tight at the back, and broke away for skipper Jones to land another mighty point.
The sides had been level on five occasions, but Monaghan started to prise openings late in the half to reel off three points through Kieran and Darren Hughes nad a McManus free to take a 0-7 to 0-5 lead into the break.
Kieran Hughes' spectacular high fielding helped Monaghan build on the advantage in the early stages of the second half.
He fired over his third point, and win the free that McManus converted, before wing back Dessie Mone made it 0-11 to 0-7.
Fermanagh were clinging on, but crucially able to proft from the few chances they were creating, with Eoin Donnelly and Quigley hitting the target.
Monaghan went six ahead with McManus' fourth free, but Fermanagh responded with guts and determination.
Wing back Declan McCusker pushed forward to rifle over a couple of magnificent points from wide in the right, and Quigley drove a 50 metre free, into the wind, between the posts as Fermanagh narrowed the gap to three
But centre back Ryan McCluskey received a straight red card in the 57th minute, and they were unable to cope with the handicap.
Now Monaghan had extra space to work with, and McManus, who had gone 64 minutes without a score from play, nailed 1-1 in the space of a minute.
His goal was netted at the second attempt after Thomas Treacy had kept out his initial effort
Monaghan were awarded a penalty for Tiarnan Daly's trip on Stephen Gollogly, but Treacy saved Gollogly's kick.
It mattered little though, and substitute Owen Duffy scored his third point, goalkeeper Rory Beggan converted a '45, and Gollogly got his name on the score-sheet.
Monaghan also finished with 14 men following the late dismissal of Darren Hughes on a second yellow card.
Monaghan: R Beggan (0-01, '45), C Walshe, V Corey, R Wylie, D Mone (0-01), F Kelly, K O'Connell (0-01), N McAdam (0-01), O Lennon, K Duffy (0-01), D Hughes (0-01), S Carey, D Malone, K Hughes (0-03, 1f), C McManus (1-06, 0-5f).
subs: O Duffy (0-03) for Carey, C McGuinness (0-01) for Malone, D Clerkin for Lennon, S Gollogly (0-01) for Kelly, P Finlay for K Hughes, C Boyle for Mone
Fermanagh: T Treacy, M Jones, N Cassidy, M O'Brien, D McCusker (0-02), R McCluskey, B Mulrone, R O'Callaghan, E Donnelly (0-01), R Jones (0-02), C Flaherty, P McCusker, T Corrigan (0-02), S Quigley (0-05, 4f), T Daly.
Subs: R Corrigan for Flaherty, C Jones for O'Callaghan, A Breen (0-01) for M Jones, D Kille for P McCusker.