Brian Cuthbert prefers to look at Cork's overall league performance and won't dwell on a chastening Division 1 final defeat to Dublin.
The Rebels topped the Allianz League table but failed to show up at Croke Park as Jim Gavin's men coasted to an 11-point victory.
"Overall we've had a very, very good league," Cuthbert told RTÉ Sport.
"Today has put a dampener on a lot of good work. [We're] very disappointed with the display. We never really got going at all, to be fair. Dublin [were] far superior in every facet.
"You'd have to say that when Dublin got their noses in front, they just seem to drive on and we weren't able to cope with the pressure.
"At the same time, we made a lot of simple mistakes that were unforced and if you do them against good teams you're going to be under pressure.
"Whether we won the league or lost the league today it [wouldn't have] made any great difference in terms of where we're going next."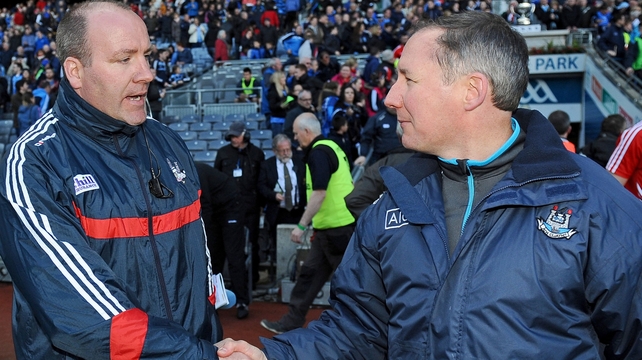 Eager to put the performance, where Cork only managed their first score from play in the 49th minute, behind him, Cuthbert and his men will now have almost two months to prepare for their Munster Championship opener against either Clare or Limerick on 14 June.
"We've seven or eight weeks to get ready for Limerick or Clare and that's what we're going to do. We'll just lick our wounds from today and take what we can learn out of it and move forward.
"Look, I'm not running for cover or anything but the league as a whole, you have to look back on it and we have plenty of positives.
"Today was disappointing, absolutely. It was a big day in Croke Park, we didn't play, we didn't get ourselves up to the speed of the game: lesson learnt and we've to go forward again."