Austin Stacks 2-13 Mid Kerry 1-07
Austin Stacks claimed their 12th Kerry crown and first since 1994 when they recorded a comprehensive victory over Mid Kerry in the Kerry SFC replay.
It was a victory fully deserved and crowned a great season for Kieran Donaghy, who not only won the accolade of man of the match, but is now almost certain to skipper Kerry in 2015.
Austin Stacks exploded from the blocks, as they blitzed an out-of-sorts looking Mid Kerry side in the opening half of this replay, played in front of a huge crowd at Fitzgerald Stadium Killarney.
Austin Stacks changed their game plan, posting All Star Donaghy on the edge of the square, and leaving him there, and this was a move that reaped rich dividends.
Mid Kerry were all at sea in the opening stages, as Donaghy punched a point in the second minute and then wing-back Pat McCarthy added another before Donaghy struck in the sixth minute for the opening goal of the game.
It was a high ball from Mikey Collins that dropped between a number of defenders and when they failed to clear, Shane Carroll picked out Stacks' star man who seemed to take an age - and a possible pick off the turf - but he crashed the ball to the Mid Kerry net.
Shane Callaghan added a quick point before Kerry minor Liam Carey opened Mid Kerry's account in the eighth minute. It was all Stacks as the Tralee side were winning midfield and breaking ball and, after two Shane Carroll frees, Stacks struck for a crucial second goal.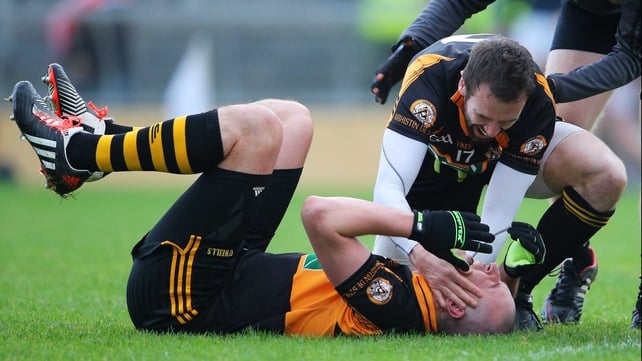 Inevitably, Donaghy was involved again, this time grabbing a Darragh O'Brien centre.
When he got past his man, keeper Michael Moriarty hauled him down inside the box, not alone conceding a penalty but picking up a black card.
Substitute keeper Rory O'Connor's first job was to watch Pa McCarthy drill the ball low to the corner of the net from the spot, and at 2-05 to 0-01 after 15 minutes, it was difficult to see Mid Kerry coming back.
Mid Kerry did improve in the second quarter with Darran O'Sullivan moving out to the 40 and thanks to the efforts of Ronan Murphy and Donnchadh Walsh, they created two goal chances, both for substitute Martin Burke, but both brilliantly saved by Stacks net-minder Darragh O'Brien.
Gavan O'Grady scored points from a free and a '45 that gave Mid Kerry some glimmer of hope. Stacks managed only two points in the second quarter, from Shane Carroll and Mikey Collins, and there helped them lead comfortably 2-07 to 0-03 at half-time.
Mid Kerry failed to make any impact in the second half despite enjoying some decent spells of possession. Stacks were always in control with Wayne Guthrie, Shane Carroll, Shane Callaghan as well as Donaghy continuing to impress.
Donnchadh Walsh tried to lift Mid Kerry but their meagre return for the third quarter was two points from O'Grady. Stacks keeper Darragh O'Brien denied Mid Kerry goals they needed, with two more superb saves.
Donaghy added a point in the 47th minute and Sean O'Sullivan showed that he lost none of his class with two excellent efforts but it was to be Stacks day as they cruised to a nine-point victory, despite a late goal from O'Grady.
Stacks now will play Cork champions Ballincollig at a Kerry venue in the Munster SFC semi-final in two weeks' time.
Scorers: Austin Stacks: S Carroll 0-5 (0-4 frees), K Donaghy 1-2, P McCarthy 1-1 (1-0 pen), M Collins 0-2, S O Callaghan, D Mannix, and D Long 0-1 each
Mid Kerry: G O Grady 1-4 (0-3 frees, 0-1 '45), S O Sullivan 0-2, L Carey 0-1
Austin Stacks: Darragh C O'Brien; F McNamara, B Shanahan (capt), R Shanahan, P McCarthy, J Dennis , G Horan; W Guthrie, D McElligott,; M Collins, S Carroll, D Bohan; D O Brien, K Donaghy, S Callaghan.
Subs: D Mannix for D O Brien (h/t), C Jordan for R Shanahan (35), F Mangan for D Bohan (46), W Kirby for G Horan (53), D Long for M Collins (58)
Mid Kerry: M Moriarty (Beaufort), Pa Kilkenny (Glenbeigh/Glencar), F Griffin (Glenbeigh/Glencar), G Harnett (Beaufort), Danny O Sullivan (Glenbeigh/Glencar) R Murphy (Beaufort), Danny O Sullivan , A Cahillane (Keel), C McGillycuddy (Glenbeigh/Glencar), T Ladden (Keel), G Sayers (Keel), L Carey (Beaufort), D Walsh (Cromane), G O Grady (Glenbeigh/ Glencar), Darran a O Sullivan (Glenbeigh/Glencar), K Courtney (Glenbeigh/Glencar).
Subs: R O Connor (Glenbeigh/Glencar) for M Moriarty (14 B/C), M Burke (Milltown/Castlemaine) for C McGillycuddy (21), S O Sullivan for G Sayers (h/t), J Hoare for R Murphy (h/t), F Hallisey (Beaufort) for K Courtney (Glenbeigh/Glencar), J Long (Keel) for M Burke (53)
Referee: Padraig O Sullivan (Firies).