Kerry manager Eamonn Fitzmaurice has said he will "definitely be tapping into" the experience that the returning Tommy Walsh will bring to the Kingdom in 2015.
After five seasons with Sydney Swans, Walsh has called time on his tenure in the AFL. He is set to resume his club career with Kerins O'Rahilly's.
No doubt, he will have his sights set on forcing his way back into the Kingdom squad as they plan their defence of Sam Maguire.
For Kerry manager, Eamonn Fitzmurice, Walsh's return is a "big boost" for Kerry football in that the experiences the 26-year-old has picked as a full-time professional can only but aid the Green and Gold cause. 
Speaking to RTÉ Sport, Fitzmaurice said: "Last Christmas when Tommy was home, I met him and we had a good chat. I wanted to see where he was at with regard to what his ambitions were in Australia and also coming home.
"He did say then that he would spend another year over there. I got good ideas off him.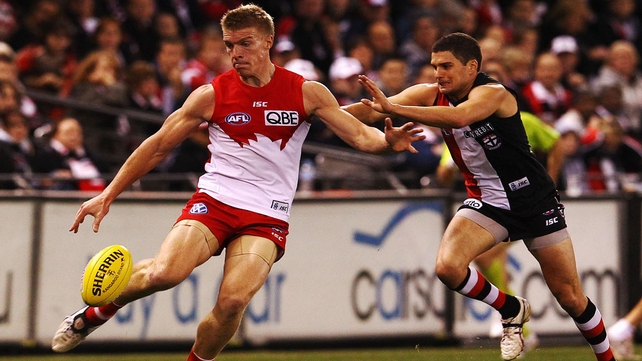 "Most teams now, whether it's football or hurling, are at a very professional level. There is a lot of expertise in the backroom teams. However, you can always have more.
"Somebody coming from a full-time professional background, like Tommy, will bring a lot to the table, not just for his football, but the overall experiences he has picked up across five years.
"That will be a big help to us next year and I will be definitely be tapping into some of that."
Walsh's availability and the expected return of Colm Cooper will add a new dimension to the Kerry set-up next year, and that, according to the Kerry boss, is a vital requirement.
"Tommy, will bring a lot to the table, not just for his football, but the overall experiences he has picked up across five years" 
"Tommy will be keen to get back involved. If he's in the squad it's up to himself then to stake a claim for a place on the team. That'll be a situation that will be happening throughout 2015," added Fitzmaurice.
"It's great news for us that he is coming back. When you're trying to retain an All-Ireland title you are going to need new angles and new fellas to come in to drive it on. The return of Tommy will be a boost and Colm [Cooper] getting back to full fitness will also be a boost." 
Following Kerry's recent victory over Donegal, that saw them add to their All-Ireland haul, Fitzmaurice has been to keen the stress the efforts made by all involved in that triumph and how privileged he his to be managing the side.
"It was great to get the job done. I said straight after the game that the enjoyment I took out of this year was seeing the lads develop so much as a group particularly the younger players that won their first All-Ireland.
"It was a special occasion for them. I haven't really reflected too much on myself. I'm very lucky to be in the position I'm in; to be working with the players I'm working with and to have the backroom team and management around me.
"In saying that, the thoughts are now turning to next year."