By James McMahon
'Never Mind the Quality, Feel the Width' was a British television sitcom that aired in the late 1960s. Those of a certain vintage will recall that it featured the Irish actor, Joe Lynch. 
However, its title is apt when we rake over the coals of the 2014 All-Ireland football final. It was not a contest that served up much in the way of quality fare, however Kerry won't mind. Their victory over Donegal saw them move on to 37 in the roll of honour of Sam Maguire titles.
Despite notable retirements last winter and then Colm Cooper's injury woes in early spring, manager Eamonn Fitzmaurice put his faith in some new recruits. 
He also had the option of springing a revitalised Kieran Donaghy at a crucial point in the semi-final against Mayo.
Meanwhile, under Jack O'Connor, the Kerry minors tasted All-Ireland glory again after a gap of 20 years. There would appear to be no lack of 'width' emerging in the Kingdom. 
After the replay victory over Mayo, James O'Donoghue mentioned how Kerry were determined to get to the final this year and have another "shootout". He was obviously referencing Dublin as their opponents – an opportunity for revenge after their epic showdown in the last four in 2013.
And then Donegal came along to cast aside the Dubs. It was time for a change of plan. There would be no shootout on Jones' Road. Speaking last week, Roscommon manager John Evans promised us a game that would be "dour and tough-tackling." I'm not sure whether dour summed up proceedings, but in the terms of tackling, Kerry executed that art just that little bit better.
In truth they did most things a little better than Donegal on Sunday and that's why they won the game.  
While not quite 'doing a Donegal' on Donegal, they denied Jim McGuinness' charges the room to counter-attack with menace. It wasn't the Kerry that we know, but by playing ugly, and I use that term lightly, Kerry got the job done.
Their cause was helped by Kieran Donaghy profiting from a Paul Durcan error to find the net after 52 minutes. From there to the end, the Kingdom were able to keep their rivals at bay by playing it simple and kicking vital points.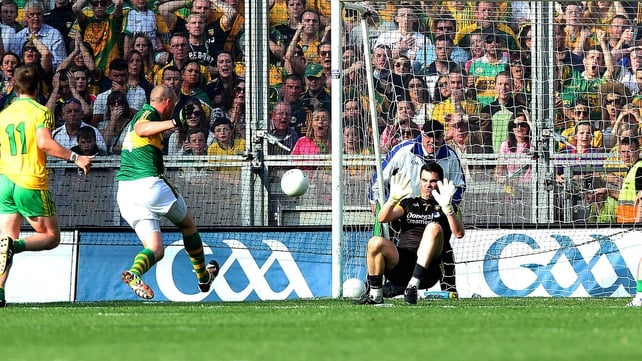 Kerry's adaptability shone through, and while Colm McFadden's fisted effort in the last throws of the game could have ensured parity, the Munster side yet again proved to be the masters on the big days. 
More than once in the last decade, Kerry were bossed around by northern opposition on All-Ireland final day. When Donegal edged out Kerry in the 2012 quarter-final, then manager Jack O'Connor spoke about "Kerry playing on Donegal's terms."
Fitzmaurice and co were determined to lead the way two years later and so tailored a game to meet the demands of the occasion. No thrills and frills to grace football's biggest days!
As for Donegal, Jim McGuinness was forthright in his summation of their second final appearance in three years. "Over the 70 minutes, we didn't deliver what we know we are capable of delivering. 
"The energy wasn't there and the work rate wasn't there. I don't know how many turnovers we got, but it wasn't a lot. When we did turn it over, we didn't get up the field aggressively enough. We just didn't ask enough questions."
He went on to add to dismiss the notion that Donegal had given too much of themselves in the win over Dublin.
We can only speculate as to what the future now holds for Donegal. An All-Ireland semi-final date with the Kerry next August is in the offing if both are still standing at that point. 
McGuinness no doubt will want the dust to settle even more on Sunday's disappointment. 
For Kerry, the dust will also settle, before plans are made for their title defence and the prospect of a shootout or two along the way.