Kerry 2-09 Donegal 0-12
Kerry won their 37th All-Ireland Senior Football Championship crown with a hard-earned 2-09 to 0-12 win over Donegal at Croke Park.
This was a Sam Maguire Cup decider that called for hard graft and pure passion, the men from the Kingdom forced to sacrifice their famous flair and style in favour of a more primal approach to a desperate necessity to succeed.
Paul Geaney netted in the opening minute but Donegal dragged themselves back with three Michael Murphy frees to draw level at 0-06 to 1-03 by half-time.
Kieran Donaghy's 52nd-minute goal pushed Kerry four clear, and with defences dominating, the Ulster men fell short, despite a late exchange of scores from Christy Toye and Bryan Sheehan and a frantic last-minute scramble in the Kerry goalmouth, which resulted in Colm McFadden hitting a post.
Amazingly, Kerry are once again All-Ireland winners despite the fact that ace attacker James O'Donoghue failed to score, after a summer in which he emerged as a more than adequate replacement for the injured Colm Cooper.
A sensational start saw Geaney collect Stephen O'Brien's long ball and turn to beat Paul Durcan with a low shot to the net after just 50 seconds.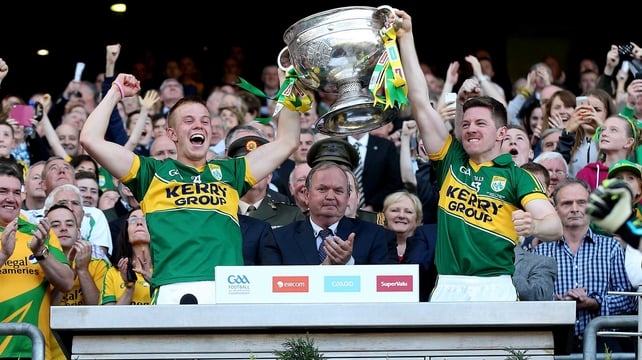 Donaghy sent them four points clear, and even the famous recovery powers of Donegal were being tested at that early stage.
Kerry's defensive strategy worked a treat, tracking the runners and putting serious pressure on the player in possession, a strategy which effectively squeezed the Donegal attack out of the game.
It took them 25 minutes to get in a shot at the posts from play, when Rory Kavanagh's penetrating run released teenager Darach O'Connor, and his effort clipped Brian Kelly's leg and zipped just wide at the butt of the far post.
But by that stage, Michael Murphy (3) and Colm McFadden had steered over frees, and the Ulster champions were just a point adrift.
Now Donegal were beginning to find more space, and the introduction of the experienced Christy Toye for 18-year-old O'Connor after 27 minutes helped them exploit those extra yards that opened up in front of them.
However, they were fortunate not to concede a second goal to Geaney, who collected O'Donoghue's cross but shot rashly and over the bar.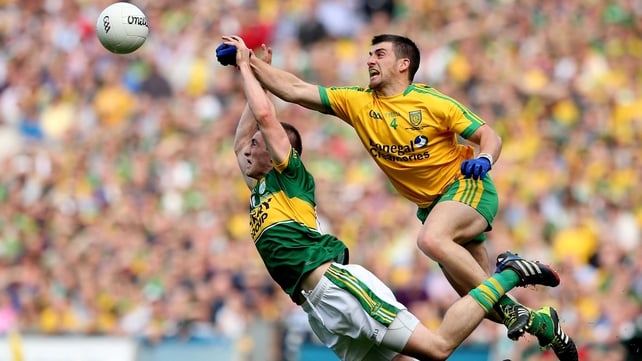 O'Donoghue was unable to escape the shackles of the excellent Neil McGee to work his magic, and it was Donegal who looked the more confident of the sides heading towards the break.
Odhrán MacNiallais improvised with a first-time finish from the ground for his side's first point from open play, and centre-back Karl Lacey brought them level, 0-06 to 1-03 at the halfway stage.
Kerry were kicking long ball in the direction of target man Donaghy but gaining nothing from it, and with both teams reluctant to break out of defensive mode and commit men to the offensive effort, a torrid contest became painfully sterile.
Killian Young did show a readiness to run at the Donegal defence, and was rewarded with the free that Barry John Keane tapped over to ease the Kingdom ahead again in the 51st minute.
The resulting kick-out was a personal tragedy for goalkeeper Durcan, whose kick went straight to Donaghy, and he planted the ball past the isolated Four Masters man.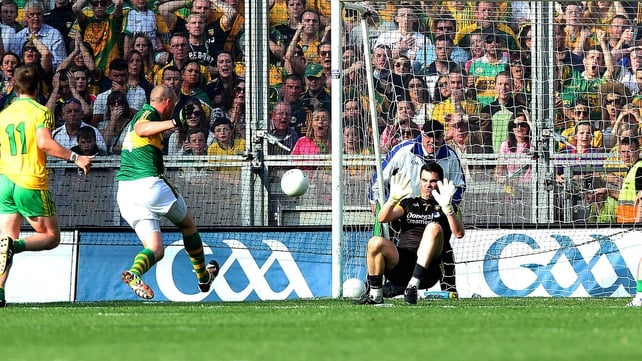 Now Kerry were four points ahead, but Donegal delivered the response demanded of them, and two points from substitute Paddy McBrearty and one from full-back Neil McGee made it a one-point game going into the final 15 minutes.
But Kerry regrouped and a magnificent defensive effort in the final segment, with Peter Crowley and Paul Murphy performing heroics, was complemented by the arrival of Declan O'Sullivan as a steadying influence.
They held possession cleverly, and took their chances when they arose, with Donaghy and Keane pushing it further beyond the Ulster men.
Christy Toye did narrow it down to three points, and there was a frantic scramble in the dying moments as McFadden came agonisingly close to netting an equalising goal, his fisted effort rebounding off the post.
Kerry:  B Kelly; M Ó Sé, A O'Mahony, F Fitzgerald; P Murphy (0-01), P Crowley, K Young; A Maher, D Moran; S O'Brien, J Buckley (0-01), D Walsh; P Geaney (1-02, 0-1f), K Donaghy (1-02, 0-1f), J O'Donoghue.
Subs: M Geaney for O'Brien, BJ Keane (0-02, 2f) for P Geaney, S Enright for Fitzgerald, D O'Sullivan for Walsh, B Sheehan (0-01, f) for Moran, K O'Leary for Donaghy
Donegal: P Durcan; E McGee, N McGee (0-01), P McGrath; A Thompson, K Lacey (0-01), F McGlynn; N Gallagher, R Kavanagh; O MacNiallais (0-01), L McLoone, R McHugh; D O'Connor, M Murphy (0-04, 3f), C McFadden (0-01, f).
Subs: C Toye (0-01) for O'Connor, P McBrearty (0-02) for McHugh, M McElhinney for MacNiallais, D Walsh for McLoone, D Molloy (0-01) for Kavanagh
Referee: E Kinsella (Laois)