Jim McGuinness feels Donegal were not up to the level required to compete adequately in an All-Ireland final.
McGuinness was speaking in the aftermath of his side's 2-09 to 0-12 defeat against Kerry in the decider. He also stressed that the error by goalkeeper Paul Durcan in gifting Kieran Donaghy a second-half goal was in way a contributing factor to their loss.
Speaking to RTÉ Sport, the Glenties native said: "We didn't perform to the level we were hoping to perform to and that is the reason why we lost.
"Over the 70 minutes, we didn't deliver what we know we are capable of delivering. When I spoke before the game that's the one thing we were looking for. I wouldn't go down the road of individual errors. Our collective wasn't good enough today and that's very disappointing."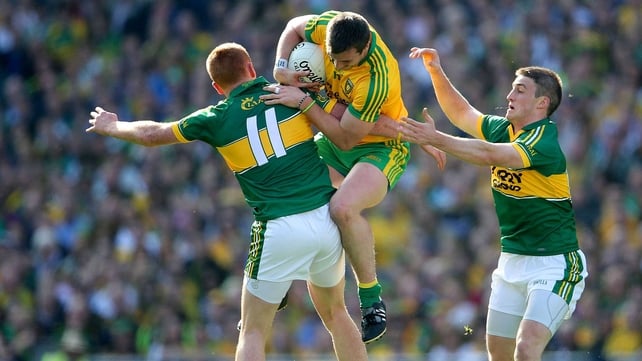 McGuinness was unable to put his finger on why the Ulster champions did not reach expectations.
"I can't tell you that he moment We'll have to look at it. Compared to our performances throughout the year, it was just flat.
"The energy wasn't there and the work rate wasn't there. I don't know how many turnovers we got, but it wasn't a lot. When we did turn it over, we didn't get up the field aggressively enough. We just didn't ask enough questions.
"When we did ask the questions, we did get a bit of joy with scores. We just needed to push harder at other times in the game."
The Donegal supremo also dismissed the notion that his charges peaked in the semi-final win over Dublin, saying: "Every game is a game and championship matches are championship matches.
"You have got three weeks to come down after a game and get ready to go back up again and deliver for 70 minutes.
"We know there is a lot more in us.
"The only positive I can take was the way we reacted to the goals.
"You would have to ask why we couldn't do more of that."