By Martin Carney
Today's eagerly awaited football semi-final clash brings together a pairing which, if past results are anything to go by, would seem to point to a Kingdom win.
That Kerry have been a consistent roadblock to Mayo ambitions in the All-Ireland series is undeniable. A trawl through the championship records over the last 25 years points to a single victory for the westerners in their six meetings.
That win, which Mayo folk like to reference, occurred in the 1996 semi-final in a game where their current manager James Horan scored a spectacular last-minute goal.  
As 2014 dawned, many in Kerry pessimistically viewed a footballing landscape that no longer contained Paul Galvin or Tomás Ó Sé.
Unease morphed to despair when the gravity of Colm Cooper's knee injury, sustained in the All-Ireland club semi-final, was revealed. A season without their talisman was nearly too much to bear.
Admirably, and in typically unflappable fashion, Eamonn Fitzmaurice kept the head down and moulded together an outfit that, though creaking in some sectors, is still capable of playing football that thrills and can be admired for all the right reasons.
Aside from Paul Geaney's emergence as a reliable score-getter, few positives emerged from the season's opening win over Clare.
Beating Cork will always bring a knowing smile to the face of a Kerryman but when the win is founded on a tactical masterclass, orchestrated by Declan O Sullivan and franked by an exhibition of score taking by James O Donoghue, then the smile broadens.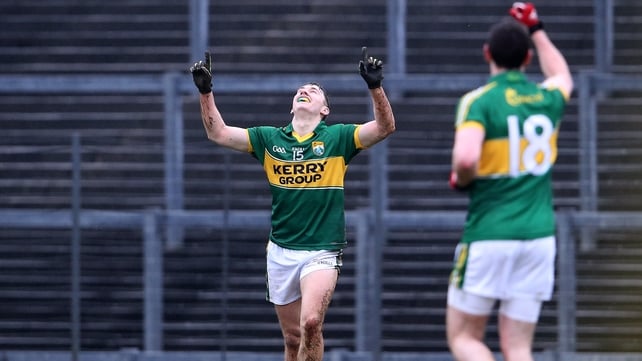 After summarily disposing of Galway in the quarter-final, a clearer picture emerged of their strengths and weaknesses.
Declan O'Sullivan's clear-headed authority had become a cornerstone; the twin threat of O'Donoghue and Paul Geaney had developed and was growing; an ability to keep the machine oiled still resided with the likes of Donnacha Walsh, Aidan O'Mahony, Marc Ó Sé and the unfussy Anthony Maher. 
But whether or not the centre of defence could withstand sustained pressure as the scale of the challenge increased, was still open to question.
Southern purrs of satisfaction at the emergence of a potent forward unit were in stark contrast to the unease felt out west with a lapse in form of some experienced defenders.
Alarm bells rang repeatedly in the Mayo defence throughout their quarter-final outing with Cork when a Brian Hurley-inspired attack (aided and abetted by Colm O'Neill and Fintan Goold) tore holes in the rearguard.
Indeed had substitute Donnacha O'Connor been introduced a little earlier a different result might have materialised.
The fact that some defenders appeared short of match-fitness and that confusion surrounded the role of the defensive sweeper didn't help matters on a day that began so promisingly.
Seamus and Aidan O'Shea, along with an impressive Kevin McLoughlin and Donal Vaughan, had provided ample possession for a Mayo attack that blossomed, in particular, in the third quarter.
A scoring blitz just after half-time against the Rebels that yielded a seven-point lead seemed to have done the trick.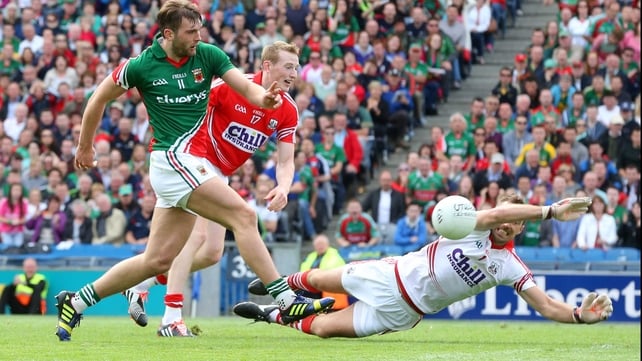 The return to form of Alan Dillon (who notched four points) should have been one of the games abiding narratives but as the dust settled his achievement was superseded by dark mutterings of a porous back line.
At times in the Connacht final similar gaps appeared that weren't fully exploited by the Galway attack.
The explanation proffered to explain the decline in the team's defensive standards pointed to a tendency of the half-back line to attack, which left gaps that exposed the full-back sector.
Furthermore, many felt that an earlier experiment of using Keith Higgins as a wing-forward had damaged the chemistry within the last line of defence.
If Mayo are to realise their ambitions and again reach the final, it is imperative that an immediate acquaintance with the defensive steadiness of early season is rekindled.
Ger Cafferkey has the intelligence, footballing acumen and experience to galvanise this sector again.
Keith Higgins has been Mayo's best defender for many seasons and possesses the temperament to police James O'Donoghue if required.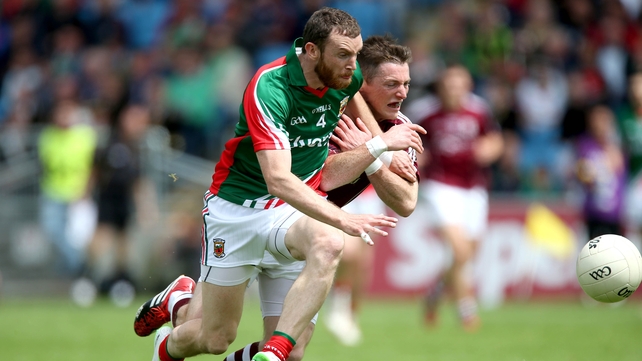 Tracking Declan O'Sullivan will be demanding. At his best, the Dromid Pearses man has the skill set, instinct and brain to pull the strings for those around him.
The task of shadowing him may fall to Lee Keegan, whose success in curbing the influence of Paul Kerrigan the last day will have encouraged James Horan. Being asked to reprise the role is likely.
Mayo's midfield area has been for the most part a fertile zone this season, although alarm has registered, at times, in all of their games due to lapses in concentration. Overall, it is hard to overlook the admirable application levels and intensity that has been a feature of their displays.
Seamus O'Shea, along with one from Barry Moran, Donal Vaughan and Jason Gibbons, will have a mighty scrap in the middle with David Moran (Bryan Sheehan will start from the bench) and Anthony Maher. The outcome will determine which attack gets the greater supply of ball.
Johnny Buckley's scoring threat from open play may cause problems. Equally important will be the winner of the tussle for broken ball between the Kerry half-back line and a Mayo triumvirate of Jason Doherty, Kevin McLouglin and Aidan O'Shea. Thus far this season this trio has been sensational.
Both teams have specialist free-takers who have on big occasions stood tall. Cillian O'Connor and Sheehan are masters of their trade and will punish indiscretions.
Whereas one has to recognise the achievements of many in the Kerry panel (more than a dozen have All-Ireland medals already) and be mindful of their record against Mayo teams, I still think that the westerners are closer to their optimum development.
Winning this game is vital to the survival of this Mayo squad. Kerry, right now, are not ready for the next step.
A greater hunger should drive Mayo and see them prevail in what promises to be a close encounter.  
Watch Kerry v Mayo live on RTÉ Two television from 1445, Sky Sports 3 from 1500. Also live on RTÉ Player and worldwide on GAAGO.
Live radio coverage on RTÉ Radio 1 on Sunday Sport from 1400.