The Ulster Championship is acknowledged as the hardest fought of the four provincial campaigns and with at least seven real contenders from a total of nine participants, it is a reputation that is justified.
The last two decades or so of competition up North have underlined how battle-hardened their champions are once they emerge: five different counties went on to lift Sam and in total nine All-Irelands were captured.
No other province can rival that spread of success.
That excellence continues and as recently as 2012, Donegal came from nowhere to win their second All-Ireland. There is every good chance they will add to that win this year but first they must finish their navigation of Ulster's choppy waters.
They are nearly on the shoreline of course and only (only?) Monaghan stand in their way.
You might be surprised to hear I rate these two as the most improved sides in the 2014 campaign.
Donegal have their All-Ireland but they were so poor last year (recall the Ulster final surrender to Monaghan and All-Ireland quarter-final hammering v Mayo) that this year seems to have produced a brand new team.
In truth, it is a return to form and fitness of the old soldiers, now suitably rested and motivated, coupled with a maturing youth brigade.
Meanwhile, Monaghan have kicked on from their Ulster title win of last year with promotion to Division 1 along with the Division 2 title and some notable scalps in Ulster already this season.
The question to be asked now is, did Monaghan catch Donegal on the hop post their All-Ireland celebrations or are Malachy O'Rourke's charges the new power?
At any rate, the title-holders are ahead in the psychological stakes and certainly have the upper hand as the clock ticks towards Sunday. But if there is to be a key motivator for Jim McGuinness and co, it has to be putting to right their supporters' conclusion that they took their eye off the ball.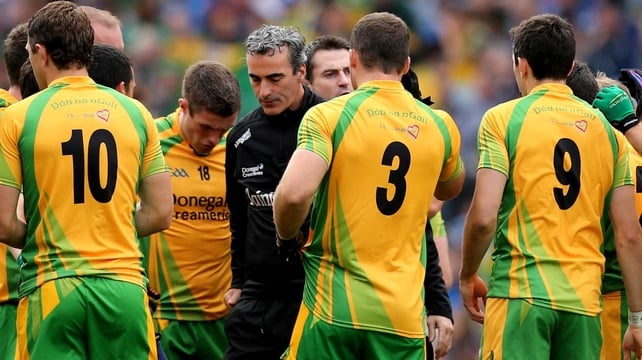 Yet, to my mind, Donegal have nothing to prove. This is their fourth final in a row and while three on the trot would have had a lovely ring to it, and no doubt the squad had it as a major goal, for me three from four underlines an excellence of sustained effort and in many ways shows your team in a better light.
Did Donegal really allow the complacency virus grab a hold in their camp in the weeks leading up to the 2013 final?
I know the mental preparation teams undergo these days very much guards against this sporting disease but I remain convinced it was a factor.
It will not be this time around and Donegal will have massive motivation to set the record straight. And I take them to win this final by a handful of points.
Their scoring potential far outstrips the Monaghan assets. We've talked before about Monaghan's dearth of consistent scorers and their need to amass a total from each and every source they can.
Goalkeepers, corner-backs, wing backs and midfielders must contribute if they are to reach a winning score while Donegal have three or four top players up front.
If you are planning to beat Monaghan what single strategy would you focus on? Yep – neutralise Conor McManus and you are surely 50% of the way to victory. Easier said than done, of course, but Donegal are the masters of the defensive squeeze that eventually leads to the defensive choke.
McManus is a brilliant player, and playing amazingly well following serious injury, but on his own he can not win this for his county.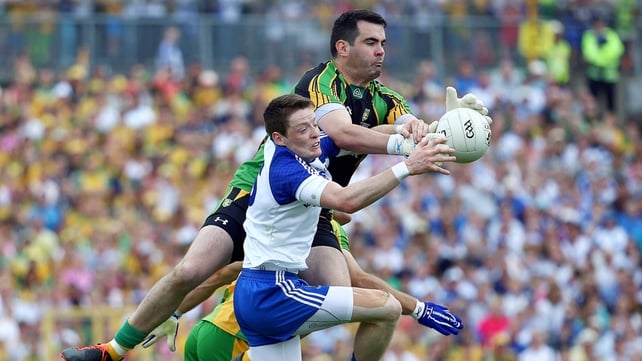 The Farney arrive in high spirits, are in great shape and full of confidence. They now boast titles behind their name and that is very important in the mind-set of any team. They have walked the walk.
Their tactical formation is well known: 8–4–2 is the preferred opening and closing posture but as noted earlier it requires massive shifts from the supporting cast.
I'm not convinced they can score enough – goals are a rarity and as noted previously, they have the lowest scoring half-forward line in Europe! They failed to score from play in the second-half of their win over Tyrone – that standard of forward play is not going to get the job done on Sunday.
And yet I have great admiration for players like Colin Walshe, Vincent Corey, Darren Hughes and Dick Clerkin at midfield, and of course McManus, Paul Finlay and Kieran Hughes up front.
They are serious warriors who will not walk away from their own bit of history – two titles in Ulster in two years is dreamland for this long-serving and hard-working squad, and anything they get they will have deserved it.
But, but, but … when things are totalled I assume both teams will lack nothing in the fight for supremacy. Therefore it will come down to ability, skill and know-how and it's in these departments Donegal gain the winning advantage.
They have a panel that can make a difference in both performance and on the scoreboard (2-07 from the bench versus Antrim), so bringing on subs is not a problem for them.
And in the first instance, they can always look to Karl Lacey, Neil Gallagher and Rory Kavanagh in the middle and Michael Murphy, Leo McLoone, Paddy McBrearty and Colm McFadden in attack.
Verdict: This final will be savagely contested, proof once more that the Anglo Celt Cup is the hardest of the four provincial titles to win, but for me, it will be Donegal who get their hands on it.
Three wins out of four would be a fitting testament to their courage and application.    
Watch live TV coverage of the Ulster SFC final Donegal v Monaghan on RTÉ Two, throw-in 4.00pm.