By Martin Carney
McHale Park on Sunday hosts a final that in recent times has become a collector's item.
It was 2009 that Mayo and Galway last clashed in a provincial decider but since then the Tribesmen have been absent from Connacht football's biggest occasion.
In contrast, Mayo are hoping to annex a four-in-a-row in the province for the first time since 1951.
On the face of it then, one could think that this is a game that carries a whiff of a no contest.
Mayo, long-term residents of football's premier league division, hosting an opponent whose survival in the second tier was achieved on the last day by points difference provokes thoughts of  a mismatch at best and a possible rout at worst.
Furthermore, memories of Mayo contesting last year's All-Ireland final are still strong, where the first steps in that odyssey began with a systematic and comprehensive 17-point mauling of the Tribesmen in Pearse Stadium.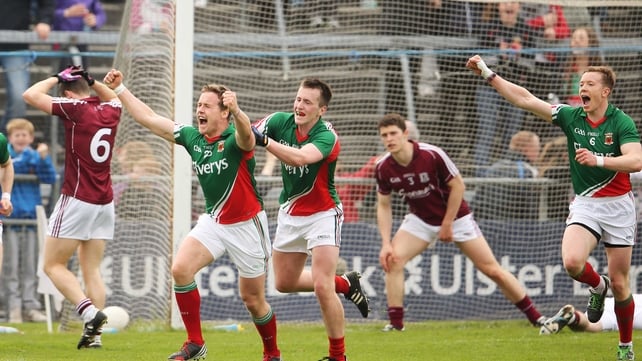 What is conveniently overlooked was the subsequent regeneration orchestrated by Alan Mulholland's men, who went on to record wins in the qualifiers over Tipperary, Waterford and Armagh, before eventually succumbing to a one-point defeat at the hands of Cork.
Admittedly, Michael Meehan, now an absentee, acted as their on-field inspiration then but the overall lesson that Mayo must digest is that you underestimate Galway at your peril.
"On the face of it then, one could think that this is a game that carries a whiff of a no contest!"
One has to reference the league win over Cork followed by a high-scoring draw with Dublin in late March as the occasions when last the Green and Red played with real fluency.
The losing semi-final display against Derry didn't at the time raise too much alarm as it was generally and understandably accepted that the team was actively engaged in championship training that can have the effect of diminishing game sharpness.
A facile win in the Big Apple gave James Horan an opportunity to introduce Diarmuid O'Connor to championship fare, but apart from registering a healthy score, little attention was paid to the win.
Concerns began to surface after what many saw as the undistinguished nature of the Hyde Park victory over Roscommon.
The Rossies in the mood will always make life rather unpleasant for the ill-prepared, complacent or undercooked.
Mayo fell into none of the above three categories yet, worryingly, the win appeared to highlight a team shorn of energy, short on inspiration and displaying signs in attack that shortcomings in this sector were still a long way from being resolved.
A poor first half that yielded a miserable four points had an added blemish of 10 wides and did little to raise the spirits.
Had it not been for a masterful cameo by Andy Moran in the last 20 minutes, there was a real danger of the champions relinquishing their provincial crown.
Apart from notching two vital points, Moran was able to establish order in the attack and exercise a modicum of control that had hitherto been absent.
Overlooked by critics of the team was the fact that in the latter period of the game it was Mayo who intensified the tackle count and registered the last five scores .
The character and defiance evident in the contributions of Seamie O'Shea, Kevin McLaughlin and Colm Boyle in particular inspired the late push for victory but a broader and more consistent effort is needed to calm the nerves of an expectant Mayo support base.
Galway have travelled a similar path to the final, with the London trip providing little in the way of resistance and the Markievicz outing with Sligo yielding a richly deserved win.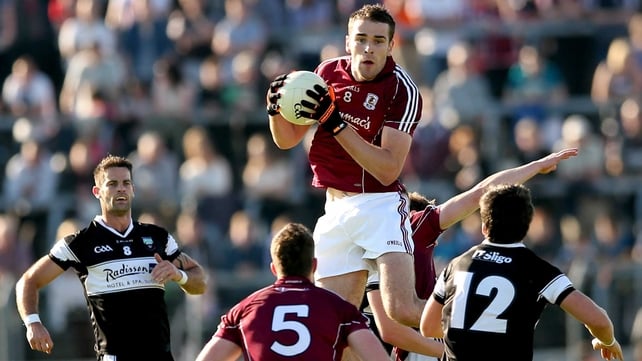 Having witnessed that night the midfield displays of Tomas Flynn and Fiontán Ó Curraoin, I believe we can anticipate a battle royale with the O'Shea brothers for dominance of the middle sector.
The Galway duo will have to withstand seldom-encountered levels of physicality and attrition if they are to thrive but there is no doubting their skill levels and athleticism.
In Shane Walsh they possess a quality playmaker whose presence will require close attention from Colm Boyle throughout.
'Boyler' is one of the game's best man-to–man markers and the his personal battle with Walsh will be crucial to the outcome.
"Sunday's game provides a forum on which to announce one's arrival on the inter-county stage and provide evidence of big-match temperament" 
The Galway forward division would welcome a return to the starting line-up of Paul Conroy. He has manfully attempted to fill the void created by the retirement of Pádraic Joyce but recent injuries have hampered him.
The process of replacing recognised match winners with their undoubted pool of successful underage players has been painful and slow.
Sunday's game (2pm) provides a forum on which to announce one's arrival on the inter-county stage and provide evidence of big-match temperament.
The Galway attack, with its amalgam of skill and trickery, has the potential to worry a Mayo defence that at times sacrifices defending in their pursuit of the all-out thrust.
I would imagine that James Horan in addressing this issue will demand a disciplined and measured approach by his half-backs where support for the midfielders isn't at the expense of leaving gaps in front of the full-back line.
I sense that Galway will alter their customary style and revert to a more defensive formation than one to which we have been accustomed. Bradshaw was more a consistent presence in the half-back line throughout the Sligo game than heretofore. 
Their defence will benefit from the likely return of Joss Moore and the expected presence of a sweeper. I would have question marks about the strength of their bench and the obvious uncertainty as to the effect the occasion is likely to have on what is an inexperienced team.
Mayo should have too much power, experience and superior conditioning to allow Galway make headway.
Sure, the lethargy evident in the past few months is a source of anxiety but now is the time for this group to make their own bit of history and fashion a win in a manner that will give real cause for optimism for later challenges.
Verdict: Mayo by five
Watch live TV coverage of the Connacht SFC final Mayo v Galway, throw-in 2.00pm.