By Martin Carney
I'm sure Brian McIver dreams. Dreams about how to beat Dublin in the Division 1 final; visualising a strategy to maximise the talents of those in his care, while at the same time doing all in his power to negate the strengths of what has become a really formidable footballing juggernaut.
Cork and Mayo, in their recent Croke Park league games with the Dubs, gambled on a policy of all-out attack and in each case came up short. Mayo, despite a numerical advantage, tied a game they should have won when falling victim to a late brace of Eoghan O' Gara goals.
Dubs in full flight
I had the good fortune of a sideline seat for the recent league semi-finals. A pitch side position on the 45-metre line was an instructive vantage point from which to view the full power of the Dublin onslaught as they outscored Cork by 2-13 to 0-04 in a blistering second half of attacking football.
Not for the first time in this campaign did they banish the memory of a distracted, error prone and uneven first half performance with a flamboyant offensive display that had their supporters in ecstasy at the final whistle.
Their invention, variation in style, movement and efficiency was a joy to witness. Michael Darragh MacAuley's transformation in the second half sparked the surge and his opportunistic goal set the tone for what was to follow.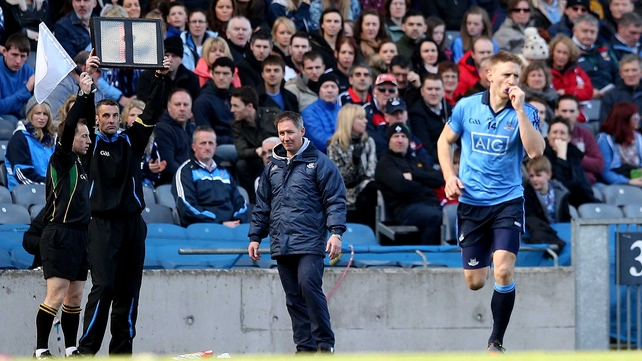 Their subs Davy Byrne, Ciaran Reddin, Eoghan O'Gara and Bernard Brogan added that extra dimension of energy and accuracy to which their ten-point total is testament.
But the memory I take from this is of a team who are still in growth mode; who at their best are irrepressible but who still present opportunities to opponents by displaying a vulnerability that can at times leave them exposed to sides that possess bravery, confidence, skill and the required tactical acumen.
How will Derry face this challenge? 
Total focus is required for openers. All mention of their first round championship game with Donegal on 25 May should be banned!
To compete with Dublin a strong, resolute and disciplined defence is a must that may require the deployment of a sweeper. Enda Lynn may be earmarked for this role or management may be tempted to use full-forward Emmett McGuckin in a roaming capacity.
Frustrating the Dublin attack and not conceding goals must be a priority. In their regular season games with Cork, Westmeath and Derry, Dublin failed to raise a green flag and lost two of these encounters.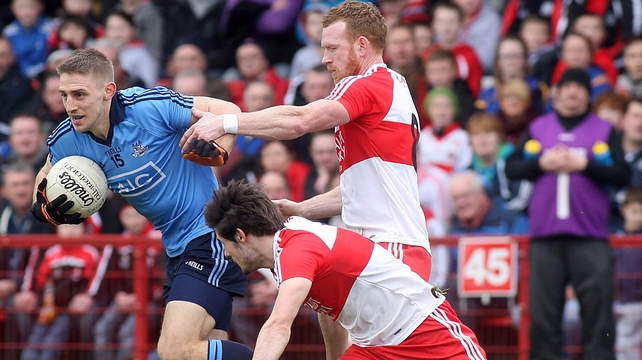 Derry's six-point victory margin in Celtic Park was the biggest defeat inflicted on Dublin for quite some time. Credit for this win must lie with the work rate of the middle eight players, the class of Chrissy McKaigue at full-back and the tour-de-force of Mark Lynch on the day.
His personal total of 1-08 made the difference as did his individual display against Mayo in the semi-final where he accounted for nine points of Derry's winning total.
If Gerard O'Kane can command the centre as is customary then the Oak Leafers have a chance.
However, it is my honest opinion that Dublin at GAA headquarters are at the moment a redoubtable force. Silverware for Derry will be a dream deferred.
The Sky Blues by four points!
Another spicy all-Ulster affair
The word I hear coming out of both counties is that this game matters little as promotion has been secured. However, from my experience the rivalry between the pair is seldom anodyne and come throw-in the curtain raiser is likely to develop into a competitive pulse-quickener.
Much has been invested in allowing the Donegal senior team an untrammelled path to prepare for this year's championship and the Division 2 final allows them a final competitive outing before their 25 May date with Derry.
Their recent week-long training camp in Portugal, geared towards championship preparation, will at the same time have allowed the squad focus on this weekend's fixture.
A win is imperative as it will confirm their progress, justify the time and expense expended and remind the team that they are moving in the right direction.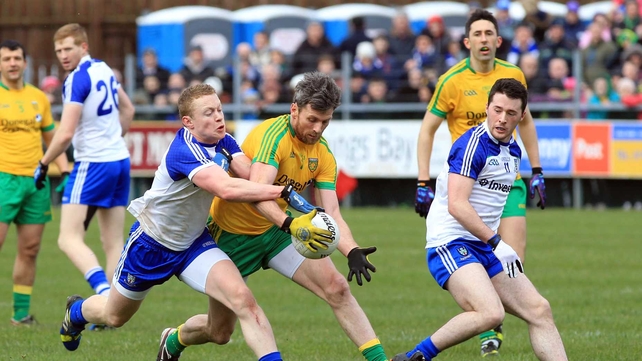 It was Monaghan who concocted a game plan that made Donegal look very ordinary in last year's Ulster final. Based on a tenacious defensive strategy they confined Jim McGuinness' side to a miserable seven points for the game in which none of Donegal's starting forward line scored from play.
Some will argue that the 2012 All-Ireland winning hangover lingered longer than planned but accepting this argument does an injustice to the displays of Mone, Finlay, Vinny Corey, Owen Lennon, the Hughes brothers and Conor Mc Manus on the day.
All of these are available for selection on Sunday.
With the exception of Cavan, Monaghan have conceded fewer goals than anyone else in the Allianz League. Fintan Kelly has settled alongside Drew Wylie and Colin Walsh in forming a very solid full-back line.
This is the sector that needs to be at its best when playing Donegal as any lapse in concentration will be punished by the formidable inside line of Murphy, McFadden and Paddy Mc Brearty.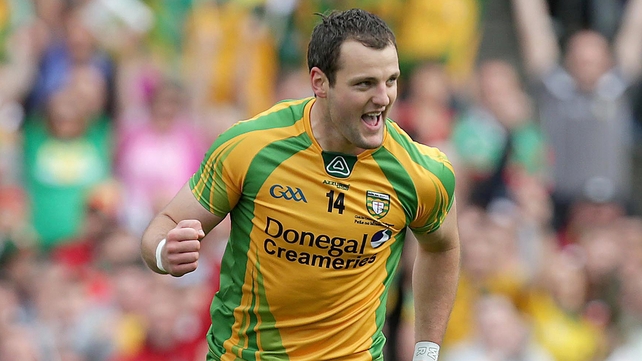 In his last outing against Monaghan, Murphy accounted for just one point of Donegal's winning total but I always sense that the surrounds of Croke Park reveal the best in him and provided his supply is regular we can anticipate fireworks from the big man.
I expect McBrearty, now that his U-21 campaign is behind him, to use the occasion and copperfasten his place in the starting line-up.
His potential is yet to blossom fully, but what I have seen from him must give great hope to Donegal supporters. Dick Clerkin and Neal Gallagher will have their usual physical exchanges, but I would expect the experience of Rory Kavanagh alongside big Neal to give Donegal the edge in the vital midfield sector.
It will be physical; could well be cranky; anticipate a card or two (don't hold your breath if you are awaiting a black one!). At the final whistle I see Donegal ascending the steps of the Hogan to receive the Division 2 trophy.
Live coverage and updates of all Sunday's action from 14:00 on Sunday 27 April on RTÉ Radio 1, RTÉ RnaG and RTÉ.ie (Worldwide). Television highlights on League Sunday from 19:30 on RTÉ Two and RTE.ie (Ireland only).