By James McMahon
So far the 2014 Allianz Football League has produced some excellent fare. Pundits and supporters will no doubt point to the introduction of the black card as the reason for the many free-flowing and high-scoring contests.
The sanction has had its critics, but if it allows attackers more freedom in which to engineer scores and heralds a more disciplined form of tackling, then its introduction will be no bad thing. 
Another summation may point to a changing philosophy from managers that attack, quite simply, is the best form of defence.
This week the GAA published statistics that showed a reduction in the number of cards issued this spring and a general increase in the scoring rate. Read the findings here.
To drill down even further the combined scoring tally of the four Division 1 semi-finalists – Cork, Derry, Mayo, Dublin – in their seven games played so far amounts to 43-421.The tally reached by the 2013 semi-finalists was 26-351.
Mayo scored a total of 2-87 en route to reaching the semis the last year, with this season's figure of 14-106 clearly showing a marked improvement.
The contrast in Derry's fortunes year-on year is also notable in terms of goals scored. Twelve months ago, they topped Division 2, scoring 5-112, while life back in top flight saw them net 11-102.
This scoring surge inevitably leads to a greater concession rate. The 'against' column in the Mayo ledger reads 14-91 (5-75 in 2013) and is the most by any team in Division 1.
It's a figure that won't please James Horan, but there has to be an acceptance that shipping more scores will be part and parcel of this 'new' footballing order. We'll await with interest to see whether scoreboard operators up and down the country will be kept busy during the summer months.
But before that, a Division 1 League title is up for grabs and Sunday's semi-finals should bring a decent crowd to Croke Park.
Mayo and Derry set for the 'real thing'
First up at 2pm is the meeting of Derry and Mayo. Last Sunday in Castlebar we witnessed a bout of shadowboxing, as the Green and Red booked their last-four ticket. Derry, who secured qualification the previous week, fielded a weakened side. Many will criticise that stance in what was a tight battle for the knockout spots, but for Brian McIver and his squad, much satisfaction can be taken from their season's work so far.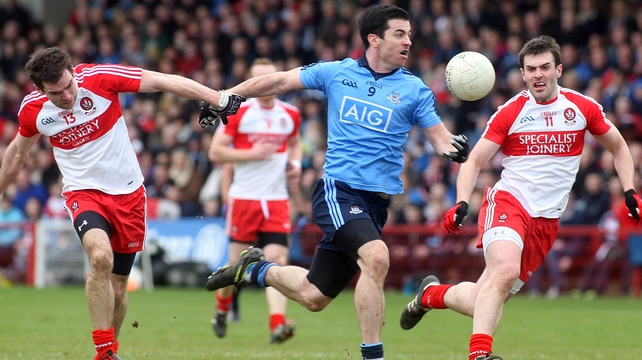 Impressive wins over Kerry and Dublin stand out and there is no reason to suggest that they can't prosper on the Jones' Road turf this weekend.
Former All-Ireland winner with Derry and RTÉ pundit Joe Brolly is happy with what he has seen so far from a squad and management that he claims are now pulling in the same direction.
He told RTÉ Sport: "There is a unity of purpose evident that was absent up until recently. We are now in the post-Eoin Bradley area and Derry football is on the up again. Derry gaels are happy!
"The players are all enthusiastic and are highly motivated to do well.
"I'm not saying an All-Ireland is on the way – that won't happen this year – but in keeping with the more adventurous approach now adapted by sides Derry are certainly making it count on the scoreboard."
Brolly went on to sum up their style of play – a combination of hard work and athleticism.
"Quite simply, Derry have developed an attack-minded style that is based on a hard-running half-back line," he added.
77 goals in Division One of the football league this season. 43 last season. Just saying....

— Joe Brolly (@JoeBrolly1993) April 10, 2014
"They, like so many other top counties, have set themselves up to take advantage of the new disciplinary rules. It's working well for them so far. They won't have any fear going to Croke Park and taking on Mayo and are well capable of winning the game."
So what of the prospects of the Connacht side reaching a third Division 1 final in five years?
After a slow start Horan's men eventually found their feet and some strong performances at home went a long way to securing their last-four berth. They too lined out without some key regulars last weekend, so giving us no form line with regard to Sunday's clash.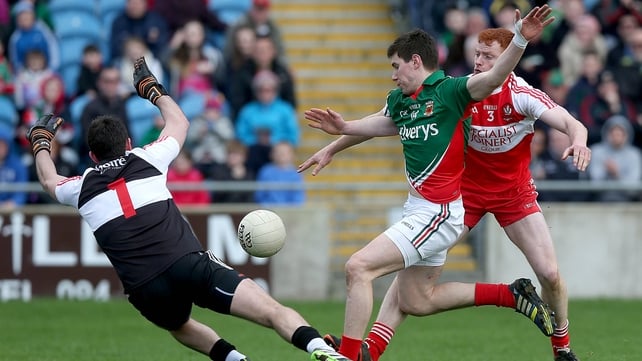 A common view out there is that Mayo could do with winning this League title. Achieving that would give them an added impetus to go one better in their upcoming pursuit of that elusive All-Ireland.
Joe Brolly reckons Mayo still have much to offer but is not sure whether they can go that extra step.
"Looking at Sunday's game there is no doubt that Mayo are the more experienced outfit," added the 1993 All-Ireland winner  
"Just like Derry, I think they prospered when a certain individual left their squad (Conor Mortimer in July 2012). They've been in two All-Irelands since and they've had nothing to show for it. It is difficult trying to reach the summit again. 
"Can they win the League? Yes, they can, and they'll deserve it considering the opposition in their way." 
Cork eye back-to-back wins against the Dubs
And so to the second game where Cork entertain Dublin at 4pm.
These sides met at Croke Park on 1 March and it was the Rebels who prevailed by two points. Prior to the start of the League, there were concerns as to whether Cork could re-group after losing many key players in the off-season.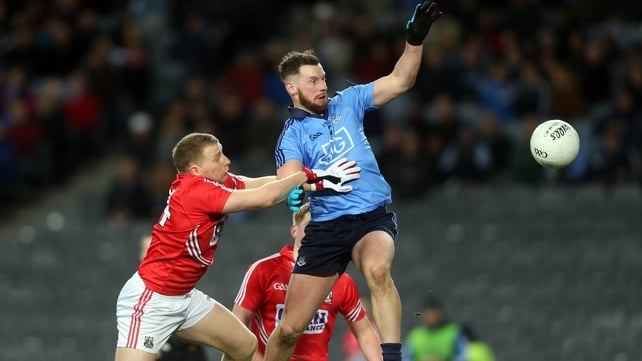 However, that night against the Dubs clearly showed there was a pep in their step, and that Brian Cuthbert's arrival as coach had given the team a new impetus.
Last Sunday, Cork steamrolled Kerry, scoring 2-17 of their 2-18 total from play. Brian Hurley was a commanding presence at the edge of the square, while the likes of Colm O'Neill, Daniel Goulding and Donncha O'Connor all made second-half appearances to further underline the strong hand Cuthbert has to pick from.
Both O'Neill and O'Connor will be in from the start on Sunday.
Cork's charge this spring has clearly impressed Joe Brolly.
"In contrast to the Conor Counihan era, Cork are moving the ball a lot faster and players are running from deep with real vigour. The manager has them well organised and they're good to watch.
"Having Colm O'Neill back is a big plus and Paul Kerrigan seems to have rediscovered his best form."
In terms of Cork's further development, Brolly places great stock in how they perform on Sunday, irrespective of the outcome.
"It's not important whether they win or lose," he added.
"They're playing the All-Ireland champions at Croker and how they stand up to them in a knockout game is all important. 
"Many expect Cork to have a say come the summer, but Sunday's game will give us an indication as to whether or not they'll be a big player come the business end."  
Not surprisingly Dublin are tipped to have another good year and Brolly feels they are well-placed to do just that.
"You have to credit Jim Gavin. The squad seemed to have retained the sense of enthusiasm that stood to them last year. I'm sure that has helped them survive some tricky situations so far in the league.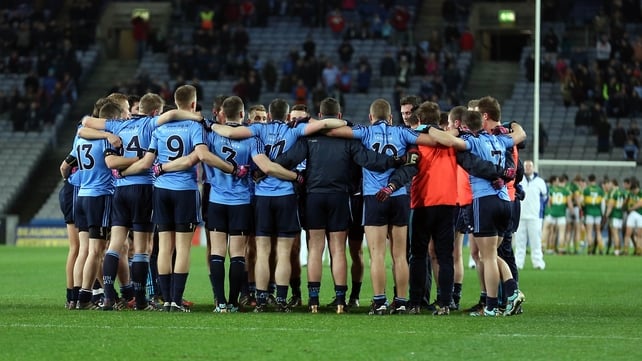 "The big plus for the Dubs is that they score goals. You saw that last Sunday against Tyrone.  
"There are question marks about their defence and Cork's mobility up front will test them, while of late they are conceding a lot more frees," Brolly concluded.
Verdict: With weather conditions set to be favourable, the scene is set for four teams, who in all likelihood could end up as provincial winners this summer, to display their range of skills before an expected audience.
Both contests will be close. Mayo's greater experience should see them get past Derry, while I go for Cork to get the better of the Dubs for the second time in the space of six weeks. 
Live coverage and updates of all Sunday's action from 14:00 on Sunday 13 April on RTÉ Radio 1, RTÉ RnaG and RTÉ.ie (Worldwide). Television highlights on League Sunday from 19:30 on RTÉ Two and RTE.ie (Ireland only).