There was much sympathy across the GAA family when it was confirmed that Colm Cooper would be out for the rest of the season.
Though it was, perhaps, an over exaggeration, Kerry County Board chairman Patrick O'Sullivan compared Gooch's fate to a death in the family, while one newspaper headline said that his absence would devalue the football season. 
As for the player himself, he is coming to terms with the fact that he will not grace the pitch again this year – a result of the cruciate ligament damage and knee fracture sustained while playing for Dr Crokes in their All-Ireland club semi-final with Castlebar Mitchels in Portlaoise. 
Cooper recalls the moment his heart sank as he lay on the O'Moore pitch, fearing the worst.
"I felt a little click or pop or something. I was trying to tell myself that I didn't feel it, but that was only a lie"
Speaking exclusively to RTÉ Sport, he said: "Deep down I knew there was quite a bit of damage done. I felt a little click or pop or something. I was trying to tell myself that I didn't feel it, but that was only a lie.
"Coming off the pitch there was a lot of pain and devastation. My heart sank a little bit.
"Being told that you can't play for the season is a real disappointment. For me, football means so much; it's a huge part of my life. It's probably the worst news you can get being a sportsperson."
Cooper is determined that he will play again and he knows that he has still has much to offer with his club and county.
He added: "I have learned to cope with it over the last couple of days and I'm now focusing on getting back as soon as I can.
"The hunger and motivation is there. I don't feel I'm quite done yet, even though I'm 30. I can come back.
"When you see the likes of Colm O'Neill returning that kind of inspires you and shows what can be done that a guy can come back after three cruciates.
"I'm going to work really hard over the next few months. It's going to be a long road and there will be bumps along the way, but I'm confident and committed to getting back in 2015 first with Dr Crokes and then with the Kerry team. 
"Hopefully, there'll be good times again."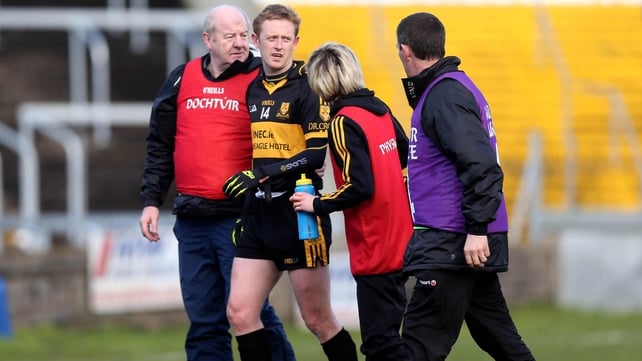 "Why do I do it? Because I love it," he said. "I love the buzz of the big matches, I love preparing for them, the pressure of them. I love sweating a little bit, the nerves in the belly before matches.
"That's why I play football and I am not ready to give it up right now. I think there is more in me and hopefully I will be back on the field in the not too distant future."
He added: "I don't think you lose it (your motivation). The day you lose it or the competitive edge or the motivation is the day to hang up the boots for good.
"I certainly found – particularly over the last 12 to 18 months that my hunger is there as much as when I was an 18-year-old or 19-year-old coming in."
"It was the first question I asked. Can I get back from this? And he (Dr. Ray Moran of the Santry Sports Clinic) goes, 'don't worry, we'll get you back' which was huge comfort to me because football means so much to my life and has been part of my life for so long. Outside of family it's probably the number one thing in life.
"He's confident we'll get there. It's going to be a tough road, but I would say 2014 is gone. It's not going to happen. 
"Certainly not for Kerry and for the club it's realistically not going to happen so we just have to be patient. The most important thing is to just get this right."