Monaghan scored a sensational 0-13 to 0-7 victory over All-Ireland champions Donegal to claim their first Ulster SFC crown since 1988.
Monaghan went five points clear, with Conor McManus scoring twice, before Colm McFadden hit Donegal's first point in the 32nd minute.
Monaghan led by 0-5 to 0-2 at the interval, and eased further ahead with three Kieran Hughes points.
They defended superbly to the finish, playing Donegal at their own game as they plunged the Sam Maguire Cup holders into the qualifiers.
Monaghan got off to a flyer, racing into a four points lead inside the opening seven minutes.
Darren Hughes flashed over their opening point after just 40 seconds, and goalkeeper Rory Beggan stepped up to send a 45 metre free sailing between the posts.
Conor McManus slotted a 13 metre free, and the Farney fans were delirious when Padraig Donaghy fired over their fourth point from distance.
The Sam Maguire Cup holders suffered a further blow when they lost Mark McHugh to injury after just nine minutes, after he shipped a heavy knock in a collision with Stephen Gollogly
And they struggled badly to find ways through the defensive cordon established by a Farney side playing them at their own game.
Monaghan flooded bodies back, swarming around the man in possession, and frequently had 14 men inside their own half.
But they were also able to break at pace, and but for solid defending from Frank McGlynn and Paddy McGrath, Donegal would have fallen further behind.
They did go five down when Paul Finlay won the free that McManus despatched in the 29th minute, but the introduction of Neil Gallagher was beginning to deliver its desired effect of breaking the midfield stranglehold held imposed by Darren Hughes and Owen Lennon.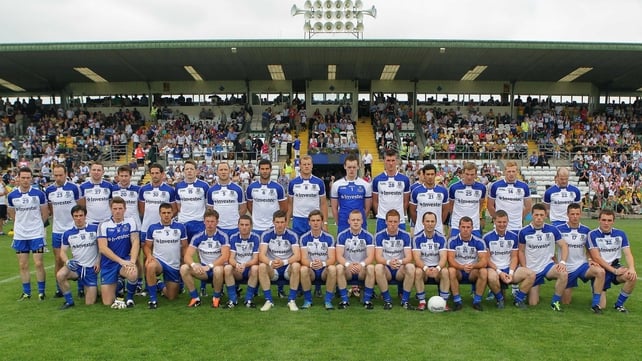 Finally, in the 32nd minute of Ulster final action, Donegal registered their first point of the game, a Colm McFadden free.
And the countered in true Donegal style in stoppage time for Neil McGee and Thompson to combine in creating a point for fellow defender Frank McGlynn.
Monaghan led by 0-5 to 0-2 at the interval, and the impressive Kieran Hughes enhanced their prospects even further when he hoisted three superb points early in the second half.
Full forward Hughes gave Eamonn McGee one of the most difficult afternoons he has experienced in the past three seasons, while at the other end, Vinny Corey exerted a vice-like grip on Michael Murphy, holding the Donegal captain scoreless.
Uncharacteristically, Donegal's fabled defensive system, which had shown early signs of wavering, began to buckle, and when Dessie Mone burst through a series of tackles to nail a crucial point, Monaghan knew they had the measure of the men from the north-west.
McFadden pulled back a couple of points from frees and Rory Kavanagh drilled a shot between the posts following a patient build-up.
But as time ticked away, desperation began to set in for the treble-seeking provincial champions.
As they committed extra men forward, they became more vulnerable to the counter-attack, and were duly punished.
Remarkably, Monaghan maintained a blinding pace right to the finish, and late scores from substitutes Christopher McGuinness and Tommy Freeman, along with goalkeeper Beggan's '45, saw the dream through to glorious reality.
Monaghan: R Beggan (0-2, 1f, 1 '45), K Duffy, D Wylie, C Walshe, V Corey, N McAdam, D Mone (0-1), O Lennon, D Hughes (0-1), P Finlay, S Gollogly, D Malone, P Donaghy (0-1), K Hughes (0-3), C McManus (0-3, 3f).
Subs: G Doogan for Gollogly, D Clerkin for Doogan, C McGuinness (0-1) for Malone, T Freeman (0-1) for McManus
Donegal: P Durcan, P McGrath, N McGee, E McGee, F McGlynn (0-1), K Lacey, A Thompson, R Kavanagh (0-1), R Bradley, M O'Reilly, L McLoone, M McHugh, P McBrearty, M Murphy, C McFadden (0-4, 4f).
Subs: David Walsh for McHugh, N Gallagher for O'Reilly, R Wherity for McLoone, R McHugh (0-1) for Walsh, M McElhinney for Bradley
Referee: D Coldrick (Meath).