Mayo manager James Horan praised sharpshooter Jason Doherty for his part in their six-point Allianz League Division 1 win over Kerry at McHale Park.
The DIT student hit 0-06 (five frees) of Mayo's 15-point total making sure than Kerry were punished for any fouls close to the goal.
Speaking after Mayo's 0-15 to 1-06 win, Horan told RTÉ Sport: "Doc has played a lot of football with DIT, preparing for the Sigerson Cup, he's very sharp at the moment and showed it today. Any free we got, he punished Kerry for it."
The sides were level at the break, 0-09 to 1-06, and, amazingly, Kerry went 42 minutes without scoring as they failed to add to their first-half tally.
Moran understood that, while his team defended well, there were more factors at play.
"A few things contributed to that," he said. "There was quite a strong breeze here in McHale Park today and Kerry were unfortunate to have Anthony Maher dismissed as well."
He continued: "From our side, we defended well and we were winning a good lot of ball around the middle of the field and that allowed us to go forward with it. We're happy with the performance overall and taking the two points is good on day one of the National League.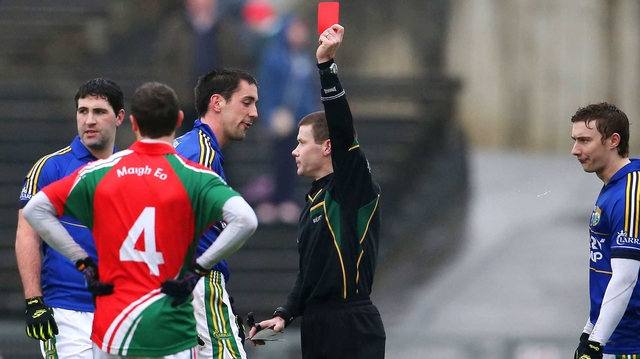 "We've had a lot of tussles with Kerry down through the years and they are always interesting, to say the least, but things went our way today.
"Kerry were obviously very depleted with a lot of their players missing with their clubs representing their county but we'll take our win today and move on.
"In January, trainings are difficult because you've a lot of guys gone with Sigerson [Cup games], some lads still have physical scars from last year. It's very difficult to know exactly where you are coming into the first round of the league."