Downing Street has rejected accusations from Gary Neville that UK Prime Minister Boris Johnson undermined efforts promoting equality by failing to condemn fans who booed players taking the knee.
Earlier today Johnson condemned the "appalling" racist abuse of some England players on social media after their Euro 2020 final defeat to Italy, saying the team deserved to be hailed as "heroes" and not subjected to hatred online.
However Neville, speaking to Sky News, took umbrage with the PM's comments.
"I'm just reading your breaking news, and it says the PM condemns racist abuse of England players," he said.
"Is that the same Prime Minister that a few weeks ago... I mean Gareth Southgate a few weeks ago, about five days on the trot, told us that the players were taking the knee to promote the equality, and it was against racism.
"The Prime Minister said that it was okay for the population of this country to boo those players who were trying to promote equality and defend against racism.
"It starts at the very top. So for me, I wasn't surprised in the slightest when I woke up this morning to those headlines. I expected it the minute the three players that missed, missed.
"There is an issue, obviously, in football, there is an issue in society, where we feel it's acceptable basically to criticise players for sporting actions because of the colour of their skin.
"But I have to say, accepting and validating the players who take the knee, like I say who were promoting equality inclusion and defending against racism, it's coming from the very top. You know you know full well that if your parents do something, your children will follow.
"[Johnson] said that Muslim women look like letterboxes," Neville added, in reference to a 2018 column he wrote for the Telegraph.
"Gareth Southgate and Boris Johnson are poles apart."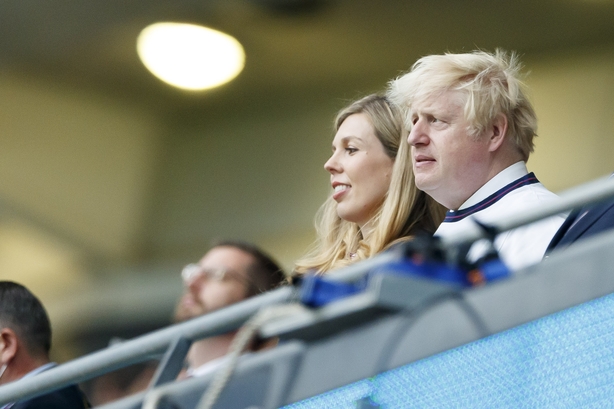 In response, the PM's official spokesperson said: "The Prime Minister set out this morning his response to some of the awful comments we've seen.
"He said this England team deserve to be lauded as heroes not racially abused on social media, those responsible for this appalling abuse should be ashamed of themselves.
"The PM was clear that he wanted to see everyone getting behind the team to cheer them on. He made that clear on the 11th, before England's first game."
Listen to the RTÉ Soccer podcast on Apple Podcasts, SoundCloud, Spotify or wherever you get your podcasts.