British Prime Minister Boris Johnson has condemned the "appalling" racist abuse of England players on social media after their Euro 2020 final defeat.
Mr Johnson said the team deserved to be hailed as "heroes" following the loss to Italy and not subjected to hatred online, adding that those who sent abuse should be "ashamed of themselves".
The English Football Association also issued a statement saying it was "appalled", while FA President Prince William said he was sickened by the abuse. The Metropolitan Police has vowed to investigate.
Marcus Rashford, Jadon Sancho and Bukayo Saka all missed from the spot last night as England went down on penalties.
The trio's social media pages were quickly flooded with racist comments, leading the FA to release a statement condemning the "disgusting behaviour".
Meanwhile, a Manchester mural in honour of Rashford was defaced within hours of his missed penalty in what police are treating as a racist incident.
We need your consent to load this rte-player contentWe use rte-player to manage extra content that can set cookies on your device and collect data about your activity. Please review their details and accept them to load the content.Manage Preferences
An FA spokesperson said: "The FA strongly condemns all forms of discrimination and is appalled by the online racism that has been aimed at some of our England players on social media.
"We could not be clearer that anyone behind such disgusting behaviour is not welcome in following the team. We will do all we can to support the players affected while urging the toughest punishments possible for anyone responsible.
"We will continue to do everything we can to stamp discrimination out of the game, but we implore government to act quickly and bring in the appropriate legislation so this abuse has real life consequences.
"Social media companies need to step up and take accountability and action to ban abusers from their platforms, gather evidence that can lead to prosecution and support making their platforms free from this type of abhorrent abuse."
The Metropolitan Police also condemned the "unacceptable" abuse, adding it will be investigating the "offensive and racist" social media posts.
The force said in a statement on Twitter: "We are aware of a number of offensive and racist social media comments being directed towards footballers following the #Euro2020 final.
"This abuse is totally unacceptable, it will not be tolerated and it will be investigated."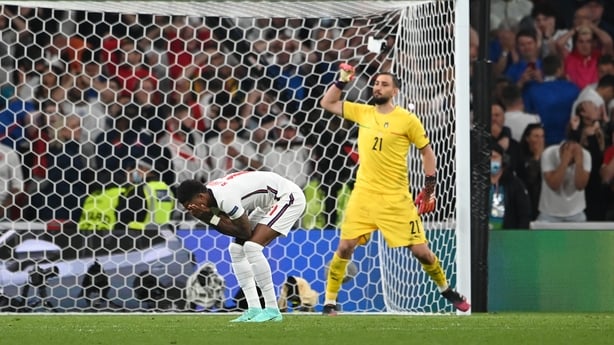 ---
Read more
Jubilant Italians celebrate Euro 2020 victory
Italy are Kings of Europe after penalty shootout win
'Sorry, but the cup will be taking a nice flight to Rome' - Bonucci
---
England manager Gareth Southgate described the abuse directed at the players as "unforgivable".
"It's just not what we stand for," he said during a press conference this morning.
"We have been a beacon of light in bringing people together, in people being able to relate to the national team, and the national team stands for everybody and so that togetherness has to continue.
"We have shown the power our country has when it does come together and has that energy and positivity together."
He said it was his decision, not the players', regarding who would take a penalty during the shoot-out.
Mr Johnson also condemned the racist abuse aimed at the players.
He said: "This England team deserve to be lauded as heroes, not racially abused on social media. Those responsible for this appalling abuse should be ashamed of themselves."
I am sickened by the racist abuse aimed at England players after last night's match.

It is totally unacceptable that players have to endure this abhorrent behaviour.

It must stop now and all those involved should be held accountable. W

— The Duke and Duchess of Cambridge (@KensingtonRoyal) July 12, 2021
Former England defender Gary Neville said he was not surprised by the racist abuse, but criticised the leadership of Mr Johnson.
"I'm just reading your breaking news and it says the 'PM condemns racist abuse of England players'," Mr Neville told Sky News.
"Gareth Southgate and the players a few weeks ago, about five days on the trot, told us they were taking the knee to promote equality and it was against racism.
"The prime minister said it was okay for the population of this country to boo those players who were trying to promote equality and defend against racism. It starts at the very top.
"I wasn't surprised in the slightest that I woke up to those headlines; I expected it the minute that the three players … missed."
He continued: "There is an issue in football, there is an issue in society where we feel it's acceptable basically to criticise players for sporting actions because of the colour of their skin.
"It's a well-told story that the social media companies have to come down harder on racist abuse - I think we have to start to isolate these individuals who are attacking the players in a racist manner, and isolate them by writing to their employers, so that ultimately there is total accountability and suffering and consequence.
"But also that there is consequence within the game through the FA, the Premier League and other organisations - UEFA and FIFA - and we start to see sentences and punishments for these incidents that ultimately fit the crime because people are being abused and it's absolutely ridiculous in 2021 we are still talking about this."
"It starts at the very top."

Former footballer @GNev2 says has called on Boris Johnson to take a tougher stance on racism in football after some England players received abuse online following last night's clash with Italy.#Euro2020: https://t.co/KUBv2VLGWI pic.twitter.com/VoJPtslaaP

— Sky News (@SkyNews) July 12, 2021
In a statement following the racist abuse, Facebook, which owns Instagram, said it tries to remove harmful content as quickly as possible and encouraged people to use the tools it offers to block abuse.
"No one should have to experience racist abuse anywhere, and we don't want it on Instagram," a Facebook company spokesperson said.
"We quickly removed comments and accounts directing abuse at England's footballers last night and we'll continue to take action against those that break our rules.
"In addition to our work to remove this content, we encourage all players to turn on Hidden Words, a tool which means no one has to see abuse in their comments or DMs.
"No one thing will fix this challenge overnight, but we're committed to keeping our community safe from abuse."
Police injured after confronting 'volatile crowds'
Meanwhile, the Met Police said that 49 people were arrested in London by officers policing the Euro 2020 final.
The force added that 19 officers were injured "while they confronted volatile crowds".
A security breach ahead of the match saw a "small group" of people get into the stadium without tickets.
Security officials and stewards, as well as some fans, tackled some of the intruders.
Footage shared on social media showed supporters fighting each another on concourses within the ground.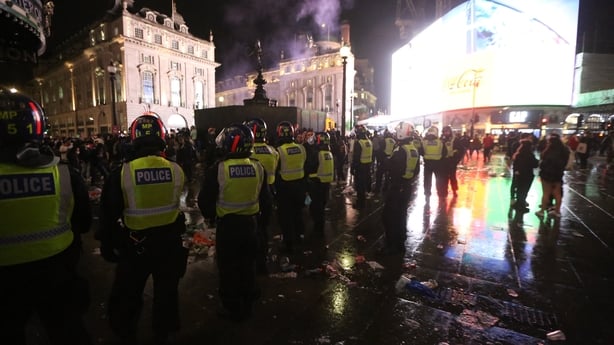 Scotland Yard tweeted: "Our policing operation for the #Euro2020 final is drawing to a close. Thank you to the tens of thousands of fans who had good spirits and behaved responsibly.
"We made 49 arrests during the day for a variety of offences. We will have officers on hand throughout the night.
"Frustratingly, 19 of our officers were injured while they confronted volatile crowds. This is wholly unacceptable."
After the match, riot police could be seen breaking through crowds outside Wembley Stadium as fans departed. Beer bottles were thrown amid chants against Italy.
Rashford mural defaced in Manchester
Greater Manchester Police are treating the defacing of the Rashford mural as a racist incident.
The word "F***" was scrawled over the huge artwork of the England footballer, which is painted on the side of a cafe in Copson Street in Withington, south Manchester.
Other words were also graffitied beside the word "Saka", the 19-year-old player whose final penalty miss gave Italy victory.
Police said they were called at 2.50am to reports of the racially aggravated damage to the mural.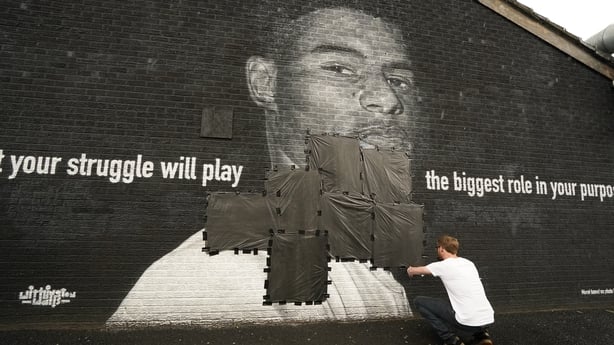 The graffiti has since been covered over.
The mural, based on a photograph by Daniel Cheetham and painted by street artist Akse, was created last November in collaboration with Withington Walls, a community street art project.
It was reportedly commissioned in recognition of the Manchester United player's work to tackle child food poverty.
Meanwhile, Harry Kane has told those who racially targeted some of England's players "we don't want you".
Three Lions captain Kane said on Twitter: "Three lads who were brilliant all summer had the courage to step up and take a pen when the stakes were high.
"They deserve support and backing not the vile racist abuse they've had since last night. If you abuse anyone on social media you're not an England fan and we don't want you."