Cristiano Ronaldo's Euro 2016 final dismay turned into elation as Portugal secured an "unforgettable" and historic win against France.
Adept at making it to the semi-final stage, only once before this week's clash with Wales had the Portuguese managed to progress it to the showpiece finale.
When they did it 12 years ago on home turf they lost to unfancied Greece - a defeat Ronaldo helped make amends for at the Stade de France on Sunday, albeit being on the field for only 25 minutes.
Forced off through injury, the 31-year-old instead cajoled his team-mates as they went onto win their first-ever major tournament thanks to substitute Eder's long-range, extra-time strike.
"We beat France and I'm delighted," Ronaldo said, fresh from lifting the trophy.
"This is one of the happiest moments in my career. I've always said I wanted to win a trophy with the national team and make history. And I did it. Thank God, things went well for us.
"I'd like to thank my team-mates, our coach, our wider team in this Euro, the Portuguese people and all the ex-pats who were always with us, cheering for us from the beginning.
"This is a unique moment for me, for all the Portuguese people and it's unforgettable."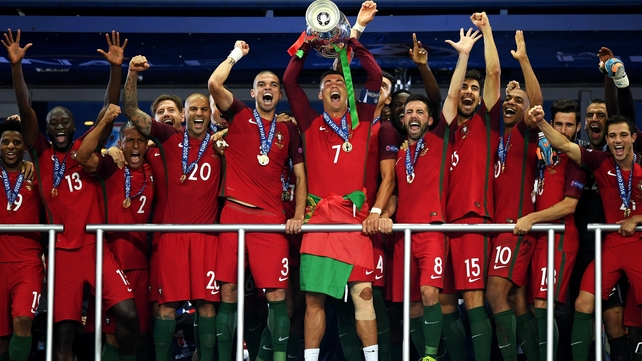 Portugal showed they are far from a one-man operation against hosts France, defending resolutely and outsmarting France.
"I'm so happy - very happy," Ronaldo said, having celebrated with his left knee heavily strapped.
"This was something I have wanted for a long time now, ever since 2004. I asked God to give me another chance.
"The Portuguese people deserve this, our players deserved this.
"Unfortunately, things didn't go well for me. I injured myself in the first few minutes, but I've always believed in these players.
"They have quality and ability, along with our coach's strategy to win."
While Portuguese celebrated into the night and beyond, Les Bleus were left reeling from a galling extra-time defeat on home turf.
France coach Didier Deschamps was as crestfallen as the fans and his players, having failed to make home advantage count like the teams of 1984 and 1998.
"Of course the overriding emotion is of huge disappointment," the man who captained the Euro 2000 triumph and World Cup success two years before that said. "It's cruel to lose the final like that.
"You have to accept it, I congratulate Portugal - they are the newly-crowned champions.
"Clearly we had our chances and had the last opportunity (of normal time) with Andre-Pierre Gignac striking the post in stoppage time.
"We weren't clinical enough, we weren't cool-headed enough. Perhaps we also lacked a bit of freshness.
"Although I've got nothing that I can hold against my players, they gave absolutely everything tonight.
"It really came down to very fine margins. But unfortunately we lacked what was essential. It's very hard, it's cruel but we have to accept it, and we'll have to digest this, all of us."